This week, Focus on the Family actually published something healthy.
Now, before I go any further, this does not mean that I think they're a healthy organization now. They still promote all the same unhealthy authors in their store. They still don't condone divorce for abuse. Even this Father's Day they posted a bizarre Facebook meme based on a post by Juli Slattery that I "Fixed" for you:
(And you can see a workbook of my Fixed It for yous right here!)
But this week they featured Juli Slattery in a podcast, and in a reel she was using my talking points against obligation sex and male entitlement, and mentioning sexual pain. This is very different from how she used to write, and I've noticed that over the last year she's been making some strides (though she still promoted Josh Butler's horrible book and criticized the Twitter mob coming after him).
Nevertheless, what she said was objectively good, and I was so pleased to see that Focus on the Family is starting to change.
At the same time, they're promoting a free sex course by Gary Thomas and Debra Fileta, authors of the book Married Sex, and in that book they told women that they should view sex the way you view feeding a newborn in the middle of the night (as in you just have to do it, like eating your vegetables, Gary said), and Gary praised women who sent nude photos, even if initially reluctantly, and mentioned that this helped one husband not look at porn.
So Focus on the Family has a LONG way to go.
But it's progress.
A few things did bother me about this reel, though.
The first is personal.
They are refusing to cite me at all.
Several authors are starting to try to teach in a more healthy way, but they are refusing to note that it was me who started this. I mentioned this in a longer post about how I became "She Who Must Not Be Named" when Gary Thomas published our book where he appears to plagiarize me without citation. And as we noted in The Great Sex Rescue, Focus on the Family had absolutely nothing on their website about vaginismus when we published. So I'm glad they're starting to mention it now (even if they're not saying the word).
But when we did the largest study ever done on sex in the evangelical world, and one of the specific things we looked at was obligation sex, it does bother me when people talk about this without citing us. If you were writing a college paper on spanking, you'd get docked points if you didn't mention the Gershoff meta-analysis, because it was ground-breaking, and it's the gold standard.
Well, we're the gold standard. We studied something no one else has, in a HUGE study, directly of the population they're talking about. And we have brand new findings that are so important pelvic floor physiotherapists asked us to present, and they can earn CEU credits by watching our presentation.
Yet we can't be cited.
They have deleted hundreds of comments now mentioning The Great Sex Rescue.
I've taken so many screenshots it's ridiculous, but they're deleting any comment that mentions me or the book. Here are just a few:
So many are actually thanking Focus on the Family and being polite, but those are gone too:
Here you can see there were originally 36 comments; only 3 are still showing. The others were all recommending our book, and they took those down. But they left up the one recommending Sheet Music–even though there was a lengthy comment that DIDN'T mention us but that did explain what was wrong with that book. That comment is now gone, too.
I would love to know what the rationale is. They obviously agree with our book, because Juli Slattery is mouthing our talking points. But they refuse to let others know about it.
Nevertheless, I'm glad they're still talking about it.
The important thing is truth is being preached.
As Paul said:
Whether they mention me or not, the gospel is being preached. And that's a reason to rejoice.
"A groundbreaking look into what true, sacred biblical sexuality is intended to be. A must-read." - Rachael Denhollander
What if you're NOT the problem with your sex life?
What if the messages that you've been taught have messed things up--and what if there's a way to escape these toxic teachings?
It's time for a Great Sex Rescue.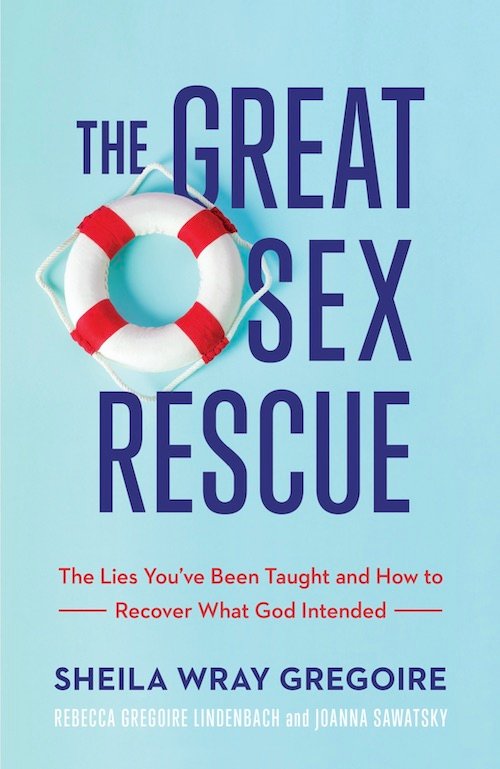 So the conversation is changing, even if they didn't want it to! And that is something to celebrate, even though on a human level it is just hard to see that we've done all of this work, and we're still considered pariahs, and they want to end up taking credit for it.
If you want to be part of that conversation changing, I've also got a new Great Sex Rescue Toolkit with handouts, videos, and more to help you explain our findings to others (or understand them yourselves!) It's pay-what-you-can, so I don't have a price on it. I spent a considerable amount getting it designed, so I'm hoping those who can afford it will be generous to support what we're doing and help us do more of this, but I also don't want price to be a barrier to anyone!
What I also find so instructive about this episode is actually a bigger picture issue:
They can't get healthy without addressing the unhealthy teaching.
If you read the comments that are still up, that don't reference me, you see a disturbing pattern. Many, many people are defending obligation sex, and saying that a wife needs to give her husband sex whenever he wants it, like this one:
Well, with respect to focus on the family, I do not agree with what this lady says. She quotes 1 Corinthians 7, and precisely verses 3, 4 and 5 are quite clear regarding sexual life in a couple. When the man or the woman (any of them) says that his/her partner is forcing him/her to have sexual relations, it is as if that person were saying: My Wife/Husband forced me to get married. If one of the two wants to have sexual relations, the other should not object, and should not feel that it is an obligation; Rather, he/she must feel love and joy for having that wonderful experience with his/her partner.
When we get married for real (not unreal or fake), our bodies do not belong to us, so says the Bible in 1 Cor 7:4. That's why I find it hard to believe that a wife or husband feels compelled to have sex. Do not err brothers, lest because of our pride, we open the doors to satan and that leads us to infidelity and then to the breakdown of the marriage (divorce). Divorce was never in God's plan, it's a horrible exception and we shouldn't come to that. Let's save the Families, and put aside psychology, humanism, machismo and feminism. Blessings and a big hello to everybody.
That's hardly surprising–this is what Focus on the Family has been explicitly teaching for years. In The Great Sex Rescue, we quote one of the hosts of the show saying that one reason men are watching porn is that wives aren't giving enough sex. This is the fundamental approach Focus has taken.
That approach is no longer tenable.
But what we're seeing here is that you can't give the healthy information without first demolishing the unhealthy teaching. You need a "rescue" first.
When people have believed the unhealthy stuff for so long, you have to explain why it's wrong in detail. You have to take this head on. I think Juli was trying, but it needs to be much more explicit.
And that means you need to apologize for what you said in the past. You need to acknowledge that, yes, this is not what you have always taught. You need to say, "we used to believe like you did, but then we realized how unChristlike and awful this was, and here's why…"
What Focus on the Family is going to find is that, unless they specifically demolish the false teachings, and denounce books like Married Sex that they are currently heavily promoting, and take down bad posts from their site, and get rid of Love & Respect (and so many others), this turn in teaching isn't going to work. There's too much baggage that has to be unpacked first.
Their audience has believed in male entitlement hook, line, and sinker.
If they want to honestly help their audience be healthy, they're going to have to address it.
The question is: Are they ready for it?
Of course, I didn't even believe they'd do this, and Slattery's reel surprised me. So I hope that once again they will surprise me and start doing the right thing.
But I'm very, very skeptical, given how much they've been cancelling me (despite railing against cancel culture).
One can hope–but I'll reserve judgment for now.
What do you think? Have you noticed that things are getting healthier? Do you think we will ever get cited? Let's talk in the comments!