Can you feel hurt without actually being harmed?
And is there a difference between hurt and harm?
This is a conversation that we've been having in our Patreon facebook group (exclusive for our Patreon supporters; you can join for as little as $5 a month!), and I thought I'd raise it here too.
Joanna Sawatsky (my co-author) told me a few years ago how, during her period of infertility, she found attending baby showers at church really difficult. But she had to understand, "that mom is not being pregnant AT me." It wasn't about her.
She was allowed to find it hurtful at the same time as realizing that no one was actually harming her.
I simply can't listen to the song It Is Well with My Soul, because we played it at my son's funeral. I can't do it. This weekend, while I was sorting baby clothes at my younger daughter's house, it played on her phone and she started singing. I asked her to skip the song, and she apologized because she had forgotten my trigger.
I felt hurt, but she hadn't harmed me.
Often we use the words "this harmed me" when what we really mean is "I felt hurt when…"
In both hurt and harm you may feel distress and grief, but in only one case was this intentional, and potentially in only one case are there serious repercussions.
Sometimes we can feel really, really bad when no one has actually harmed us. It doesn't change the fact of the feeling, which is legitimate and often based in something else very real (and often past harm). But I find this a distinction that is helpful, personally, so that I don't react in anger with people who aren't actively harming me, even if I'm hurt.
Harm is about three components: Proximity, intent, and results.
1. Proximity can cause hurt to become harm.
People who are close to you should care if you feel hurt.
Let's imagine that my daughter hadn't turned the song off, and had said, "Mom, you're being ridiculous, and it's my house, and I like this song."
That would harm me. She's someone close in proximity to me, who does owe me (as I owe her) compassion and empathy. When you're close with someone, they should care about your triggers and how you are feeling, and if they are doing something that hurts you, even if it's not intentional and even if it's not objectively bad, that should matter to them.
If it doesn't matter to them, they are now communicating something entirely different from the original trigger. They are saying, "your feelings are so inconsequential to me that I won't change something that is in my power to change, because to me, my convenience trumps your grief."
That has now crossed into the realm of harm.
And I think this is highly related to proximity. Your spouse, kids, siblings, parents, best friends–they should know your triggers and care about them, rather than minimize them. They should show empathy and compassion. If, on the other hand, I believed that praise team leaders at a church of 1000 had the responsibility to not play hymns that triggered me, that, I think, would be different. If a church had a way for people to report what songs triggered them, so they could be notified beforehand, that may be wonderful, but it's also a lot to ask. And a church playing a song that you find triggering may cause hurt, but it hasn't been harmful. It's reminded you of something painful, but it hasn't done more harm.
I think we should all work to be as compassionate to those around us as possible. But often we just have no way of knowing how something will land, and we all also have to be responsible for our own stuff.
2. Intent can also turn hurt into harm
When someone knows your triggers, and deliberately pushes them, that's harm.
When someone knows that something does demonstrable harm, and ignores that data and keeps doing it anyway, that's harm.
When an author knows that their book is associated with harmful outcomes, but refuses to take that book back, update it, or speak out against it, then that author is now complicit in harm in multiple ways.
3. Results also distinguishes hurt from harm
This is tricky but important to measure clearly
Here's how Henry Cloud and John Townsend from the book Boundaries explain it:
Here's the distinction: while hurt is the experience of something painful, it may not be damaging. But harm is different. Harm creates significant problems in the three primary areas of life: withdrawal from other relationships; personal decline; diminished performance…When problems happen in a relationship, keep pushing through hurt, as long as you are committed to the relationship. But pay attention to when things cross the line into harm.
So not all hurt is harm–but it can become harm.
Let's say that Joanna had felt really, really triggered when her church held baby showers, and she had insisted that the church was doing harm to her and every infertile woman by holding baby showers. And let's say that the church continued to hold baby showers.
Joanna could make the case that the church is harming her. But is it really?
Yes, Joanna feels sad every time there is a baby shower, and feels as if the church is marginalizing her and doesn't care about her. But there is no intention to harm her, and she isn't actually experiencing long-term results that are impeding her relationships, her personal mental health, or her performance in other activities. Even if she becomes depressed, it is not the presence of the baby showers that is doing that, but rather her own pain at her infertility, which has now been pressed in a fresh way.
Of course it would be kind for churches, when they issue invitations and announcements about baby showers, to have a disclaimer like, "we recognize that this event may be difficult for those walking through infertility, and want people to know there is no obligation to attend. Please take care of yourself." It is always kind to accommodate people's triggers as much as possible, and anticipate them as much as possible. But triggering someone, on the whole, is not actually causing harm.
I know this is tricky, but I saw a great conversation on Twitter about this, and I think this example may clarify.
My parents were abusive.
As adults, my brothers and I all established different boundaries for them. My youngest brother lived at home for longer than my middle brother and me. He continues to talk to and see my parents regularly and keeps in close contact with them even now that he's independent. Middle Brother cut them off completely and has no contact with them whatsoever. I'm in between. I see them every couple of months and for holidays/birthdays we'll exchange gifts. They have the same visibility into my social media as the general public. All three of us kids keep in touch with each other.
Despite the fact that we each have different boundaries for when, how often, and how much information we share with our parents, none of us is abusive to the other by having different boundaries. We've communicated our boundaries to each other, none of us is obligated to join any other kid's visit with our parents, and we don't talk about our siblings with our parents. Each of us manages our relationship with them independently.
It sometimes hurts to see Youngest Brother have opportunities and be able to take risks that I never had and never could because I decided that my mental health was more important in the long run than either allowing my parents to hold coercive strings over me or giving them a clear narrative for our mutual friends where I was manipulating them by taking their money and gifts but not being part of the family in any other way. I know it hurts my sister-in-law to not have the relationship she'd hoped for with her in-laws.
Youngest Brother isn't harming or abusing me by having different boundaries. Mine aren't compromised by his.
I feel hurt sometimes because our actual abusers— my parents— forced us to make tradeoffs no teen should have to consider and permanently harmed each of us in life-altering ways. I'm not harming Middle Brother or SIL by still talking with our parents. They have a great life and chose different tradeoffs than I or Youngest Brother. Feeling emotionally pained by it is also okay! It's normal!
Emotional resiliency means recognizing that "Pain when X" doesn't necessarily mean "Pain caused by X."
Sometimes X is just a catalyst, neither good nor bad for you, and deeper analysis is required to identify the root cause of your pain and whether lashing out, tolerance, or acceptance is the best response.
Freedom from abuse doesn't mean freedom from emotional pain. It doesn't mean freedom from being in some kind of community with people who have different boundaries than you. Being in community means that inevitably, these kinds of conflicts will happen and we'll feel things in response! Freedom from abuse means freedom from other people's boundaries having influence or impact on yours.
I thought that was so well put. Not all emotional pain stems from harm done.
On the other hand, some things do objectively cause harm, and we can measure them.
That's what The Great Sex Rescue project (and the She Deserves Better project) are all about! We've measured the harm caused by certain evangelical teachings on sex and marriage, so that we know, for instance, that teaching girls that they are at least partially responsible for keeping boys from sinning results in a 68% higher chance of marrying an abuser.
That teaching does demonstrable harm–as do teachings like all men struggle with lust, or a woman is obligated to give her husband sex when he wants it. Or teachings like "abuse is not a valid cause for divorce" (as Focus on the Family holds). When you believe the marriage takes precedence over the safety of the people in that marriage, you do harm to them.
"A groundbreaking look into what true, sacred biblical sexuality is intended to be. A must-read." - Rachael Denhollander
What if you're NOT the problem with your sex life?
What if the messages that you've been taught have messed things up--and what if there's a way to escape these toxic teachings?
It's time for a Great Sex Rescue.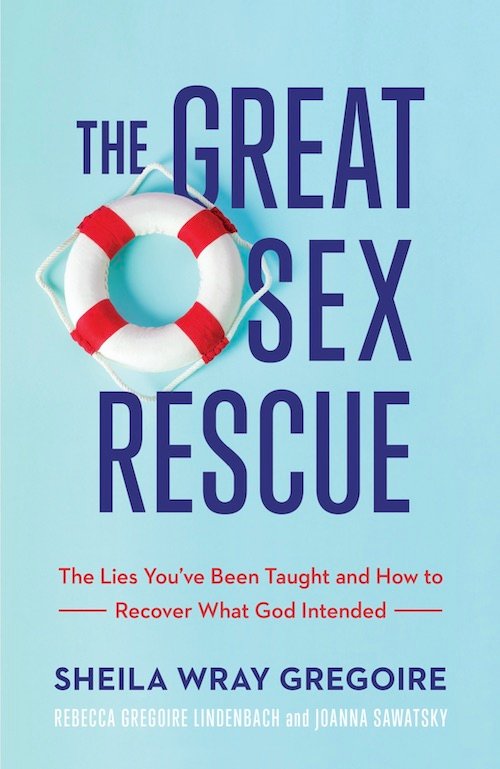 It's important to distinguish between hurt and harm.
It's possible to err too far on the side of trying to diminish all hurt–like refusing to hold any baby showers or acknowledge any babies in the congregation. We might try to protect someone from hurt that we actually cause harm to others–by refusing to recognize people's milestones; by ostracizing or treating unkindly certain people or groups who trigger others.
But it's also possible to err too far on the side of ignoring harm, refusing to look at how our actions are impacting others, especially those we love.
I hope we can start thinking more about the distinction between hurt and harm, because it affects church life, family life, and more. Let's treat each other with empathy and compassion for our hurts, while also realizing that we need to take responsibility for our own stuff!
How would you distinguish between hurt and harm? Do you see people claiming harm when it's merely hurt? Do you see people causing harm and ignoring it? Let's talk in the comments!