We see fighting toxic marriage teachings as part of a broader mission in the church.
 For the last four and a half  years, our team at Bare Marriage has pursued wholeheartedly a difficult and overwhelming task: Challenging the toxic messages in our evangelical resources that hurt and damage marriages and enable abuse. We've done that through huge ground-breaking studies; thorough reviews of our best-sellers; and heartbreaking focus groups as we listen to the fall-out. 
The sum total of the teachings is that men are entitled to women's bodies; that men deserve unconditional deference free from being challenged for any bad behaviour; and that men cannot be expected to act honorably or even safely, so when men do harm, it's likely because a some woman somewhere wasn't doing her job. 
 It's not hard to imagine how disastrous this can be.
 In a survey done by the Institute for Family Studies, about 27% of highly religious men in complementarian marriages claim that they have been violent with their current partner. Marital rape is hard to measure, because it depends on the definition, but it looks like in evangelical marriages it ranges from 10% with a narrow definition to as much as 25% if you're looking at obligation sex that has caused trauma.
 Our survey for The Great Sex Rescue confirmed findings from previous studies that evangelical women suffer from sexual pain at around 2.5 times the rate of the general population: and one of the main reasons is the obligation sex message. When a woman believes this when she marries, her chance of experiencing sexual pain increases to almost the same statistical effect as prior abuse. Because both obligation sex and abuse tell her: You don't matter. He has the right to use you however he wants. And our bodies interpret that as trauma.
 It doesn't end there. When women believe these toxic messages, they're far less likely to be able to identify abuse and marital rape, which is one of the reasons why Gilad et. al found in a 2014 study that highly religious evangelical women stay in abusive marriages far longer than women in the general population.
Fighting teachings that enable abuse is part of fighting the abuse culture in churches
Part of fighting abuse, then, is challenging these teachings that normalize abuse and allow it to flourish. We very much see our work as part of the overall mission to create a church that is built on love not on power. While some advocates work to call out individual abusers and organizations, we work to undermine the teachings that have empowered abusive systems and relationships to flourish. 
As a healthy church community, we need to do both. 
When we deplatform a pastor who has abused his congregants, we rescue his present and future victims and we provide vindication and a measure of justice to his past victims. 
But if we don't address the teachings that enabled that leader to rationalise, justify, and hide their exploitation, then more abusive pastors will keep popping up and we'll just keep playing abuser whack-a-mole. 
Until people are educated on how to recognize and reject abusive systems and teachings, abusers will continue to be enabled to operate with impunity.
But there's another problem: In any church where the pastor is abusing some specific congregants, either sexually or through bullying, many, many other women are also being abused–they're just not being abused by the pastor.
Even if the new pastor DOESN'T abuse, if nobody addresses the underlying abusive teachings, then that church will still be full of abuse victims unless someone helps them. 
In the Bare Marriage research focus groups, we heard stories of horrible rapes – not by church leaders, but by husbands. Every single day, our team receives heartbreaking emails and comments. It's like Law & Order SVU level – all the time.
Debunking toxic teachings rescues people in more ways than one
But what we have found is that when we teach people to recognize the red flags of abusive systems, then they're less likely to marry abusive partners, and they're less likely to get sucked in by an abusive pastor or organization.
In fact, one of the most common emails our team gets after people read The Great Sex Rescue is that they've also left their toxic church for a healthier one, because once they have the tools to recognize abusive relationship patterns, they recognize those patterns elsewhere, too. 
One woman said that reading Bare Marriage's books and blog posts was like peeling an onion. Each time another layer came off it revealed another type of abuse that had permeated her life, and not just her marriage. 
Another woman said that after reading The Great Sex Rescue:
I have since stepped away from my church and spoke up about blatant sexual harassment at work from my boss, all in the span of a few weeks. I'm exhausted and sad but liberated beyond comprehension and so stunned to realize how toxic multiple environments I've been trying to function in have been. My muscle tension in my neck and migraines are suddenly gone.
Messages that correct harmful teachings about marriage can also give energy and resources to the broader mission to confront churches, organizations and denominations that do harm.
"A groundbreaking look into what true, sacred biblical sexuality is intended to be. A must-read." - Rachael Denhollander
What if you're NOT the problem with your sex life?
What if the messages that you've been taught have messed things up--and what if there's a way to escape these toxic teachings?
It's time for a Great Sex Rescue.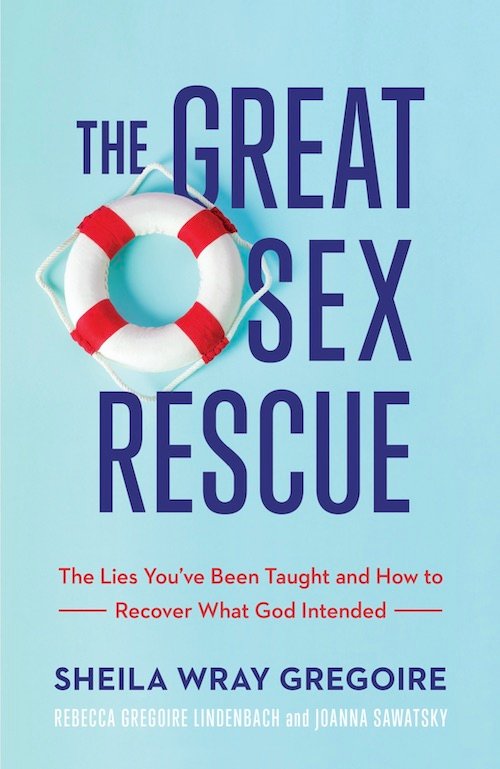 Again–I don't believe this is an either/or. I believe this is a both/and. 
You may also enjoy:
You Don't Have to Consent to One-Sided Sex
Let's help those who are hurt cling to Jesus
But that's not the only reason for correcting toxic teachings: we also need to step in and correct toxic teachings so that people who leave abusive churches don't flounder and end up in the same place just at a different church. And we also need to make sure that people harmed by abuse know that Jesus is safe and what they were taught is of Jesus isn't of Him at all. 
If we don't want people to feel spiritually homeless or remain vulnerable to abuse, then we need to give clear messages that dangerous teachings on relationships, marriage, racism or power are not of God.
Become a part of the movement
Join 40,00 others and let's change the evangelical conversation about sex
That's why fighting toxic teaching on marriage is part of the wider mission of healing the church. 
And it's why we need to give these messages widely, even (or perhaps especially) in toxic spaces because it's those people in the pews who most need to hear it!
I'm so grateful to those who are able to go into these toxic spaces where we have often already been blacklisted to give these messages (and if you need any resources to do so yourself, that's what The Great Sex Rescue Toolkit is for!
But that also means that we can't just declare some audiences off-limits because they're associated with the wrong person. We have to find a way to reach people still in difficult places.
Last week on the podcast looking at echo chambers in church, I said this:
Jesus says, you guys are trying to set these really high bars for who is allowed in and who you're allowed to talk to and who you're allowed to associate with.  And that's not what God does.  God breaks down those barriers, and He says, "Hey, let's be together.  Let's show mercy.  Let's have community.  Let's talk.
And I hope that that is something that the church can do because I'm worried that we're losing it.  I'm worried that we're losing the ability to talk across the aisle and that we're becoming so fractured and so much into echo chambers that we're never going to grow.  We're never going to talk to anyone else.  
And we're also not going to be effective. 
Let's say that you have a doctrine that you believe in strongly.  For us, it might be women's equality.  For you, it might be something else.  If you're saying that if there's an organization, a person, an entity, a church who doesn't hold that belief then I will never talk to them or anyone who is affiliated with them, how am I ever going to spread my belief if this is something which is really important to me?
Debunking toxic teachings is important.
We need to start thinking strategically about how we can do this, especially in places that are often toxic. I'm seeing so many new influencer channels start on social media parroting all the same toxic sludge. It's still everywhere. It's a big job–but people are hearing it from the grassroots level. 
So I'd love to hear your thoughts: What's next? How can we as a community debunk these messages, because it's so important. Let's talk in the comments!