What if the reason that our evangelical marriage advice often doesn't work is because we're aiming for the wrong thing?
And because we're aiming for the wrong thing–we've got the wrong solutions?
Welcome to our Marriage Misdiagnosis series!
This month we're going to look through why evangelicalism often has a set series of typical pieces of advice for marriage–and why that advice often leads to quite unhappy outcomes.
And we're going to look everyday at the RIGHT questions to ask instead, and how to get back on track!
I began yesterday sharing some thoughts I had five years ago, about how often the questions that we ask paint us into a box. If our aim is to keep marriages together, then we can't really address problems that may rock the boat. If our aim is to practice marriage headship, then can we really address issues that a husband may have in marriage?
I want to continue this today and look at some examples of this–and see how this can go wrong.
Let me use an example of something that is typical of a certain strain of evangelical marriage advice:
How do you know if you're married to the right person? Short answer: look at the name on your marriage certificate.
So the answer given when people are desperate or in pain is to tell them: just commit more.
It reminds me very much of what Keith and I used to teach at marriage conferences fifteen years ago.
We were speakers with FamilyLife Canada (they've changed their curriculum since) and we used the U.S. curriculum back then. Three of the twelve talks for the weekend retreat focused on commitment, and how you needed to realize that marriage wasn't about marrying the right person; it was about becoming the right person.
And how the right person for you is the one you married.
We spent three talks going into details about the importance of commitment, and how people take commitment too lightly. And how you just have to decide to commit. Make the decision. Shut that back door closed on divorce! Because once you decide to commit, then we can do the real work of improving the marriage.
There was just one problem–and commitment wasn't it.
For most people having marriage problems, the issue is usually not lack of commitment. Now, for some people it definitely is–the people who have affairs; the people who flirt with others. But they're not likely to be listening to advice about marriage right now anyway!
For most people who want marriage advice, the issue is that marriage hasn't brought the closeness, intimacy, and benefits they dreamed of. They don't feel intimate. They don't feel like partners. Marriage has been draining.
What they want is for marriage to be something that invigorates them!
They don't need to be lectured about how much commitment means. What they really, really need are tools for how to get that relationship that is actually life-giving, rather than mediocre at best, or soul-crushing at worst.
So why do we lecture about commitment? Because people in really dire straits in their marriage need to be convinced that they don't  have a choice about leaving. And the only way to do that is to lecture them on commitment.
I was never comfortable giving those talks, but I gave them anyway.
I'm terribly sorry about that. We had outlines that we had to follow, and certain points we had to make, and then we'd add our own stories to beef up the talks. But I remember talking about how God made Eve for Adam, and how they were supposed to be together, and how we need to look at our spouse with the same intensity that Adam looked at Eve and declared, "bone of my bone, flesh of my flesh!"
Again, I'm sorry about that.
"A groundbreaking look into what true, sacred biblical sexuality is intended to be. A must-read." - Rachael Denhollander
What if you're NOT the problem with your sex life?
What if the messages that you've been taught have messed things up--and what if there's a way to escape these toxic teachings?
It's time for a Great Sex Rescue.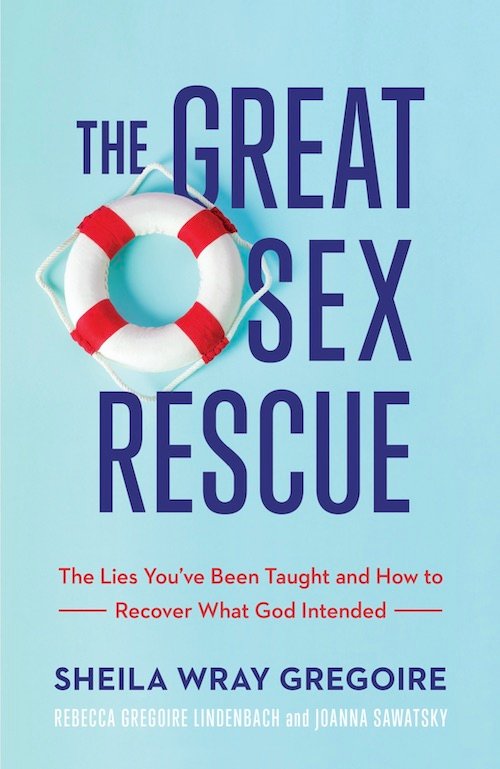 I opened up the most popular secular marriage book to look at the difference in emphasis.
John Gottman's Seven Principles for Making Marriage Work is focused on the work the Gottmans have done in their Marriage Lab, where they watch couples and then follow their trajectory afterwards, and they've been able to predict with over 90% accuracy the chance of divorce. And from that they've discovered seven principles that keep marriages together.
And guess what? Not one of the seven principles is commitment. Couples stay together when the marriage enhances their lives, not detracts from it. So the key is to make sure that the marriage enhances your life! And that often means learning coping strategies and reworking your relational maps and your defence mechanisms so that you grow connection rather than inhibit connection.
In their second chapter, "What Does Make Marriage Work?", they say this:
At the heart of the Seven Principles approach is the simple truth that happy marriages are based on a deep friendship. By this I mean a mutual respect for and enjoyment of each other's company. These couples tend to know each other intimately—they are well versed in each other's likes, dislikes, personality quirks, hopes, and dreams. They have an abiding regard for each other and express this fondness not just in the big ways but through small gestures day in and day out.
Their approach is really one of: let's uncover what is holding us back from intimacy and address it so that we can create the marriage you always dreamed of.
Christian books and advice often do the opposite, saying, "let's uncover what's holding us back from committing wholeheartedly to this marriage, and figure out how we can commit no matter what."
In the evangelical approach to marriage, it's not about transforming the marriage; but rather how to muscle through and endure it, and change our perspective.
That last part is especially important. The focus in so much of our marriage advice is not on changing our experience but changing our perspective. Instead of addressing real problems, we're told that WE are the real problem. We're expecting too much. We think life should be easy instead of remembering that marriage is hard. We're forgetting that God made marriage to show us our own flaws and our own selfishness so we could work on these things.
With everything, there is a grain of truth. But the emphasis is all wrong, and here's why:
You can't have intimacy without honesty.
And you can't have real honesty if our goal must be to never, ever rock the boat. When we focus on commitment rather than on relational health, we don't actually deal with root issues. In fact, dealing with root issues becomes dangerous, because it might endanger the commitment.
So instead we focus on outward signalling that everything is okay–we focus on the marriage staying together and looking happy.
Because we're focused on outward behaviour rather than inner truth, we often focus on surface-deep solutions.
Instead of aiming for sobriety, we accept "bouncing your eyes" away from temptation.
Instead of doing the hard work of inner healing from betrayal and trauma, we're told to forgive and move on. We end up numbing our feelings instead of dealing with them.
Instead of aiming for a sex life which reflects mutuality, intimacy, and pleasure, we measure it solely in terms of frequency.
Instead of aiming for a marriage where we feel like we have a genuine partner, we practice gratitude for anything our spouse does, even if we're still exhausted and carrying too much of the load.
Instead of aiming for a marriage where we feel intimately known, and where we each contribute to the relationship, we're told that marriage is hard and the solution is to lower our expectations.
Become a part of the movement
Join 40,00 others and let's change the evangelical conversation about sex
I think we can do better with marriage advice, and I want to look at how this month.
I think we can focus on achieving real intimacy, which will in turn lead to an enhanced commitment, but it can only come when we take the risk of being honest.
So that's my challenge this month: Can we be honest with each other, address our problems, and grow intimacy?
And to do that, I want to give you two posts that can help you start! Consider these your kindergarten and grade one exercises. It's not about addressing anything huge, but just giving yourself a chance to really talk again! Practice opening up to each other, and then you'll find you have a better foundation for addressing big things.
Let's Talk–and Get to Deeper Levels of Communication!
We're focusing on building communication that leads to honesty and intimacy.
Here are two posts that can help!
50 Conversation Starters. Super easy. Nothing too wacky. Just pick a couple and ask each other these questions tonight! Start talking about things that maybe you haven't explored before.
The 5 Levels of Communication. Often couples never get past level 3! See where you usually fall.
The Marriage Misdiagnosis Series
Why Holding Up Radical Stories of Marriage Restoration Can Harm More than Hurt (coming soon)
If I Pray Hard Enough, Will God Heal My Marriage? (coming soon)
Does Marriage Need Strict Gender Roles? (coming soon)
The Signs of an Emotionally Abusive Marriage (coming soon)
How to Keep Your Identity in Jesus, Not in Being a Wife (coming soon)