How do you initiate sex with your wife without turning her off?
We've been working through an obligation sex series for the last few weeks, and one of the big things I've been stressing is that making your spouse feel like they are obligated to have sex has disastrous consequences–especially for women. Obligation sex lowers libido. It lowers orgasm rates. It even increases rates of sexual pain.
Most men don't want their wives to do something they don't want to do. They want their wives to honestly want sex!
But then there's a conundrum. How do you initiate sex without it feeling like pressure?
A guy who reads this blog recently sent me in this question:
I'm a happily married husband without libido problems. I find that it doesn't come natural for me to initiate sexual intimacy verbally and my dear wife does not want me to initiate intimacy by jumping into foreplay without asking first. When in the mood, my wife initiates but she does want me to initiate, too. 
She wants to feel pursued, but if he grabs her when she's not thinking that way–well, that can often be a turn off. So let's start at first principles.
What do we mean by "initiating sex"?
On our male-centric sex podcast a while back, we shared this graphic of the sexual response cycle:
When people talk about "initiating sex", they are often confusing two things: the actions that you do that lead up to someone being willing to start affection, and the actions that are more appropriate from transitioning from excitement to arousal.
If you're leading with foreplay before anything else, you're going straight for what's appropriate partway through the sexual response cycle, NOT what's appropriate before we're even on the cycle!
While some women enjoy being groped out of nowhere, most do not. Most find it a huge turnoff.
If you're interested in having sex tonight, then, the key is not to jump to arousal, but instead to build desire so that she's willing to start affection.
Most women do not want to carry all the emotional load for building desire
I've had many women write to me saying, "My husband thinks he's being a good guy by saying, "I don't want you to do something you don't want to do, so when you feel like sex, I'm here for you." This seems selfless, like they're not pressuring her.
But if she has more of a responsive libido, then she needs something to respond to! She needs some warming up, and she needs to be able to relax and feel close to  you.
If she is now in charge of getting her desire to build so that she is the one who starts the affection, then she is now bearing all the labor of getting sex going. And for someone with a responsive libido, that's a big weight to carry.
Here's the key: a man has to be open to her saying no. Why do most guys put it in her court? Because they don't want to be turned down, and they don't want the awkwardness of pressuring her. But if she is going to feel truly safe and cherished in the relationship, she needs to know that she can say no without it impacting how he feels about her. That means that he needs to be okay with getting turned down.
Putting everything in her court isn't right or fair, and when women say, "I just want him to initiate sometimes," that's what most women are saying. Take the pressure off of me!
Let's look at how you can build desire so that she is willing to start.
Yes, there are also things that you can do to move from excitement to arousal, or to get her excited in the first place. But honestly–if you can move towards each of you being willing to start affection, and if there's little pressure then often those things take care of themselves!
When initiating sex, gauge her interest level
1. Use a code word.
A number of people mentioned ways that a husband could test the waters and see what her interest level was.
My husband and I have a code. He'll make the eyebrows jump while saying hmm hmm. If I reciprocate I'm in the mood. If not it dies there. He doesn't have to speak to initiate and I don't have to speak to let him know.
Looking back at that sexual response cycle chart, there's a difference between "I want to actively NOT have sex right now" and "I'm don't particularly want to have sex right now." One state means you want to NOT have sex; the other state means you haven't really thought about it and it's not a pressing desire.
If someone actively wants to NOT have sex, then you shut it down, and you need to take their no for an answer.
Some couples adopt a code word as a way to signal–"It's definitely a no tonight."
If you want to avoid awkwardness, a code word can help.
2. Ask about her interest level directly
I'm more in favour of the direct approach, personally. Sex is personal, and sex is vulnerable, and so it needs to be something that you can communicate about. You can say something like:
Hey, I'd love to make love tonight, but I also want to just connect with you. So let me know if you're not interested, but either way I'd like to feel close to  you tonight.
That way she knows she can always say no and you're still going to connect with her in other ways, but you're also up front about what you're feeling.
Initiate Sex by Building Desire
Many women actually want to be pursued and to be wooed to want to make love. They want to feel like you're interested in them as a person, not just as a body. So try things to build connection during the day.
3. Text her throughout the day.
Let her know that you're thinking about her and that she excites you.
Thinking about seeing all of you tonight!
Or,
Remembering the awesome time at [fill in the blank].
Or just,
I love you so much! So looking forward to coming home to you tonight.
Don't be super flirty and sexy if you've found that she doesn't reciprocate. That's likely a sign that this is pressure, not fun.
But if she enjoys that, then go for it! Otherwise, stick to more romantic and loving texts. Then, when you get home, hug and kiss her and whisper something in her ear that reiterates that ("Can't believe I have you to come home to…")
4. Compliment her.
Tell her what a great job she's doing at something that she really values but that stresses her out (like motherhood, or drawing boundaries with difficult people, or even at work). Tell her you're proud of her. It's a big turn on because she'll see that you notice things about her which are important.
If you want to compliment her looks, be specific but not crass. Don't just tell her she's beautiful–tell her what about her is so beautiful. "I love how curvy you are" or "Your eyes are breathtaking" are better than, "You are so beautiful."
5. Pray with her.
Prayer can actually be a big libido booster! When you open yourself up to God, and become vulnerable together before Him, it helps you feel more vulnerable towards each other, too. Emotional intimacy, that tearing down of walls, is one of the best triggers for getting your libido going. So pull closer to her with God, too!
6. Spend some time talking to her during the day–bonus if it's while you're in bed.
She needs to feel like you truly "know" her, and that you're interested in what's going on with her. And since many women can't relax enough to have sex when there are tons of things running through our minds, when a guy helps us process all the concerns we have, it both helps us feel heard and cherished, but also helps us put those things on the back burner so that we can concentrate on what's happening now!
And if you do this while you're cuddling in bed–it's easier for other things to start!
7. Ask her, "What's the big thing that's on your mind right now?"
Along the lines with the above suggestion, if she finds it difficult to get in the mood because she's always feeling overwhelmed and busy, try to help her tackle her biggest stressor. Ask her what's the biggest thing that's worrying her. Then follow up and ask, "do you want me to listen, or do you want me to try to solve it?" And then do what she says!
"A groundbreaking look into what true, sacred biblical sexuality is intended to be. A must-read." - Rachael Denhollander
What if you're NOT the problem with your sex life?
What if the messages that you've been taught have messed things up--and what if there's a way to escape these toxic teachings?
It's time for a Great Sex Rescue.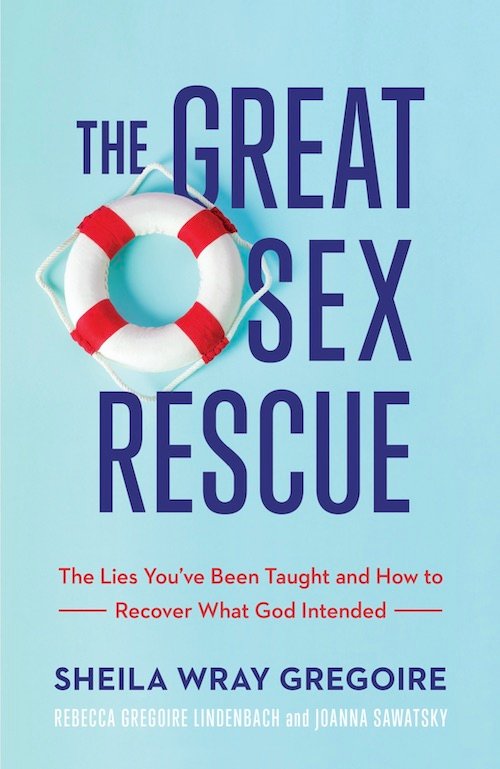 Initiate Sex with Physical Touch:
Instead of jumping right to making out, touch her in other ways first.
8. Cuddle while you're watching a movie
Touch her! If you're spending time with her going for a walk, sitting on a couch, or doing just about anything–take her hand, cuddle her, anything!
9. Offer a massage.
Massage is such an important component of our intimate life. I often have so much on my mind, and I live so much in my head that I need that transition time to just FEEL. That's what massage does. It helps me put all of the things I'm worried about on the back burner, and listen to what my body is feeling. And because it's also relaxing, it's a great way to build desire. So when you're watching a movie, rub her shoulders or her feet. In bed, start rubbing her back. Let her transition from day time to evening time by letting the stress leave her body.
10. Start with a kiss
Finally, this is the big thing. If you want to make love, start with a kiss. Then make the kiss deeper. And see where it goes!
But with women, sex mostly starts with kissing, not with grabbing some other part of her body. Let her enjoy the kiss. Chances are you kissed a ton before you were married, but then often we stop kissing once we're married because women are afraid that if they kiss, they lead you on, and they're not sure that they necessarily want to make love.
That's because it's kissing itself that often starts to get us in the mood. Not in the first two seconds perhaps, but as the kiss goes on longer. So kiss her! Yes, sometimes she may still say no. But the kiss is worth it, in and of itself. It helps build desire and closeness, and without kissing, often no desire ever builds.
In everything, let the message be "I want you", not just "I want sex."
The key to initiating sex is to show her that you really are truly interested in her, not just in her body. So as you work through these suggestions, even if it doesn't lead to sex, it builds your relationship, affection, and trust. And the more you show that she can say no without you punishing her or pulling away from her, the safer she will feel–and again, the more desire will build.
Initiating sex is vulnerable. It can be frustrating, because she can say no. But if we start thinking about initiating not just as doing the "sexy sexy," but mostly as building the connection that you need in your relationship, then sex is more likely to become a less stressful and more passionate part of your life.
Normally for my top 10 posts, I tell you to pick 1-2 ideas and do them. But this, I think, is cumulative. Try to do ALL of them. Start with texting. Hold her hand. Talk to her. Pray with her. Give her a massage. Kiss her. And THAT'S how you initiate sex with your wife!
What do you find it your biggest turnoff? What makes you feel pressured? What would be your #11? Let's talk in the comments!
This is an updated version of a post that ran a few years ago. Some of the comments from the original post are still below!
The Obligation Sex Series
Previous Posts on Obligation Sex
Previous Podcasts on Obligation Sex
Plus please see our Great Sex Rescue Toolkit for handy downloads about the effects of obligation sex that you can give to your pastor, counselor, small group leader--anyone who teaches it!
And see chapters 9 and 10 in The Great Sex Rescue for all our charts, stats, and commentary!