Is all obligation sex necessarily rape?
As we've been talking about obligation sex this month, starting with 10 things you need to know about obligation sex, and how obligation sex affects a woman's body, there's a conversation that keeps coming up on social media:
Why don't you call obligation sex what it really is? Why don't you call it rape?
I thought today it would be a good idea to go over what constitutes marital rape, then.
Not all obligation sex is rape–but obligation sex is the underpinning of marital rape.
Obligation sex is rape culture, but not all obligation sex is rape. Let me explain.
Obligation Sex that Isn't Rape
When we did our focus groups for The Great Sex Rescue, we talked to so many women who had been having obligation sex for years–but their husbands hadn't known. They weren't reaching orgasm, their libido had tanked, but they kept initiating (often every 72 hours), just like they were told to.
Eventually things came to a head where they couldn't keep doing this anymore (as things inevitably will when obligation sex is the main dynamic in your marriage), or else the husband noticed something was off, and they talked about it. And often their husbands were devastated to learn that their wives felt like they had to have sex, even if they didn't want to.
We talked about Kay, whose libido was lost after suffering postpartum depression, and who stopped being able to orgasm, even though it was easy before they had kids. But she initiated for years, until she and her husband had that conversation. And he told her: I don't ever want you to do something you don't want to do. Even if we're in the middle of something and it's not working for you or you change your mind, I want you to tell me.
And she did, and he proved he was fine if she said no.
Her libido, and her ability to reach orgasm, returned.
We talked about a woman who initiated every 72 hours because that's what she thought she was supposed to do. And she was upset that her husband never initiated. He told her that he was just trying to catch up to her! And they agreed that no one would ever initiate unless they really want to, and they've settled in to about once a week or so.
We had other stories just like this. And the commonality was that the motivation and pressure for obligation sex was not coming from the husband, but was instead internal. She believed that she owed him sex, because that's what she'd been taught in all the books; on Focus on the Family; in women's Bible studies She'd been taught that he couldn't be faithful or feel loved without frequent sex.
(And again, to be fair, I used to teach this too. This was everywhere in evangelicalism).
"A groundbreaking look into what true, sacred biblical sexuality is intended to be. A must-read." - Rachael Denhollander
What if you're NOT the problem with your sex life?
What if the messages that you've been taught have messed things up--and what if there's a way to escape these toxic teachings?
It's time for a Great Sex Rescue.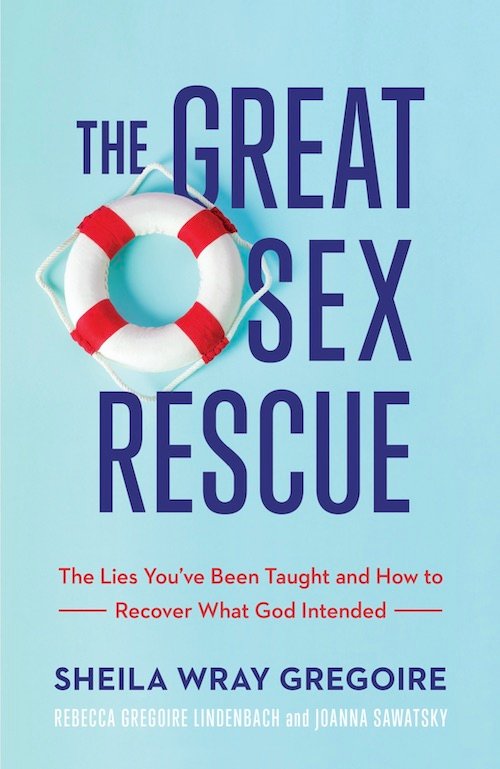 Obligation Sex in the Grey Area
What about if he also believes obligation sex? This is where we can get into marital rape territory.
But I think there's also this grey area. She feels pressured to have sex; he thinks she should have sex. And so they get into this dynamic where if he wants sex, she feels like it's wrong to say no.
Now, rape is sexual penetration without consent, so anything that removes consent can be seen as rape.
There is, of course, a spectrum of such pressure, though, and not all rises to the level of rape. If he mopes and whines and is grumpy if she says no, is that rape? If he becomes morose and claims she doesn't love him, is that rape?
I think that shows very unhealthy marriage dynamics, but in many cases it likely isn't marital rape (in others, if such behaviour is extreme and becomes emotionally abusive, it definitely is). Regardless, it still requires deep untangling, and I hope he will read The Great Sex Rescue or read the first post in this obligation sex series. I hope that you may be able to go to a licensed counselor to talk through what a healthy sex life looks like.
Obligation Sex that Crosses the Line to Rape
As we said in The Great Sex Rescue, if she can't say no, then she can't truly say yes, either.
If she can't say no without something bad happening, then consent is impossible.
So marital rape could look like this:
Physical force, where he overpowers her (for many, this is the only definition of marital rape. But it is only one of many).
Performing sexual acts when she is asleep and hasn't consented
Using sex toys on her when she has actively said no
Emotionally abusing or yelling at her or the kids if she says no
Abusing the children in any way if she says no
Giving the family the silent treatment or keeping the family walking on eggshells if she says no
Embarrassing her in public if she says no
Withholding money or something else that she needs if she says no
Keeping her up for hours berating her using Bible verses, or accusing her of having an affair or wanting to have an affair if she says no
You may be able to think of others; this is not an exhaustive list. But if she needs to have sex to regulate his emotions so that he treats her and the family right, that is rape. 
Please, please, if you see yourself in any of these scenarios, call a domestic violence hotline. This isn't safe. This isn't okay. While some believe that marital rape can't happen, because if you're married you've already consented, this is absolutely untrue. Marital rape is illegal in pretty much all developed nations.
If you believe you may be a victim of abuse, please contact your local Domestic Violence Hotline
Canada: 800.799.SAFE (7233)
United States: 1-800-621-HOPE (4673).
United Kingdom: 08 08 16 89 111
Australia: 1 800 737 732
New Zealand: 0800 456 450
Kenya: 0-800-720-072
Nigeria: 0800 033 3333
South Africa: 0800 428 428
The obligation sex message enables marital rape.
While not all obligation sex is marital rape, it is the obligation sex message that allows marital rape to flourish.
The obligation sex message teaches that sex is a male entitlement and a female obligation. Instead of seeing sex as something mutual, intimate, and pleasurable for both, the obligation sex message sees sex as merely centering on his right to use her body to climax. It is basically his right to use her body as a masturbatory aid, and considers her experience irrelevant.
This is what we hear, over and over again, in Christian resources that talk about how much men need sex, and how God commands us to give it freely.
The book The Love Dare, for instance, based on the movie Fireproof, says this:
When this legitimate need goes unmet–when it's treated as being selfish and demanding by the other–our hearts are subject to being drawn away from marriage, tempted to fulfill this longing somewhere else, some other way…Sex is not to be used as a bargaining chip. It is not something God allows us to withhold without consequence.
They also use 1 Corinthians 7:3-5 to tell people they have to meet their spouse's sexual needs, without saying anything about the orgasm gap or why there may be very good reasons to say no. 
This is quite typical of what Christian resources say. It's not the worst example–but it's typical.
What happens when someone feels entitled to something? When it is denied them, they feel that they are the injured party. They feel like the other person is the bad guy. And if the other person is at fault, then they often feel the right to recoup what was withheld.
Obligation sex enables rape.
Not everyone who believes it will rape. But it does make it more likely.
Pastors, please know this: When you preach obligation sex, you cause some rapes that would otherwise not have happened. Authors, when you write this, you cause some rapes.
Look at your congregation, or imagine your readers. When you teach the obligation sex message, you cause some of these women iwho would otherwise not have been raped to be raped.
I know that's harsh, but it's what the numbers tell us. Obligation sex enables marital rape. We're still trying to do a deep dive into this, but from the literature review we've done, along with our own numbers, it looks like marital rape is more common in evangelical couples who believe in male hierarchy than in the general population. Again, this is our problem.
Instead of teaching obligation sex, teach about how sex flows from a healthy relationship.
And teach that lack of libido is a sign that something is going on that needs to be investigated.
Read The Great Sex Rescue. Pick up The Great Sex Rescue toolkit to figure out how to talk about this in a healthy way (we have a checklist for you!).
But let's end this message, once and for all, because it enables sexual violence in evangelical marriages. And that is not of God.
What do you think? When does something become marital rape? How common a problem do you think it is? Let's talk in the comments!
The Obligation Sex Series
Why Obligation Sex Destroys Libido (and how it affects us long-term)
A Way Forward to Recovery from Obligation Sex (coming soon)
You Don't Need to Consent to Being Used (coming soon)
When Your Husband Won't Let go of Obligation Sex (coming soon)
The Obligation Sex podcast (coming soon)
Previous Posts on Obligation Sex
Previous Podcasts on Obligation Sex
Plus please see our Great Sex Rescue Toolkit for handy downloads about the effects of obligation sex that you can give to your pastor, counselor, small group leader--anyone who teaches it!
And see chapters 9 and 10 in The Great Sex Rescue for all our charts, stats, and commentary!