"A groundbreaking look into what true, sacred biblical sexuality is intended to be. A must-read." - Rachael Denhollander
What if you're NOT the problem with your sex life?
What if the messages that you've been taught have messed things up--and what if there's a way to escape these toxic teachings?
It's time for a Great Sex Rescue.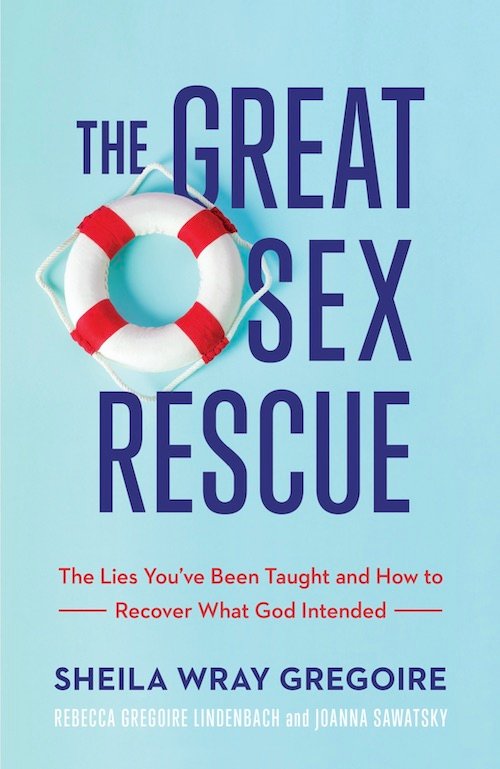 6. Obligation sex is experienced as trauma
One of our biggest findings in our survey is that belief in obligation increased a woman's chance of experiencing vaginismus to almost the same statistical effect as abuse did (there was only .1% separating the confidence intervals). 
Our bodies interpret obligation as trauma, because obligation erases her needs and personhood, and tells her that she doesn't matter. 
This is inherently a dangerous message that is actually affecting evangelical women's bodies. Evangelical women suffer from vaginismus at 2-2.5 times the rate of the general population, and the obligation sex message plays a large part of this.
7. Obligation sex can quickly turn into coercion and marital rape
It isn't hard for obligation to turn into marital rape. If she is obligated to give him sex, then he can feel that he can just take it.
And if he feels entitled to it, then he can feel that if she doesn't give him sex for any reason, she is actually the one in the wrong (even if the conditions in their marriage are deplorable). This can easily lead to him punishing her in some way.
If she doesn't give him sex, maybe he yells more; treats the children badly; gives her the silent treatment; embarrasses her in public; refuses to participate around the house; lectures her endlessly using Bible verses; berates her; hits her. 
If she has to have sex to prevent something bad from happening, that is inherently coercive, and qualifies as marital rape.
Please see chapters 9 and 10 in The Great Sex Rescue for more on how obligation becomes coercion.
8. Obligation sex can be traumatic even if only the wife feels the pressure
In our focus groups for The Great Sex Rescue, we heard from so many women who internalized the obligation sex message even though their husbands had not. It wasn't that their husbands were pressuring them to have sex; it was that they had read Christian books and listened to Christian media and been in Christian book studies where they had heard over and over again that it was their role to have sex no matter what.
And even if the husband didn't feel that way, this belief in obligation sex still damaged her libido, damaged her ability to reach orgasm, and even prompted sexual pain disorders. 
9. Obligation sex erases the beauty of sex
Sex is meant to be a deep connection of love. It's meant to be beautiful. It's meant to be passionate and lovely and intimate. 
Obligation sex throws all of that aside and tries to sell us a cheap imitation. It uses the same words of passion and intimacy, but what it actually creates is the opposite. 
Beauty and passion and intimacy cannot coexist with entitlement, obligation, and selfishness. 
That's why we need to erase the idea of obligation, so as to allow passion and intimacy to flourish (and even allow her libido to return!)
10. Getting rid of obligation sex does not mean getting rid of sex
One of the reasons people cling to the obligation sex message is the fear that if we don't pressure women to have sex, they will stop having sex.
The underlying belief is that women hate sex.
But that's simply not true! Women were created to be sexual beings too. As we'll see this month, and as we show in The Great Sex Rescue, it isn't that women aren't sexual. It's that our sexuality has largely been erased by too many toxic teachings. If we bring back health and wholeness, then proper desire can build.
Become a part of the movement
Join 40,00 others and let's change the evangelical conversation about sex
Couples have found that when obligation sex messages went by the wayside, they experienced freedom and passion, often for the first time. Getting rid of obligation doesn't end your sex life; it allows it to finally begin.
This month, that's the journey I'd like to invite you to. 
So read The Great Sex Rescue, if you haven't already. It will help you immensely! And download our healthy sexuality rubric to see how some of the marriage books that you've read have influenced your own view of obligation sex. 
And now, let's find passion instead. 
What do you think? Have you experienced negative effects of obligation sex? Were you taught it? How did you get over it? Let's talk in the comments!
The Obligation Sex Series
Why Obligation Sex Destroys Libido (and how it affects us long-term)
A Way Forward to Recovery from Obligation Sex (coming soon)
You Don't Need to Consent to Being Used (coming soon)
When Your Husband Won't Let go of Obligation Sex (coming soon)
The Obligation Sex podcast (coming soon)
Previous Posts on Obligation Sex
Previous Podcasts on Obligation Sex
Plus please see our Great Sex Rescue Toolkit for handy downloads about the effects of obligation sex that you can give to your pastor, counselor, small group leader--anyone who teaches it!
And see chapters 9 and 10 in The Great Sex Rescue for all our charts, stats, and commentary!