Could the rose-colored glasses effect be masking marital unhappiness?
Last month, one of our podcasts worked through some of the issues with claims that complementarian, conservative women had the best marital outcomes. We also wrote a long opinion piece detailing these issues.
In those pieces, one of the points we were making was about how the rose-colored glasses effect can skew survey data–and of all the things we brought up, that's what people resonated with the most. A lot of you had never heard of the rose-colored glasses effect.
So rather than letting this point get lost in those bigger pieces, I wanted to devote a post to it alone so I can point to it again in the future.
Let me explain: When we're trying to measure marital outcomes, researchers often use what we would call, "global marital satisfaction outcomes" or "global sexual satisfaction outcomes."  You ask people something like, "How happy are you with your marriage?  How close do you feel in your marriage?"
Typically, we'll find that when we ask those kinds of questions, more conservative people tend to rate their marriages the highest. 
That suggests that conservatives have happier marriages, right?
Well, here's where the rose-colored glasses effect comes in: we discovered that things changed when very specific questions were asked. Some of the direct questions we asked participants were:
"When you're arguing, do you feel heard?"  and
"Do you feel like your needs are as important as your husband's needs?" 
And many others like this that focus on specific things.
When we asked those specific questions, we found that couples who have complementarian beliefs have 35% higher odds of having below average specific marital satisfaction. While they do better when you ask the big picture questions, when you actually hone down and ask the individual questions, the people who say they believe in complementarianism actually do worse.
Why do those who believe in marital hierarchy have the rose-colored glasses effect?
Here's my theory: I wonder how much of that is because when you're in these circles you're told so often, "You have to respect your husband.  Make him look good.  Don't badmouth him.  Your marriage is great.  Marriage just takes work." 
So when marriage feels hard, you're taught to think about things in terms of, "Okay. This is just me becoming holy, not happy. This is just a way that I'm supposed to grow together."  Women are often told, "Your main purpose and role in life is to be a wife and a mother." If that is your main role and purpose, then it's really difficult to admit to yourself, "I may not be as happy as I want to be."
That's what this commenter chimed in with too:
I think this is also a huge issue when comps are 'courting' or dating. I have a dear friend who has experienced horrible treatment from her prospective husbands (fortunately, none of them have ended up proposing to her as I dread to think how bad the resulting marriage would be), but because she has been taught to believe that marriage to an authoritarian man is the be-all-and-end-all of a Christian woman's life, and because she also believes she shouldn't expect much, she doesn't see it. I've lost track of the number of times when she's enthused about some 'amazing, wonderful' behaviour from a man, which has been basic, common politeness. 
(Of course we should still be grateful for these things, but being grateful is very different from being convinced that your man is the most wonderful one on the planet because he does the kind of everyday stuff that any decent citizen should do!
And if you are choosing a life partner on the basis of these things…)."
She makes such a good point. We're teaching women to ignore red flags and to not actually expect relationships to be good.
Even other researchers are noting this issue. The IFS study that's been used by megachurch pastors like Josh Howerton to claim that complementarians do best actually discuss the possibility of this "rose-colored glasses" phenomenon. The report's authors posit:
"It is possible that simply being married is more important to highly religious women, which may raise their satisfaction ratings. They may be more likely to look at their relationship through a rose-colored lens."
In our study of 20,000 women, we attempted to overcome the "rose-colored glasses" effect by using both objective and subjective measures when possible and by looking not just at global measures of satisfaction but also specific ones, such as those questions we mentioned above.
And our data showed that the IFS report writers were correct: there is something fishy going on.
"A groundbreaking look into what true, sacred biblical sexuality is intended to be. A must-read." - Rachael Denhollander
What if you're NOT the problem with your sex life?
What if the messages that you've been taught have messed things up--and what if there's a way to escape these toxic teachings?
It's time for a Great Sex Rescue.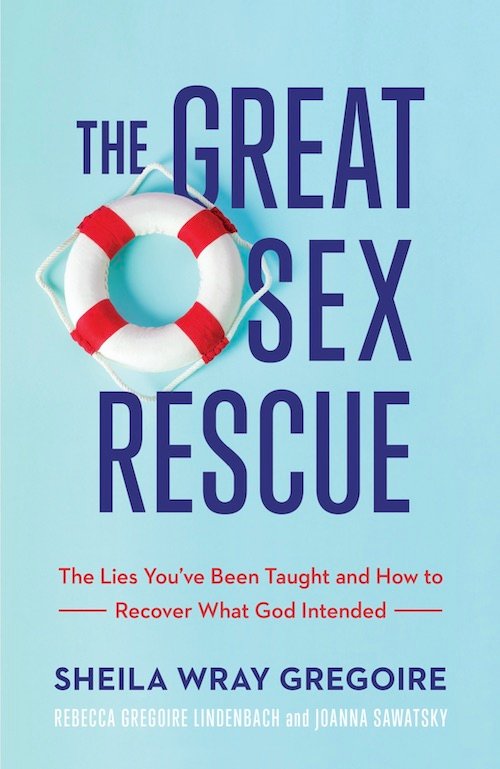 What does the data say about the rose-colored glasses effect?
Here's how we explained it in our op ed:
We contrasted those who strongly agreed that marriage should not have a hierarchy (egalitarian) and those who strongly disagreed (complementarian). Complementarian beliefs were correlated with 33% higher odds of having above average global marital satisfaction but also correlated with 35% higher odds of having below average specific marital satisfaction. While complementarian women were more likely to rate their overall satisfaction highly, when you asked them about individual markers of satisfaction, things didn't look as rosy.
Those rose-colored glasses are present in the bedroom too. When we look only at women who never reach orgasm, for instance, they are 22% more likely to say they're satisfied with their orgasm frequency if they also believe in hierarchy in marriage compared with women who believe marriage should be equal.
The more one believes in hierarchy, the larger the "rose-colored glasses" effect — which is fine if you want couples to have a cheery outlook regardless, but rather problematic if you want to claim women who put themselves under a husband's authority have objectively better marriages and sex lives.
Many of our readers totally got it!
[referring to the rose-colored glasses effect in the bedroom] 
Option 1: get men to understand that their wives should be reaching climax. (I am assuming for the sake of argument that women actually have orgasms – LOL I wouldn't know.)
Option 2: relentlessly brainwash women into believing that they don't deserve more out of life and marriage.
Let's try the same thing with a dislocated shoulder. Fix and rehab the shoulder… or spend inordinate amounts of time and energy convincing patients that dislocated shoulders are normal, healthy, and better than fully-working shoulders
I loved how you broke down the statistics and noted that even if someone says they have satisfying sex you asked how is that being gauged! Like if women are told they shouldn't like sex or it's for men, then their gauge for good sex is not the same as a woman who is told sex is for her too.
Can the rose-colored glasses effect be a good thing?
As we noted in our op ed, even John Gottman has said there's a positive role for rose-colored glasses, because they help people not jump to bad conclusions about their spouses, and make it more likely that people work through marriage issues. 
Become a part of the movement
Join 40,00 others and let's change the evangelical conversation about sex
And that can be a good thing.
But overall, I think the fact that conservative, complementarian women are less likely to  think they deserve to be treated that well, or to think they deserve great sex, is really sad.
And I hope that we can raise our voices so women in these spaces can hear: You do deserve better.
What do you think causes the rose-colored glasses effect? Have you seen it? Let's talk!