I've got the Temptations song playing as I'm typing this–because I want to tell you about our Launch Team for The Great Sex Rescue!
Uh oh.
A bunch of you have already tuned out.
"Launch Team"? Teams do WORK. Who wants to work? That sounds yucky.
What if I told you that the "work" was really only about writing a great review on Amazon/Goodreads?
And sharing some social media graphics, if you want. And telling friends, if you want.
But that part's totally up to you.
That's not so scary now anymore, right?
And what if I told you that we want to give you some goodies, too?
Rebecca and I will be doing exclusive Facebook Lives for our Launch Team every week between now and our March 2 launch! We may even have some Q&A "Have lunch with Sheila" where I'll hang out eating my lunch, and you can drop by and just chat!
And the first 100 people to sign up to the launch team get an extra copy of the book too! (or some other goodies if you're outside North America).
And what if I told you that if you join the launch team, you'll get your copy of The Great Sex Rescue right away, instead of having to wait until March 2?
Seriously, if you're going to order the book anyway, this is a no brainer!
Order The Great Sex Rescue now, and then you can join the launch team and get an electronic copy you can read ahead of time! Plus you'll have a bunch of exclusive time to talk to me and Rebecca, ask your questions, and just hang out with other people who want to change the conversation about sex in the evangelical world, too.
The Great Sex Rescue
Launches March 2!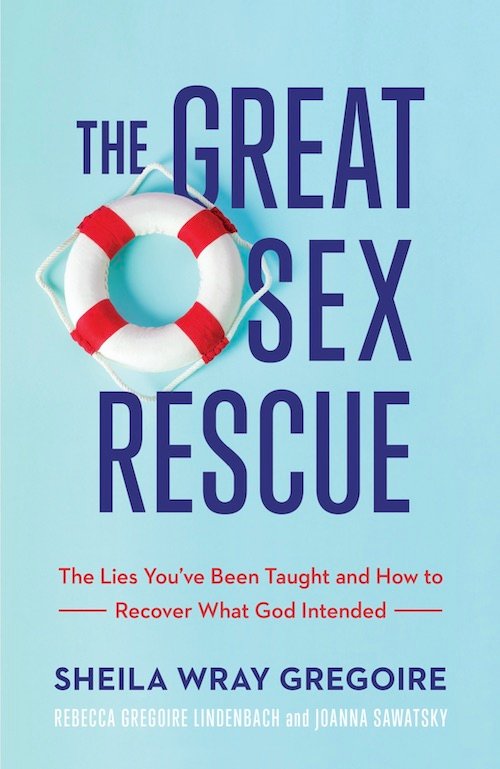 What if you're NOT the problem with your sex life?
What if the things that you've been taught have messed things up–and what if there's a way to escape these messages?
Welcome to the Great Sex Rescue.
Pre-Order Now! (Helps us out a ton)
And if you email your receipt, we'll send you a special pre-order BONUS
The Great Sex Rescue confronts the lies many of us grew up with about sex, and rescues sex to be what God intended.
Based on our survey of 20,000 women, we looked at which evangelical teachings stole great sex and great marriages from women, and how we can rescue and reframe those messages to get back to Jesus.
And the book looks at evangelical sex & marriage best-sellers, and see which ones are the most guilty at spreading these harmful teachings.
You'll feel validated. Heard. Like you're not alone.
And if you're having trouble getting aroused; reaching orgasm; even asking for what you want in bed–you'll learn that it's not a problem with YOU! And you can stop feeling broken and guilty and just put that behind you and move forward.
This book is so incredibly powerful! If you've ever read a Chris- tian book on sex and marriage, you owe it to yourself to read this one. Armed with extensive survey data and equipped with compassion and common sense, the authors dismantle the devas- tating myths long promoted by Christian leaders that have caused untold damage to generations of Christian women. Equal parts distressing and liberating, this book is desperately needed in this moment.
When you pre-order, we've also got some pretty cool bonuses!
First, our sneak peek at some of our survey results, looking at how some key teachings hurt women's orgasm rates, rates of sexual pain, and more. What happens to her ability to become aroused if she believes that lust is every man's battle? What happens to her rate of sexual pain if she believes that she's obligated to have sex whenever her husband wants it?
Then we've got our healthy sexuality rubric, AND our scorecard! See how best-selling evangelical resources fared on our rubric of 12 marks of healthy sexuality teaching.
I cannot think of a more important book (outside of the Bible) that you must read. This book is the authentic gut-punch that the evangelical community needs. This exposes our historic dismal handling of sexuality and gives us a clear path forward to sexual maturity, wholeness, and health. I already want to read it again and will surely be telling my network to purchase this vital guide. Thank you for such a seminal work!
This book is a groundbreaking look into what true, sacred bib- lical sexuality is intended to be and the root causes and ideas that damage a couple's intimacy in marriage. Going straight to Scripture, the authors dig deep into ideologies that draw couples away from God-designed intimacy, and they seek to construct a framework for sexuality that is truly rooted in Scripture and God's beautiful design, elevating sexuality and marriage to the glory and sacredness it was intended to have. This is a must-read.
Seriously, I'd love to have you pre-order, and we would LOVE to have as many of you as possible join our Launch Team!
We can't do this without you. When I first started talking about how toxic the book Love & Respect was, no one was listening. Focus on the Family ignored us.
But enough of you stood up and said something that Focus even was forced to issue a statement and doubled down! And now, whenever the book is mentioned, someone tends to push back against it. Just yesterday we received an email that said:
Thank you so much for the resources you are offering. My husband and I are the small group coordinators for our church and just had a meeting last night with our pastor about why we can't recommend Love and Respect as a study for our church.We were able to share several of your blog posts with him (including your series about porn recovery which has been such a valuable resource for us as we help counsel married couples in our congregation.) Please keep speaking truth about sex and marriage!
I get so many of those, every week!
We're making a difference, because we're all speaking up together.
That's what it's going to take for this book to catch on. We all need to speak up together. 
This is an important book.
I've liked all the other books I've written (loved some even), but this one is important. This one challenges what often passes for sex teaching in the evangelical world.
We need to change sex from an owing to a knowing. It isn't about a man being entitled to take something from a woman; it's about both of you on a journey to mutually pleasurable, intimate, passionate sex.
When you pre-order it, you help us so much. And if you're going to order it anyway, then join the launch team, too, and get your hands on it early!
---
PS: It's so fun to see people start to tweet about it! I saw this tweet and I sent it to Joanna and Rebecca, saying, "…it's starting!" 
Seriously, we're so excited. 
Just received the PDF manuscript of @sheilagregoire's The Great Sex Rescue and found my untold story in there. Feeling tender toward my younger self tonight, but am so incredibly grateful for women like Sheila who are writing a better story for the next generation of women.

— Morgan Strehlow (@morganstrehlow) January 27, 2021
Sheila Wray Gregoire
Founder of Bare Marriage
Sheila is determined to help Christians find biblical, healthy, evidence-based help for their marriages. And in doing so, she's turning the evangelical world on its head, challenging many of the toxic teachings, especially in her newest book The Great Sex Rescue. She's an award-winning author of 8 books and a sought-after speaker. With her humorous, no-nonsense approach, Sheila works with her husband Keith and daughter Rebecca to create podcasts and courses to help couples find true intimacy. Plus she knits. All the time. ENTJ, straight 8
Dads shouldn't need their adult daughters to give them adulation and affection. That's called...
Let's talk about the echoes of menstruation. Yesterday on the podcast, we were discussing how...
This has been a week of great thrills and great disappointments. Thankfully, the thrills were...