What happens if you want to have a great sex life and you want to embrace sex with freedom and passion, but the duty sex message is holding you back?
I'm going to turn this post over to all of you today, because, quite frankly, I'm swamped.
I have a manuscript due in at the publishers at the end of the week (The Good Guy's Guide to Great Sex, woo hoo!), and I have The Great Sex Rescue launching March 2 (and the pre-orders are going great! Please pre-order! It really helps us, and it's only $10.19 through Baker Books right now, with no shipping). I have several podcasts and media appearances booked everyday leading up to the launch too.
But of course, in the middle of all of this, I went the most viral I've ever gone on social media. I wrote a thread on Twitter last weekend about the horrible ways that all too many evangelical books talk about sex. You may have seen it, but if you haven't, take a look! I'll likely have more to say on this on Friday, so I'll leave it there.
In our conversations this week about duty sex, though, a woman left a question in the comments that I think is something many of you will share and struggle with. So I'd like to throw the comment out to all of you today:
I somehow internalized this "duty sex" message even though I didn't grow up super immersed in purity culture. My husband is super loving and mutual and doesn't want one-sided sex and yet I still (after 10 years) struggle with this. Couple that with depression and fatigue, young kids, a low sex drive (on my end), and a very high sex drive (on his end) and the problem sometimes seems insurmountable.
The first step is at least opening your mind to a healthier way of thinking which you, Sheila, have helped with tremendously. But I get hopeless feeling like I'll never be free from the guilt and obligation I feel to have sex even though my husband is not pressuring me.
I'm not really sure how to handle it because I very rarely desire sex until after we start foreplay but making the decision to start foreplay feels so mentally taxing and gives me anxiety because I fear my mind and body won't respond once we start (even though 99% of the time it does). It's like some crazy, exhausting mental game I play with myself…trying to convince myself that sex is for me too and that it is pleasurable and that I want it…but really the main thought in my mind is usually "it's been _____ days and I know he wants it and I want to be a good and loving wife and really, I'm just doing it for him because I feel fine whether we do or we don't". And then it takes me forever to get into it because I am thinking too much about why I'm doing it and if I will get aroused and how I kinda just want to sleep. It feels impossible to get out of my head. Once we are in the midst of things, I am able to get out of my head and enjoy myself, but the lead up is sooooo difficult! Any thoughts on that??
Okay, everybody, I know she's not alone! 
So will you all do me a favor today and help her? I've really got to get on with editing the book, but I'd love to see your responses!
"A groundbreaking look into what true, sacred biblical sexuality is intended to be. A must-read." - Rachael Denhollander
What if you're NOT the problem with your sex life?
What if the messages that you've been taught have messed things up--and what if there's a way to escape these toxic teachings?
It's time for a Great Sex Rescue.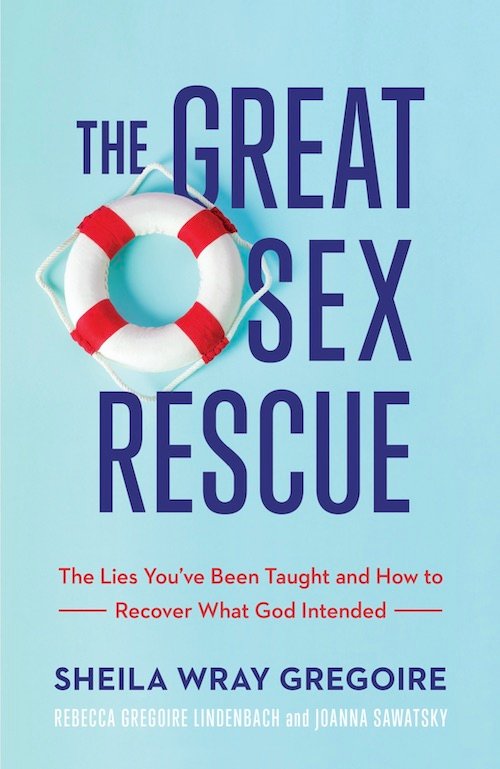 So let us know–how do you silence those terrible voices in your head that are telling you you're just doing this because he wants it? Let's talk in the comments!