Are we making marriage too hard?
It's September, and that means a new series on the blog (and on the podcast!). This month we're going to be talking about marriage on hard mode–or rather how to AVOID hard mode in your marriage!
And we thought we'd begin with the philosophical question: are we making marriage harder than it needs to be with the way that we talk about it?
Plus we've got Bruce Fleming back by popular demand to talk about Ephesians 5!
Or, as always, you can watch on YouTube:
Timeline of the Podcast
2:00 The 'philosophy' of marriage being hard
16:00 How we can condition ourselves like toddlers
22:40 Why Rebecca loves wedding sermons
27:35 Research on women's beliefs vs health
34:00 Bruce joins us to discuss Ephesians 5
56:45 Finishing up with encouragement!
Main Segment: Why Do We Make it Sound Like Marriage is Always Hard?
Rebecca and I were discussing this comment I made on Facebook–and what happens when we give the impression that marriage is a hard slog. 
I sometimes wonder if most Christian marriage authors & influencers have good marriages.
Just read a meme re: marriage that said: "God, I can't do this alone. I need your help & grace."
What if marriage IS God's grace to you–or at least what if it should be?
I know many marriages are hard, and many marriages can't be saved. And many of us go through difficult seasons. But when those who teach about marriage make it sound like being married is a huge hard slog that they can't get through without God's grace–well, that's WEIRD, isn't it?
My marriage makes my life easier. There has never been a day in my life, even when I'm mad at Keith, when I would have thought that marriage is one of the hardest things in my life. Maybe the problem is that we talk about marriage as if it is hard, and then, when people are dating and the relationship is awful, they figure "that's just how marriage is." They don't recognize red flags, and so they marry someone they don't suit or who has bad character. And then, yes, marriage is hard.
But ideally, marriage should be God's gift to us, not something that we need His power to get through. Am I missing something?
UPDATE: And let me also say, if your marriage IS really hard, I'm afraid that the idea that "marriage is hard" will mean that you may not recognize that your situation IS actually worse than normal and you do need help. If all marriage is hard, then you may think what you're going through is just par for the course, and just something to be endured. Or, when you talk to others, they may downplay your pain because "all marriage is hard." No, marriage shouldn't ideally be hard, and if it is, that means you need help to make it better. Hard isn't just something to be endured because it's inevitable.
We looked at how telling everyone that marriage is hard may cause people to ignore red flags, and how our solution to marriage problems is often to tell people to get rid of their expectations that it will be good.
If you don't expect it to be good, you can't be disappointed.
But what if this is off? We talk about what to expect in the next month as we launch into our "Stop Doing Marriage on Hard Mode" series!
Win a copy of The Orgasm Course!
We're giving away ONE copy of the Orgasm Course to someone who signs up to our email list this week–and ONE to someone who is already signed up.
New Research: Religion only makes women healthier IF they're in churches with women in leadership
Interesting study that Dr. Camden shared–For men, the health benefits are the same in whatever church they go to. But for women, the health benefits of going to church and being religious disappear if they're in churches where women aren't in leadership.
Bruce Fleming Joins to Talk about Ephesians 5!
I had so many people asking me to have Bruce back on after his stint on the podcast talking about Genesis 3, so here he is talking about Ephesians 5! Bruce told me, "A number of your listeners and viewers have been contacting me with touching testimonies. "So wonderful to have that curse of Eve lifted off my shoulders" and the like. A real encouragement to Joy and me!"
The Great Sex Rescue
Changing the conversation about sex & marriage in the evangelical church.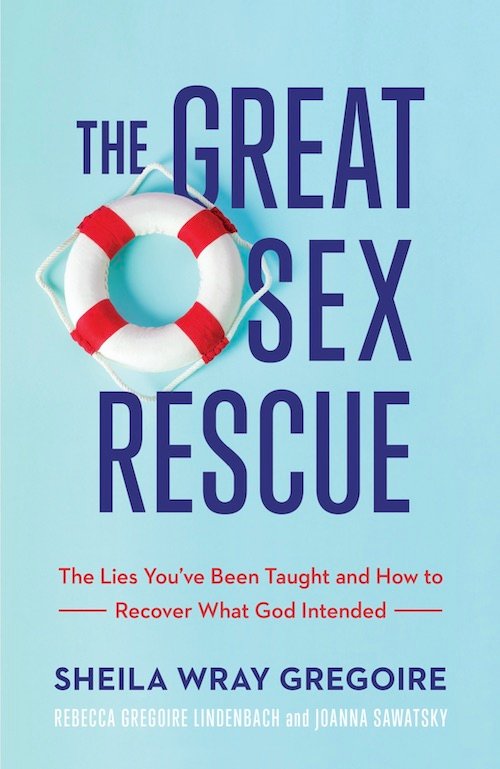 What if you're NOT the problem with your sex life?
What if the things that you've been taught have messed things up–and what if there's a way to escape these messages?
Welcome to the Great Sex Rescue.
Things Mentioned in This Podcast:
What do you think? What expectations should we give about marriage? What do you think about Ephesians 5? Let's talk in the comments!

Sheila Wray Gregoire
Founder of To Love, Honor and Vacuum
Sheila is determined to help Christians find biblical, healthy, evidence-based help for their marriages. And in doing so, she's turning the evangelical world on its head, challenging many of the toxic teachings, especially in her newest book The Great Sex Rescue. She's an award-winning author of 8 books and a sought-after speaker. With her humorous, no-nonsense approach, Sheila works with her husband Keith and daughter Rebecca to create podcasts and courses to help couples find true intimacy. Plus she knits. All the time. ENTJ, straight 8
We finally saw the Barbie Movie! Keith and I, along with my mom and my son-in-law, went to see the...
Do complementarian men do best? That's what Nancy Pearcey says in her new book The Toxic War on...
Should we endure suffering because it makes us holy? We have a distorted view of suffering in the...