Marriage red flags–all of us have marriage issues, but how do you know if an issue crosses the line into dangerously weird territory?
I receive many emails from women in crisis, and since we're talking about doing marriage on hard mode all month, I thought I'd share 10 marriage and sex red flags that really shouldn't be ignored.
Often we don't realize when something is off, because we're new at this whole marriage thing, and most of us don't share personal and intimate details with our friends. So how can you know if something that worries you is actually a red flag for something quite serious?
I first ran this post a few years ago, but I've updated it because it's such an important one. 
What is a Sex or Marriage Red Flag?
A sex or marriage red flag relates to a situation which will not get better by you being nicer, by you being more understanding, by you trying to talk it through with him, or by you being more patient.
This is something which is a serious issue that will likely require a third party, like a licensed counselor, to help you through.
If you ignore it, your marriage will only get worse, and your husband will only fall deeper and deeper into sin or more and more away from God and your family (depending on what the issue is).
---
In this post, I'm not talking about abuse–though this, too, will not get better on its own, and is a huge red flag. If abuse is your issue, please see:
---
Today, then, I want to talk more about sexual red flags in marriage.
These problems represent an issue that your husband has–not something that you have caused, and so you cannot make it better. You can, however, make it more likely that he will get the help he needs by taking it seriously. And that is the most loving thing you can do.
Are you PeaceKEEPING or PeaceMAKING?
My heart aches for women in these situations, because they often are so taken back with surprise that their husbands are acting this way, and they truly don't know what to do. I'm sorry that some of these seem so extreme, but I've had multiple emails about each of these types of situations, and I know that there are women dealing with these things. So let's get it all out in the open today!
Here are 10 Sex and Marriage Red Flags that shouldn't be ignored:
1. If your husband says he enjoys sex, but he never or rarely wants to make love–Red Flag!
Men, in general, have a higher sex drive than women do. That doesn't mean that if you have a higher sex drive than your husband that there is necessarily something wrong with him.
But if your husband never wants to make love (say, less than once a month), even if he says he enjoys it, then that is a red flag. Even if his sex drive is lower than yours, he should want to make love at least sometimes. Here's a more in-depth series on what to do if your husband doesn't want sex–and when this really is a red flag.
This could be a sign of psychological issues, pornography issues, ultra low testosterone, or, in some cases, even a different sexual orientation.
2. If your husband considers lack of sex to be a spiritual virtue–Red Flag!
One wife of a busy, hardworking pastor sent this in:
About two months ago I was really feeling the abandonment and disconnect from my husband due to the demands of ministry. I was reading your blog and saw a comment where a woman stated that she never lets her and husband go more than two nights in a row without making love. I thought: how genius! Maybe this will help us stay connected even with his crazy schedule. This went on for a few weeks, then all of a sudden he started refusing. He would leave me laying in bed naked and alone. Again, confused and rejected, I voiced my concerns. He said, we've had sex more this month than we've had our whole marriage. He proceeded to tell me that our marriage is not based on sex but God. And he felt like I was trying to fill a void of rejection by having sex all the time instead of letting God heal me.
This marriage was already distant because this husband (and father!) was spending most of his time and energy away from the family. When the wife tried to bridge the gap with sex, he told her that she should rely on God instead (presumably like he does).
We do need to rely on God, but we also were created for intimacy with our spouses. When someone consistently rejects sex, while also rejecting an emotional relationship with their spouse, they are likely running from intimacy in general. In this man's case, he may be lacking intimacy with God, too, thinking that activity for God is the equivalent of intimacy with God. It's not.
He likely needs a counselor to sit down with him and talk through his priorities–and also a counselor who can walk him through why he's running from intimacy and believes that self-sufficiency is the highest good. This attitude will make him an ineffective father and husband, but it will also ultimately make him an ineffective pastor.
3. If your husband has never been able to "complete the deed", especially if he's young–Red Flag!
I remember one woman who wrote me who married when she and her husband were quite naive and ignorant about how sex worked. She told me that she didn't think she had ever had sex, and didn't understand how it even happened.
After more questions, it turned out that her husband had never had an erection.
Young men should have no problem maintaining an erection. If he is unable to with you, then he has either major sexual issues, major psychological issues, or major physical issues (very unlikely in a younger person). Or, alternatively, he may have trained himself through masturbation to only respond to direct stimulation, as in this case:
My son-in-law has been unable to fully complete sexually. After a year and a half of marriage, during which they've never managed to "finish", my daughter came to find out that he does masturbate quite a bit, and had looked at porn a lot. So my daughter has blocked the internet sites that she can and he is very limited to the time he is on the computer. He has been attending an accountability class at a Church that they are attending. He tried going without masturbating for 30 days and he thought things might have seemed better, but didn't last long.  Oh, I know he was abused as a little boy by his older brother. Inappropriate touching and sodomy that she knows of. He doesn't want to talk about that.
He asked and asked about seeing a urologist. Basically, my daughter came away thinking because there doesn't seem to be a problem. He can ejaculate, therefore the urologists says everything is working fine. Could he have masturbated so long that he doesn't get the same feeling inside her?
Masturbation could definitely be contributing to the problem–but so, likely, is the abuse that he won't talk about it. Insisting that he go for counseling and getting trauma therapy likely is even more important than a recovery group (though that can help too).  And you can retrain yourself to be aroused by a person, but it takes a while.
That brings us to this one:
4. If your husband chooses masturbation over intercourse–Red Flag!
I've had several women saying that they have been going for months without sex–but then one woman walked in on her husband masturbating in the shower. He says he does it every day, and suggests she does it, too, she they don't have to be bothered with sex.
Solo masturbation is selfish and steals intimacy. If someone chooses masturbation over sex consistently, they likely have withdrawn in other ways and have stunted their emotional development, because they're becoming self focused rather than relationship focused.
I speak more about masturbation in marriage here.
The next three sex red flags are quite common today, and often result from an addiction to pornography:
5. If your husband refuses to share passwords, let you see his phone, or let you on his computer–Red Flag!
A marriage should have complete trust and openness. If he is adamant that his phone and computer are private, that is practically a guarantee that he is doing something he should not do. If you ask him, he may end up attacking you: "don't you trust me? Are you that insecure?"
I have never known a marriage where a husband or wife refuses access to their phones who isn't also either texting inappropriately or watching porn. Never.
If he refuses to let you see things, that's a definite sign there's something wrong. One more tip: If you do find something on his phone or computer, take a screen shot or a picture with your phone, so that it can't be denied later. Then insist on talking with a counselor about it.
6. If your husband is not interested in pleasing you, and seems almost disconnected during sex–Red Flag!
If your husband becomes almost a robot in bed, closing his eyes and refusing to talk to you, then he's disconnecting, perhaps because he can't become aroused without picturing something else–or someone else–in his head. If he were to talk to you, it would break the fantasy. If sex is impersonal, there's something wrong.
Note: this may not be a huge sin issue. If a guy grew up masturbating to porn, but doesn't watch porn anymore, he could simply be having a hard time getting aroused now because he's trained his sexual response wrong (that's one of the side effects of porn!). It doesn't mean he's watching porn now (though he could be). Talk to him about it and try to work through it together, though an accountability group or counselor may be necessary.
7. If your husband seems to only enjoy sex if you are in discomfort, pain, or inconvenienced–Red Flag!
So much of pornography is focused on dominating or using someone. As I've said repeatedly in our Bare Marriage podcast, sex and pornography are not substitutes for one another: they are polar opposites. Sex is an intimate knowing and sharing between two people; porn is a one-sided using of another for your own gratification. And sometimes that involves needing to emotionally distance yourself in order to become aroused.
We shared an anecdote like this that raised major red flags to us in The Great Sex Rescue: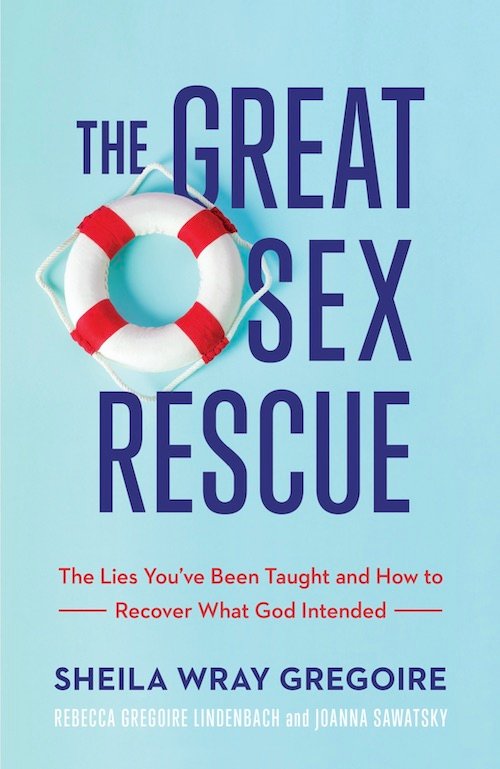 If you only become aroused when someone else is in distress or discomfort, that is a problem. One woman wrote to us with concerning sexual dynamics in her marriage:
There will be times when I initiate and my husband says no, which I am okay with. But then he will want to a few minutes later. Today I had to go to work and knew I would be leaving in a half an hour. I offered for us to have a quickie before I had to go. He said he was okay. Then right before I had to leave, he asked if we could go into the bedroom. I got frustrated but didn't want to deny him, which of course killed the mood for him and he got frustrated. At night, when I initiate, he often says no. Then as soon as I fall asleep, he wakes me up and says he is horny, or I wake up and find him having sex with me on top of me.
As we explained in chapter 10, waking someone up for sex without their consent is sexual assault. But looking at the other things she described, we see even more red flags. She initiates when it is a good time for her, but if it's a good time for her, he's turned off. He only wants intercourse when it's inconvenient for her. It sounds like, for this man, power has become an aphrodisiac. When you operate under a kingdom of power, rather than under the kingdom of God (as Jesus contrasts in Matt. 20:25–28), then power over the other becomes the gateway to arousal and sexual response. When you operate instead under a kingdom where love and sacrifice reign, then love becomes the gateway into sex.
If your husband is operating with a power sexual response cycle rather than a love one, that's a problem.
8. If your husband is not interested in intercourse, but only wants other sexual acts–Red Flag!
Porn depicts sexual acts that are more degrading, and thus often more "photograph worthy", than simply making love. Add that to a porn habit which is self-focused with masturbation, and many men are not interested in actual sex because it requires mutuality. If your husband prefers other sexual acts (or consistently "degrading" things) to intercourse, he likely has a problem with porn.
Note: if your husband simply wants some variation in bed, there's nothing wrong with that! But if a man only wants oral sex–red flag!
Finally, the last two red flags represent a man with a seriously disturbed sexuality, which really does need a counselor (and unfortunately I've had several of these types, too):
9. If your husband has to role play himself or get you to role play to become aroused–Red Flag!
If he has to pretend to be very young, or that you are very young–or any variation on this sort of thing–that's a danger sign. If he has to pretend to be a different gender, that's a warning sign. Many couples like to role play; but if the role play is necessary to his arousal, then there is something at work that really does need to be dealt with.
10. If your husband wears strange clothing in private–Red Flag!
One reader wrote in with this story:
I have a friend who basically walks on eggshells whenever her husband is around, so as not to disrupt his delicate moods. Yet then he expects her to want to have sex more! She does not keep sex from him, she tries her best even though her emotional needs aren't being met, yet SHE is the one who has to initiate if they do have sex. Any time she tries to talk to him about their marriage, he ends up crying, and so she never really says exactly what she feels because she doesn't want to hurt his feelings. Lately he's done some weird things, such as he got a thong and began wearing it to bed. No explanation, no asking her what she thought about it. She asked him why and he said "I thought you might like it." She told him it was a big turn-off for her, yet a month later he ordered 3 more on-line.
I can imagine how bewildered this wife is. She's trying to have a good marriage, to be good to him, to be sexually available–but he's crying, moody, rejecting her, and now wearing lingerie!
If a man starts wearing odd clothing, especially in bed, this is a sign of a serious psychological issue that needs to be dealt with.
Note: I am not saying thongs are weird or wrong. But in this scenario, there definitely seems to be something else going on, and it's associated with clothing.
BONUS Tip: If he won't accept your no–Red Flag!
I guess this one's really #11, but it needs a spot all on its own, because it's so important.
When we did our focus groups for The Great Sex Rescue, we were amazed by how many women told us stories of sexual assault in marriage which they didn't understand was sexual assault. If she wasn't kicking and screaming, then it wasn't rape, right? Or maybe she was kicking and screaming, but they were married, so rape wasn't possible, right?
Chapter 10 in The Great Sex Rescue shows how too often our evangelical advice about sex has ignored issues of sexual abuse, and even enabled coercion. Remember this one simple test:
If you do not feel as if you can safely say no, then you can't freely say yes, either. 
---
For more help:
---
I'm sorry to talk about such distasteful things today.
I know that this is not what the vast majority of you deal with. But what scares me when I see some of these emails is that the wives don't seem to realize how serious many of these red flags are, because it's their "normal". So I want to say, loudly and clearly, these things are NOT normal. They ARE red flags. And you really, really do need to get help, for the sake of his own spiritual and emotional health, and that of your relationship.
If you want to see what normal sex is, and what God created sex to be, our book The Great Sex Rescue explains it all, and it may help you put words to what you instinctively feel is wrong.
The Great Sex Rescue
Changing the conversation about sex & marriage in the evangelical church.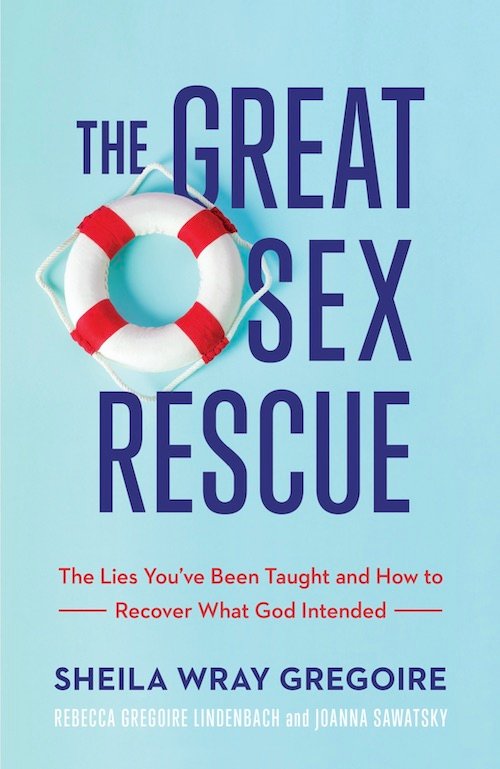 What if you're NOT the problem with your sex life?
What if the things that you've been taught have messed things up–and what if there's a way to escape these messages?
Welcome to the Great Sex Rescue.
My sympathy for any of you who are walking through this.
Please know that God is big enough to get you through–and your husband is never so messed up that God cannot redeem him and redeem your marriage. He may not choose to do so–we all have free will to reject God's help, and some people won't change. But God can do amazing things when we let Him, and I pray that this will be evident in your marriages!
Is there a red flag that I missed? What would be #11? Or do you think one of these is not that big a deal? Let's talk in the comments!