How is it that we defeat sin?
According to the Bible, the Holy Spirit transforms us into the likeness of Christ (Romans 8:29) and sanctifies us once we make Jesus Lord of our life. We live by the Spirit (Romans 8) and we aren't slaves to sin anymore. We take every thought captive (2 Corinthians 10:5). We walk in Jesus' steps and we throw off everything that hinders (Hebrews 12:1-3) as we run the race.
But how is that so many Christian books and organizations say that men defeat sin?
Women do it for them.
Last week I told you about the chapel service that I did at Colorado Christian University. I talked about how I apologized for the very low view of men that we have in far too many Christian resources. I had some people ask me to elaborate on the graphic that I used, and I thought I'd do so today.
Here's the problem: Whenever we tell women that they should do something to prevent sin in men, then we say that Jesus isn't who sanctifies men; it's women.
And when we look at what far too many books and resources say, that's certainly the impression I get.
"Your wife can be a methadone-like fix when your temperature is rising." (p. 118)
"Once he tells you he's going cold turkey, be like a merciful vial of methadone for him." (p. 120)
"When men aren't getting regular sexual release, their eyes are more difficult to control. Help him out in this battle. Give him release." (p. 148)
"I want to be free, but I'm becoming frustrated and angry with the church. The Bible says that women should dress modestly, but they don't. The women soloists are always wearing the latest, tightest fashions. I look at them, but all I see are curves and legs. You know, the one who always wears the slit way up the thigh? That thigh flashes with every step she takes. I just get enraged!" (p. 23)
About sending boudoir photos or nude photos to your husband: "Scott calls the photos "awesome" and says they draw him toward Izzy again and again. With those pictures seared in his mind, his sexual interest is centered on Izzy, and neurologically he's less likely to be drawn to other women."
"One satisfied husband summed it up rather graphically when asked if he had ever been tempted to try extramarital experiences: "When you have a Cadillac in the garage, how can you be tempted to steal a Volkswagen off the street?" (p. 33)
"The cold, hard truth is that men are often lured into affairs because they are sexually deprived at home." (p. 253)
"But for a husband, sex is pure need. His eyes, ears, brain and emotions get clouded if he doesn't have that release." (p. 62)
Those are just a few examples; I don't want to spend hours combing through my notes for The Great Sex Rescue to find more. But trust me–they're everywhere. Men will lust if women don't cover up. Women are stumbling blocks. Women should have more sex to keep their husbands from watching porn. If girls don't watch what they dress, they'll be responsible for boys lusting (tons of those quotes in our notes for our upcoming mothers of daughters book, She Deserves Better).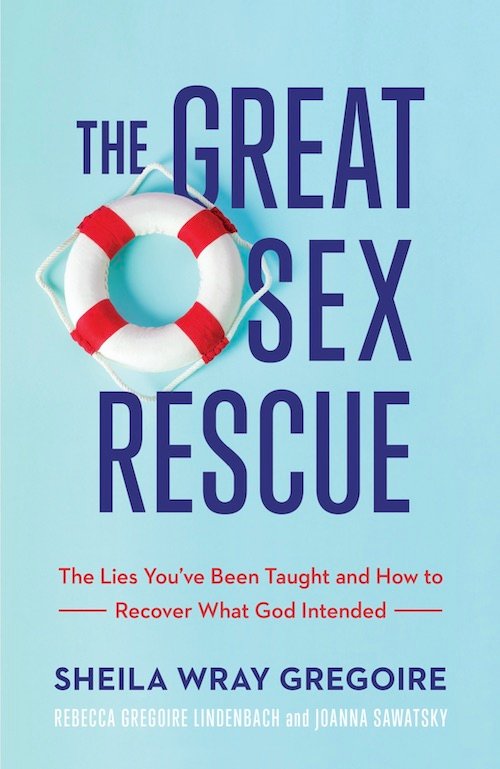 What if you're NOT the problem with your sex life?
What if the messages that you've been taught have messed things up–and what if there's a way to escape these toxic teachings?
It's time for a Great Sex Rescue.
And then there's what these books say about male nature–that men sin simply because that's the way they're wired:
Most of these are also from our notes for The Great Sex Rescue, though the newer ones, like Gary Thomas' Married Sex, I've found since.
"Even apart from our stopping short of God's standards, we find another reason for the prevalence of sexual sin among men. We got there naturally–simply by being male." (Every Man's Battle, p. 61)
"[S]ome form of sexual sin is a universal struggle among all men. There isn't a man alive who isn't bent in his sexual desires. (Gary Thomas, Quoting Al Mohler, "What Your Husband May Never Tell You (and one thing he needs to do accordingly)"
"Remember, our habits are rooted in our maleness. We understand them. Women don't. Almost without fail, women who hear about your sexual impuity will think of you as a pervert." (Every Man's Battle, p. 116)
"Men don't naturally have that Christian view of sex." (Every Heart Restored, p. 87)
"Women must cultivate the problem of visual lust, whereas men almost universally must cope with the problem just because they are men." (Act of Marriage, p. 298)
When I read the quotes from Every Man's Battle about men not having the Christian view of sex, one of the women in the audience actually shouted "No way!" They were shocked.
But it's not just about sex either!
The Gospel Coalition put out a reel earlier this year where Ligon Duncan said that men can't be expected to do "risky" things for Christ like reading your Bible, praying, or thinking about life from a Christian point of view unless their wives were first respecting them. So men can't be expected to do the bare minimum of the Christian life unless their wives were constantly telling them they were awesome and letting them be in charge.
Again, it's not Jesus who transforms then. It's not the Holy Spirit who helps men. It's women.
Ironically, the churches that teach that men can't behave without women often also believe in male only leadership in the church and home.
What I want people to understand is that this is misandry.
It is misandry to say that men are made with LESS of a Christian nature than women. That men are more likely to sin than women. That men can't be expected to do the basics of the Christian life, while women are already doing them.
It is misandry to say that there is something wrong with how God created men.
Now, if people were saying that men are more likely to sin in this way, and women are more likely to sin in this way, and men can stop women from sinning–well, I still think it's wrong theologically, but at least it would be balanced. But that's not what's being said. In all of these passages, it's assumed that women aren't having a hard time not sinning. It's only men who are. And women need to help them.
When I explain this, I am often accused of man-bashing.
I find this terribly ironic (and quite funny actually), because I'm doing the exact opposite. I'm saying that there isn't anything inherently bad about being male. God did not make you "less than." He did not create a nature where you automatically sin, and then tell you that you're a dirty rotten sinner because you do. He did not give you an impossible job.
If you think this is man bashing, ask yourself: "Am I trying to find an excuse so that men can keep on lusting and watching porn without guilt?" Because to me, that's what's going on. People want a license for men to keep sinning, and the way they get that is to blame their sin on either God (you made me this way!) or women (she didn't help me.) Sound familiar?
Jesus saves men, just as Jesus saves women.
To get the order mixed up is to create horrendously dysfunctional relationships that will never work, and to pull people further and further away from God.
I hope, in the next generation, we can get this right.
What do you think? Can you think of other examples? Is this a low view of men, or a high view of men? Let's talk in the comments!
Plus don't miss our findings on lust in our survey of men, all in The Good Guy's Guide to Great Sex!