We know that women have a huge problem with sexual shame.
Many men do, too, of course! But let's stick with women for a moment here, because when we were reading best-selling books to see trends of how they taught about sex, we noticed a pattern:
Quite often men were portrayed as knowing a ton about sex, and women were infantilized.
Here's just a quick (and kind of gross) example from The Act of Marriage:
Their maidenly inhibitions and misconceptions compel them to lie on their backs and allow the vigorous young husbands to satisfy themselves.
So she has maidenly inhibitions and misconceptions, and he's vigorous. 
She is scared of sex and hesitant and shy, and he totally can take control of the situation.
That's one way it can be done–actually portraying men as the ones in the know and women as the ones who are more ignorant.
But then we can take it a step further, as Kevin Leman does, and use infantilizing language: 
It actually gets worse from there. 
He also calls the clitoris "your tender little friend." Yes, he names it elsewhere, but Leman frequently uses "cutesy" euphemisms for body parts, which gives a distinctly creepy vibe–like a predator in a kids' puppet show. 
Using euphemisms like that talks down to women in a way that he doesn't talk down to men in his book. And that gives an impression–men are mature in this area. Women aren't. And so women need to be coaxed along, because men understand about sex and women don't.
(If you want a better way to explain to both women and men how sex works, which isn't infantilizing, check out The Good Girl's Guide to Great Sex and the Good Guy's Guide to Great Sex!)
The All New Guides to Great Sex!
Available now!
Imagine building a great sex life--from the ground up!
What would it look like to build a picture of sex that was MUTUAL, INTIMATE, and PLEASURABLE FOR BOTH--with no harmful messages?
Welcome to the The Good Guy's Guide to Great Sex and the ALL NEW Good Girl's Guide to Great Sex.
Get them NOW!
And let's make these the go-to wedding shower gifts!
Why do we assume that men are knowledgeable about sex and women aren't?
This infantilizing language coming from male authors gives a distinct impression: women are ashamed of sex while men aren't.
Men are sexual and women need to be coaxed.
Sex is something men naturally get, while women don't.
When we were writing The Great Sex Rescue, we actually conducted some focus groups to see how other women reacted to both of these passages. 
We wanted to know if it was just us who found them disturbing.
Rebecca ran them really well, not showing any emotion or asking leading questions, and mirroring back what the participants were saying. She almost kicked me out of a focus group at one point because I was agreeing with the participants too much, and that's a no-no!
Here's what we said about this in The Great Sex Rescue: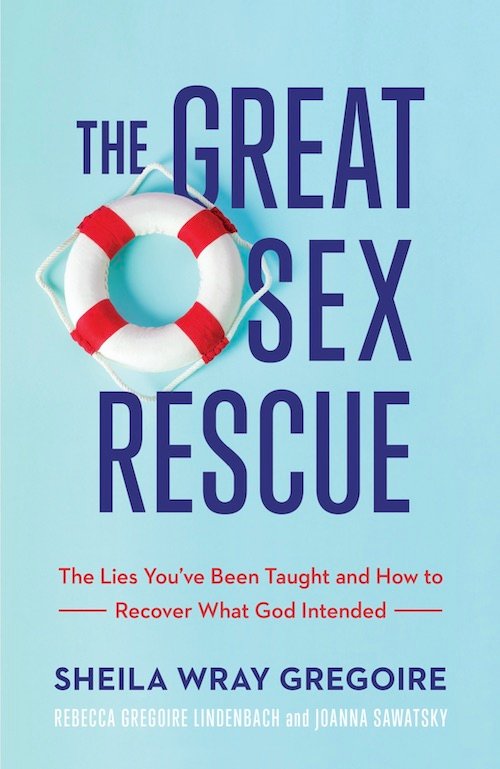 Across the board, women were unimpressed when they felt they were being talked down to. And some of the greatest offenders were the cutesy euphemisms such as "Mr. Happy" for "penis" and "tender little friend" for "clitoris." These words made women feel infantilized, which is hardly sexy. When we read the "Mr. Happy" passages, women's eyebrows darted up, they started shaking their heads, and in one group we even heard a chorus of "Eeeeeewwwww." One woman said of Mr. Happy, "If it wasn't about sex, this could be a puppet show for kids." Another said, "It sounds like Mister Roger's Neighborhood, where everything is a friend. That's very disturbing!"
Universally, women did not shy away from explicit instruction, but they preferred passages using proper terminology. We believe these authors wanted to make sex less shameful by talking openly, perhaps even by adding some humor. However, talking to women as if they're children does not end shame; rather, it treats them like they're inadequate and not up to the task.
Takeaway: Because men tend to reach orgasm easier and tend to want sex more, books portray them as sexual, while women need to be coaxed along. Unfortunately, this often leads to assuming men are good at sex and women aren't, reinforcing the very problem they are trying to fix.
Yes, men may feel more comfortable with sex for obvious reasons. 
Sex is very unlikely to be physically painful for them. It isn't vulnerable in the same way. You can't have intercourse if a man isn't physically aroused, so it's pretty much guaranteed to be done because he's feeling good. 
And men's genitals are right there, visible, in easy reach, and guys are often far more used to handling them than women are handling our own (often our main time handling our genitals is menstrual hygiene).
So it's not surprising that men may seem more eager for sex and have less to be shy about.
This does not mean, though, that men are automatically better at it.
And by infantilizing women, we make sex sound even more threatening, as if we're in that creepy puppet show.
If we want women to feel comfortable with sex, stop talking down to us. 
Use the proper names for body parts (and let's not forget how important it is to teach our kids the proper names, so they have words to use to tell if someone is inappropriate!). 
Assume that women can be comfortable with sex, too, and don't need cajoling as if we're being coerced.
Treat us like adult human beings.
Because no one wants to be a child, especially when it comes to sex. I can't think of a bigger libido killer.
Have you seen this phenomenon where women are often talked down to when it comes to sex? Let's talk in the comments!