If we want great sex…we may need to look OUTSIDE the bedroom for answers!
Here's a stat that I shared on social media last night about the correlation between arousal and emotional connection:
It's just one stat in a bigger chart in The Great Sex Rescue–which has tons of these.
But what I found so interesting with this was the interplay between her body responding in the bedroom and her feeling like she matters outside the bedroom.
I think we forget how much our bodies register safety.
Our bodies are actually designed to be our early warning signs that something is wrong with our environment. We often find it harder to get aroused when we don't feel safe or feel emotional connection, and we're designed that way–because such a relationship, frankly, is not a great one for having kids.
So our libido plummets so we're less likely to want sex and less likely to get pregnant.
If we're highly stressed, our libidos can fall because our bodies know this isn't a good time to try to raise a baby.
And if we're not emotionally connected, arousal can be that much more difficult.
Now, with all surveys there's an issue of teasing out correlation and causation.
Just because two things move in tandem does not mean that one causes the other. And if there is causation, it could go the other way–it could be that women who frequently get aroused are more likely to feel heard in arguments!
But we did tease some of this out in our focus groups, and also looking at different beliefs over time. And it does seem like the causation goes one way–a great emotional connection can really improve a sex life, but a sex life can't create an emotional connection that isn't there. Yes, it can make you feel closer, but there's a limit to that.
The lesson? If you want a good sex life, you need to create emotional connection too. 
That's the power of sex as a deep knowing.
I talk about this a lot, but Genesis 4:1 tells us that sex is supposed to be more than just physical. "Adam knew Eve his wife…" says that the intimacy is more than just our bodies. It's a deep knowing. The Hebrew root for that word is the same as David uses in the Psalms when he says "search me and know me, O God…"
But if sex is going to be a deep knowing, then you have to come to the bedroom with everything you are. You have to be vulnerable. And then the other person has to accept you.
That's why obligation sex doesn't work, by the way. Obligation sex is the opposite of knowing, because obligation sex says to her (since it's a message primarily given to women): "he has the right to use your body." Her needs are erased. Her preferences are erased. Only his desires matter.
If her needs and preferences don't matter, then she doesn't matter. It's no longer a knowing, because a large part of who she is is being rejected.
So let's get back to that image and feeling heard during conflict.
If she feels like, "when we're in an argument, he still treats me like I matter," then she knows that who she is matters to him. She's important. She's safe.
And that's one of the things (it's not the only thing) that makes it easier for her body to be aroused. The kind of relationships where her perspective matters in conflict are the kinds of relationships where her body is more likely to respond.
Now, there's another element to this: This could also be because the kind of man who listens to his wife during a conflict and tries to come to a resolution together rather than pushing his own way thinks that she does, indeed, matter. And thus he's far more likely to treat her like she matters in bed, too, and far less likely to be selfish, only using her. He's more likely to do more foreplay and to prioritize her pleasure (and we found those things were true as well).
So it all goes together.
"A groundbreaking look into what true, sacred biblical sexuality is intended to be. A must-read." - Rachael Denhollander
What if you're NOT the problem with your sex life?
What if the messages that you've been taught have messed things up--and what if there's a way to escape these toxic teachings?
It's time for a Great Sex Rescue.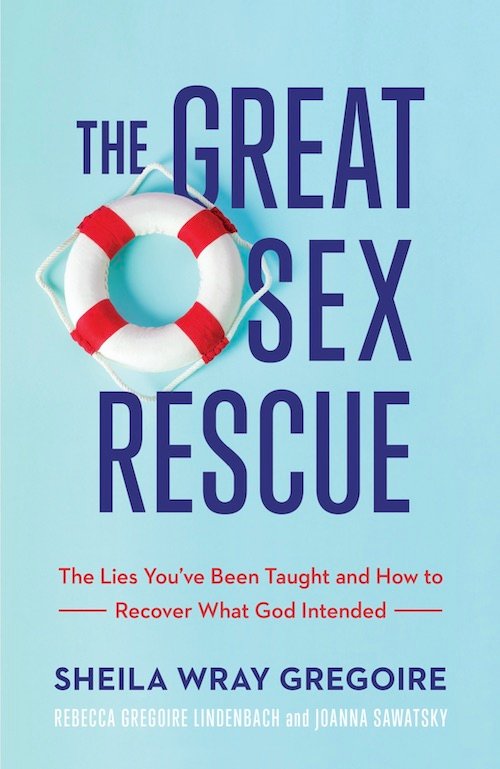 The way we treat each other in the bedroom can't be separated from the way we treat each other outside the bedroom.
You can't create a great sex life in a vacuum.
Now, this doesn't mean that if she's having trouble with sex that the problem is always that they're not emotionally connecting! We are multi-faceted, and there may be many other reasons she has trouble responding physically (and The Orgasm Course can help unravel some of those). It could be that she has sexual trauma in her past; it could be that she's internalized negative messages about sex; it could be that they just don't understand her sexual response cycle and how her body works.
But what we do believe is that the more you increase emotional safety and connection in the marriage, the better sex will be. 
Obviously this isn't rocket science, but sometimes I think we need reminders about this.
I see so much sex advice that never takes into consideration how she's treated outside the bedroom, and that's a big problem.
And I get questions like this one:
We've been married just over a decade and have several children.  We've struggled with sex for sometime now. Both grew up in Christian homes. His parents divorced. Mine still together and very
much in a loving, fulfilling relationship.
My husband started bringing up his lack of satisfaction in our sex life about five years ago (when I was in a graduate program). It was a stressful time and I was away from home a lot. Sex was just the same thing over and over. I rarely orgasm (usually only when I'm ovulating or just near the end of my cycle, before my period), which has been a problem for him (which I get). It became an area of high conflict for about two and a half years as we just didn't have the tools to work through it.
We are both devoted Christians. During the hardest years I still committed to a recurrence of 2 times a week for having sex. It was at a time I had very little desire and because it was during a time that my husband was mentally and emotionally hurtful (not abusive). I provided much obligatory sex ( a lot). I tried to promise I'd change and be more adventurous but I could never bring myself to try other things (oral, different positions, etc.). Early in our marriage I did try these things but felt uncomfortable and it pushed me further away from orgasm. I still have a really hard time with those things.
Several years ago my husband went through a rather radical spiritual transformation where the Lord truly changed him. The emotional and mental hurt went away over time and he repaired with me. We enjoyed
about a year of reprieve and I even noticed I started wanting sex again. Unfortunately I stayed near to basic sex and couldn't bring myself to perform oral sex or offer different positions. I struggle with feeling disconnected with these acts in sex; they are a complete turn off for me and something I would only endure – which my husband could pick up on. So a year into our year of reprieve he started expressing his disappointment again.
Because it's been such a conflictual topic that is connected to former emotional and mental anxiety, I still struggle with being confronted. I'm working through that. We are able to talk about it. He's still harsh in some ways and not very careful in his frustration. He's not necessarily hurtful though either. It's just hard to face. He's very frustrated, understandably.
My husband wants to offer foreplay but I just don't want it. I just want to get it over with and cross my fingers I'll orgasm. I don't like being fondled on my clitorous for very long and it's usually not helpful to create orgasm or arousal. I have very little desire to orgasm. It just doesn't matter to me. That sounds awful. And it's so frustrating for my husband. I want to change but I feel very stuck.
My husband is a good partner, very helpful, treats me as an equal and I know he loves me. He's improved his emotional communication with me over the years and takes good care of me and our boys. Though he is low on his need to express his feelings I think he tries. He's pretty reserved in our day to day but attempts to show me he loves me by serving me. I've struggled with his reserved nature toward me during the day but his rather open sexual expression toward me in our bedroom. It has felt disconnected for me. He wants to please me and for me to surrender in sex but I just feel so locked up. I don't want to. How do I start wanting to surrender?
I just want him to be happy with what we have. I know that is selfish and that I need to change. I recognize it should be better. I should enjoy it more, but how do I get to wanting it again so that I'm curious about what works for me?
I'm not going to answer this question entirely (though I'd love for you all to chime in the comments!) but I want to note a few things:
In general, the beginning of our sex life sets a tone that can be hard to overcome.
That's a hard thing to hear, and it doesn't mean you CAN'T get over it, but there has to be some ownership and acknowledgment that actions have consequences, and her libido has largely been stolen from her. We've got some new research studies we've read to share with you in October that go over this in detail about why it's so hard to overcome the early patterns of our sex lives, but for women especially, this seems to be the case.
She says she feels "locked up."
That's a great way of describing it. She likely does feel an inability to let go and an inability to truly enjoy herself, because she fundamentally has not been safe in her sex life (or her wider marriage it sounds like). It's great that he's made some changes, but it still feels like he's expressing a lot of disappointment instead of acceptance. 
When you've created emotional distance, you don't get to punish the person for not responding to you.
Even if you've made an effort to fix that emotional distance, it has still affected your spouse, and that has affected their sexuality.
What she now needs is not tips on how to get more adventurous in bed. She needs to feel safe and loved even if she never gets more adventurous in bed.
Look, if this couple had started off marriage with real emotional connection and with no obligation sex, she likely would have enjoyed sex more and she'd likely be more adventurous. So he contributed to a pattern that killed her sexual response. It is not right to now complain about the results of the pattern that you created.
The key to moving ahead is to help her feel safe.
Right now they're both still treating her like there is somehing wrong with her. She doesn't really like sex. She can't tell  him what she wants. She won't be adventurous. 
If you feel like you are always the problem, how in the world are you supposed to respond? 
But if you realize, "wait a minute! My sexuality is acting this way for a reason. So now–let's unpack that reason, let's care about that reason, and let's deal with that underlying thing."
And that underlying thing is that she still isn't safe and accepted, at least it seems to me from the letter. 
We won't respond in the bedroom if we feel like we don't really matter outside of it. 
And when the message we're receiving is, "you're not good enough and I'm still disappointed in you," how will we ever respond?
Now, am I saying he can't want to improve his sex life? Of course not. Yes, they can have discussions about that. But I think it's more important for him to own the problems that he contributed to, and try to address those. That will actually help her feel safe–and that's actually the route to better sex!
What do you think? Let's talk in the comments!