Denny Burk didn't like The Great Sex Rescue because we thought sex could be "egalitarian."
Burk is the head of the Council of Biblical Manhood and Womanhood, and a professor at Boyce College at Southern Baptist Theological Seminary. He recently wrote an article where he critiqued The Great Sex Rescue because we ignored the asymmetry that is supposed to be part of marriage.
I thought it was actually quite funny, because in the original article (he amended it several times because of everyone laughing at him and the critiques coming in) he said that focusing on female pleasure was "selfish and small", while focusing on procreation (where the man climaxes) is better.  (I describe all of this, with links, in my post about the kerfuffle: Have Babies, Not Orgasms.)
This was actually the first time anyone high up in complementarian circles (where they believe in hierarchy and power in marriage, where the wife follows the husband rather than submitting directly to Jesus) had actually acknowledged that The Great Sex Rescue existed. They've largely ignored us because I think they don't know how to deal with our findings.
This week Rebekah Mui, a brilliant theologian and deep thinker, published a long piece on why Denny Burk doesn't like The Great Sex Rescue.
To sum it up, she argues that the roots of complementarianism see power and domination intrinsic to masculinity, while submission and passivity are intrinsic to femininity, and because of that, you can't have "an egalitarian pleasure party", as Doug Wilson said.
Honestly, her article is just amazing. I've been trying to figure out how to share it with you all, and what I'd like to try to do this morning is walk you all through her argument (which is quite long), but also encourage you to read the whole piece. You'll need to get comfy and get a cup of coffee, but it's worth the read.
Let's start:
Complementarians should have welcomed The Great Sex Rescue.
If they believe what they say they believe, they should have embraced the book with open arms. Mui explains:
For all intents and purposes, "The Great Sex Rescue" by Sheila Gregoire (2021) should be a considered a revelatory breakthrough for complementarians.
After all, if the central essence of complementarity is the Christ-like, cruciform love husbands should have for their wives, then data and analyses showing where the evangelical church has fallen short in teaching husband-and-wife relationships should be celebrated. Here is a chance to take up the gauntlet of benevolent and sacrificial manhood, recognizing that, as Piper and Grudem (1991, p.80) in the second chapter of Recovering Biblical Manhood and Womanhood emphasize, biblical male headship will never, ever, "involve selfish, unilateral choices."
She goes on to say that The Great Sex Rescue uncovered that evangelical women had dismal sex lives and our pleasure and pain were both undervalued. Yet despite all of this, they didn't embrace our book. Why?
Our culture has historically been "phallus-centric."
Even though women have a clitoris, the genitalia that has been emphasized in the Greco-Roman world, and then throughout Western civilization, is the penis. 
The main tenets of this are as such: that the penis represents male power as embodied in the act of penetration, and that the penis and male biology in general is the ultimate and superior sexual existence around which the identity of females/the penetrated is defined. This means that female sexuality does not exist, or is secondary (perhaps where it serves and enhances male pleasure).
She takes us on a romp through Roman history and looks at how military victory was often accompanied by sexual rampage, and it didn't matter whether the one being penetrated was male or female; it's the act of penetration that makes one "masculine", and the act of being penetrated that makes one "feminine."
She looks at how this has played out in more modern history, too, with this example:
Here is an example: Pornography as an industry is largely phallocentric. Pornography is mostly designed for men and centers male pleasure, with women functioning as instruments of this pleasure. Sexual satisfaction is synonymous with conquest and often is expressed alongside violence. While evangelicalism largely condemns pornography as an aberrant and sinful sexual practice, it must be noted that evangelicals in America are heavy consumers of pornography, and as consumers, shape the pornography industry by the kind of pornography that they demand.
All of this has implications for how we see gender, and explains the "gender essentialism" that is in so many books like Love & Respect, For Women Only, Every Man's Battle, His Needs, Her Needs, and more:
Gender essentialism, the belief that this phallocentric penetration-as-dominance ideology of biological sex determines masculine and feminine traits and behaviors, dates back to Aristotle's natural law (Bem ,1983). Bem describes these traits as a polarized view of gender, with masculinity described as active and authoritative, and femininity as passive and obeisant". Gender essentialism originated as a philosophical belief, became a religious doctrine in European Christendom, and evolved into a scientific, evolutionary form in the 19th century…
There can't be any such thing as an "egalitarian pleasure party."
She then traces how modern complementarianism has divided into two camps, the "Carefuls" who believe in biblical manhood and womanhood, and the "Courageous" ones–the ones being praised by The Gospel Coalition, Desiring God, etc–that call out the evils of feminism and the emasculation of men. 
She notes Doug Wilson's rhetoric about how authority and submission are an erotic necessity and summarizes these thoughts:
Sexual relations are essentially, invariably, and necessarily, a relation between a dominant male penetrator who " conquers, colonizes, plants" and a passive female who "receives, surrenders, accepts."
There is no such thing as an "egalitarian pleasuring party" — equally pleasurable sex. There is only a relationship between penetrator and penetrated, one of authority and submission.
Rape, rape fanstasies, and BSDM is a "caricature" that come about when society rejects and "rebels" against "authority and submission" as an "erotic necessity".
Why did Burk defend Butler's terrible Gospel Coalition Article?
Now we turn to Josh Butler's article at The Gospel Coalition, which was so bad it had to be retracted. But Burk defended parts of it, and that's where he decided to critique me. Rebekah goes through this exchange and concludes with this reprimand of Burk's insistence that we were being selfish by ignoring procreation:
No, sir. Sheila Gregoire, among many others, did not express horror because of the biological transmission of sperm. That's not the issue, and you know that. The thing that you, Wilson, Butler, and Burk have in common is a shared, political and power ideology that penetration means power. Burk makes this extremely clear when he rejects the mutual-but-different pleasure Gregoire (2021) emphasizes as egalitarian: what he objects to is the decentering of phallus as being the be-all, end-all of sex.
Sheila Gregoire in her writings on sex has been exceedingly detailed and clear in this regard, and in no way has she claimed male and female biology are the same, only that both male and female sexual pleasure are important and should be recognized.
They can't accept mutuality in part because they think femininity is to give up all wants and needs and desires.
Mui then walks us through Elisabeth Elliot's writings on the essence of femininity:
Elisabeth Elliot, who in the landmark publication of the "complementarian" position, "Recovering Biblical Manhood and Womanhood", wrote of the "essence of femininity" as being that of "utter and unconditional self-giving", servanthood, "obedience", having "no ambition for anything but the will of God", and self-negation, with "exceptional women in history" having the "special gift- a charism" when they "made themselves nothing" (p.403)…
What Elliot is not doing is saying that surrender and obedience are good Christian things to do in general, in imitation of Christ: rather, she is positioning the woman in relation to the same in the role of self-negating subordination.
If femininity is to surrender all and make herself nothing–then can you see why female pleasure would go against that?
I absolutely love how Mui gets to the heart of the issue here:
Burk's use of the term "selfish" parallel's Elisabeth Elliot, who contrasts a woman who "makes herself nothing" and a woman who is selfish. Under this view, female existence that is not obeisant and self-erasing in relation to men is inherently evil and selfish. How dare you exist, how dare you also assert that you can and should experience pleasure, that sex is not a one-sided posessive/sacrificial act. Shame on you, selfish egalitarian!
"A groundbreaking look into what true, sacred biblical sexuality is intended to be. A must-read." - Rachael Denhollander
What if you're NOT the problem with your sex life?
What if the messages that you've been taught have messed things up--and what if there's a way to escape these toxic teachings?
It's time for a Great Sex Rescue.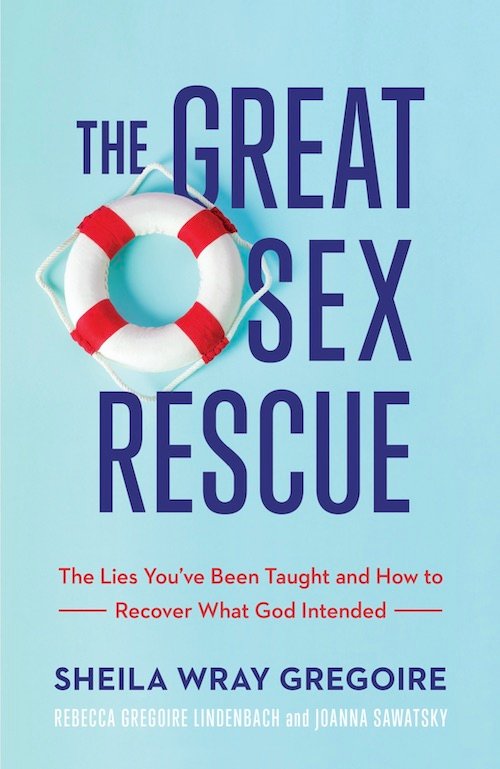 We need to pay attention to what Burk reveals in his critique of The Great Sex Rescue.
The reason Mui wrote such an in-depth article is because Burk's article revealed something that complementarians rarely say out loud. They talk a good talk about the difference between men and women's roles, and how this is so beautiful and God's perfect design.
But Burk pulled back the curtain when he critiqued us and revealed something rarely discussed.
Here's how she summarizes the issues:
Burk identifies a call for equal or mutual sexual pleasure for biologically distinct men and women as egalitarianism, and thus something complementarianism is innately opposed to.
Why is equal or mutual sex necessarily anti-complementarian and egalitarian? Egalitarianism is a political movement for women's equality — so what does it uniquely have to do with sex? Because it is a rejection of the asymmetry of power central to a penetrator-penetrated political paradigm.
Complementarianism, if we are to go by Denny Burk, Elisabeth Elliot, and Doug Wilson, is a defined not by gender difference but by power assymetry.
That's not the end of it–there's so much more good stuff.
Please read the whole thing! Rebekah wrote an insightful masterpiece that deserves to be widely read, and I (and others) encouraged her to submit it to journals.
I knew that Burk's argument was laughable when I first read it, but I didn't see all of the twists and turns, and this connects the dots so well.  Often people ask me for information on Doug Wilson, or why complementarians largely haven't embraced The Great Sex Rescue (though obviously many individual complementarians have), and this will now be the go-to thing I recommend.
You can also hear Rebekah as one of the panelists on the Where Do We Go From Here podcast when they talked about Josh Butler's article, and where she mentioned some of this. 
I'm very grateful to people like Rebekah who add such insightful commentary to what we do!
It reminds us that we're not alone in this, but that there are so many, with different giftings, all working to bring the church back to a picture of mutual love, service, and submission to Christ.
What do you think? Does this argument make sense? If you see that male power and domination is intrinsic to marriage and sex, how can this affect sex? Let's talk in the comments!