This was a week where postpartum hand jobs were debated on Facebook a TON–and it was super interesting.
On Friday I'm starting to do a round-up of the best of my social media platforms this week, for those of you who may have missed it. Often the best content is on social media, not just the blog, so here goes!
Last week we kicked it off on the podcast talking about the advice given to women in far too many evangelical books about giving sexual favors postpartum. At the point where we recorded it, Rebecca was a few weeks postpartum, so she was the one this advice was aimed at, and it made it far more personal.
Well, on Facebook I decided to post some of our concerns in longform, and boy did that go big! I started with a general post about our podcast (which got a ton of comments), but then I elaborated.
(Warning: I'm being explicit in this update)
In porn, women are often shown getting sexually aroused not by RECEIVING sexual stimulation that tends to feel good for them, but by GIVING sexual stimulation or by being used.
Women are shown in raptures simply because HE feels pleasure. His arousal is all she needs to get turned on or climax.
That's because porn tends to revolve around male fantasy about being in control. It's not about sex; it's about using someone.
Okay, now let's turn to the recently released Christian book Married Sex. Author Gary Thomas depicts women who are postpartum, having heavy periods, or pregnant as being super aroused simply by giving her husband a hand job while receiving nothing in return. He describes her "moans", her excitement as her husband's excitement grows, her "wetness" against his thigh. (Hint: if she's postpartum or having a heavy period, that "wetness" is blood, not lubrication).
He does this in the context of encouraging women to give sexual favors when they can't give intercourse, to help their husbands with sexual frustration.
My question: Why are we not more alarmed that evangelical books like Married Sex have pornified expectations of women? And they don't even seem to realize it?
(I know that some women do get aroused giving sexual favours in these situations, which is great. It's even more wonderful if they're feeling well enough that the sexual favours can be reciprocated. But here's the thing: women who find giving sexual favors arousing even while bleeding, recovering, or nauseous don't need to be convinced by books to give those favors. They'd be doing it naturally. So the audience for this advice IS NOT women who feel sexual desire while postpartum, during heavy periods, or while pregnant. The audience instead is women who need to be convinced to focus on his sexual needs instead of prioritizing their own healing or well-being. And if they have to be convinced to do it, then all the moaning and excitement isn't real. They're being pressured to fake it and act like porn.)
From that, people started asking Gary Thomas on his page some specific questions, and he responded, and I thought it made an interesting teaching moment about how advice can SOUND fair and impartial, but it's still not good advice if the situation really is one where one party needs protection.
Over the last few days, we've been talking about how Gary Thomas, in his recent book Married Sex, presented it as normal that a woman who can't have intercourse because she is postpartum, pregnant, or having heavy periods would give a hand job instead–and get aroused doing so.
When challenged on his Facebook page about this, he has doubled down. One woman presented the opposite scenario, where a husband had surgery. Should he be expected to give 'sexual favors' while recovering?
In a now deleted post, Gary responded (pics below) saying that he doesn't believe in giving "shoulds", and it's about the two of you deciding, and if he wants to he can.
On the surface, that looks like a good answer–let's honor the couple figuring out what works for them! But what is being emphasized is that he may want to give sexual favors despite the pain, rather than emphasizing that self-control and abstinence should be expected.
So let's answer this better:
If one spouse is ill, in pain, or recuperating, this is not an issue to figure out "between the two of you." The person in discomfort takes precedence, always. Any sexual activity must be at their initiative, and their initiative alone, without ANY expectation, pressure, or manipulation. The one who is healthy must exercise self-control and make their spouse's well-being their priority.
Gary says he doesn't want to give "shoulds." Well, in this case we SHOULD. We need to. There is too much coercion and manipulation in Christian marriages. We need to set the expectation that women's well-being and recovery matter; not reinforce a pornified view of married sex that women get aroused giving hand jobs while they are bleeding heavily.
Besides, Gary has no problem giving other suggestions in his book–like women texting nude pictures to encourage their husbands to fixate on their wife's body rather than porn; or women flashing their breasts to reset power imbalances; or women cooking naked.
He also has no problem with "shoulds" in other areas–he says that sex SHOULD feel like a sacrifice at least sometimes, and women should give sex when they may not want to, in a similar way to how parents should feed a newborn in the middle of the night.
I would simply ask that he clearly say that, during the postpartum period, there should be no expectation, pressure, or manipulation used to make women feel they should give sexual favors. And, please, stop implying women get aroused giving sexual favors when they are uncomfortable or in pain.
Over this last week, so many women have commented that sex was great in their marriage until they had children–because the pressure from their husbands during the postpartum period made them feel used and turned them off sex, and changed how they saw their husbands. In many ways, how husbands act during the postpartum phase is just as important, if not more so, than how they act when first married. This SHOULD be talked about better, for everyone's sake.
(And I also acknowledge that I haven't always talk about this well. But I have listened. I have learned. I have grown. My prayer is that other authors with platforms similarly listen, learn, and grow–and teach in a healthy way).
Two assume webinars are coming next week!
Our Tea and Tent Pegs webinar with Kristin Kobes Du Mez, Beth Allison Barr, and me is Monday night at 9 EST! And there are only 250 out of 3000 slots left. So grab them while you can!
Then next Thursday our Tide Has Turned webinar lands!
I'm moderating this one with a panel of six abuse advocates, including Sarah McDugal, Patrick Weaver, Andrew Bauman, Anne Blythe from Betrayal Trauma Recovery, Gretchen Bakerville, and our own Rebecca.
We'll be talking about where we see Christian publishing going and how to influence things for the better.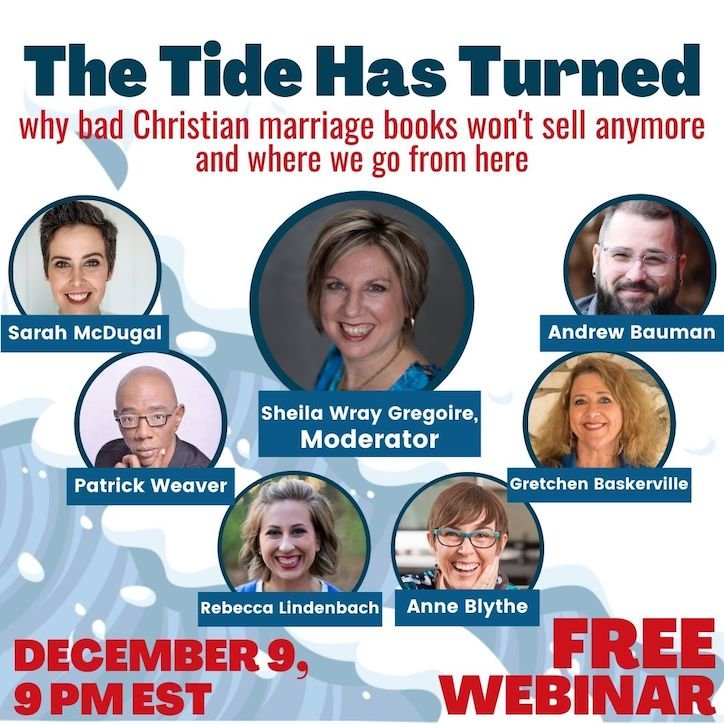 I decided to "fix" Doug Wilson.
I usually try to reserve my "Fixed it for you" memes for people who have big blogs or mainstream marriage ministries or royalty published books and are seen as more in the mainstream.
I don't try to take on the fringe because then I'd be taking on everyone, and the fringe people are easier to see when they're offensive.
But Doug Wilson's influence is getting bigger, and so many people asked me to, that I decided to dive in with just one quote!
The Great Sex Rescue
Changing the conversation about sex & marriage in the evangelical church.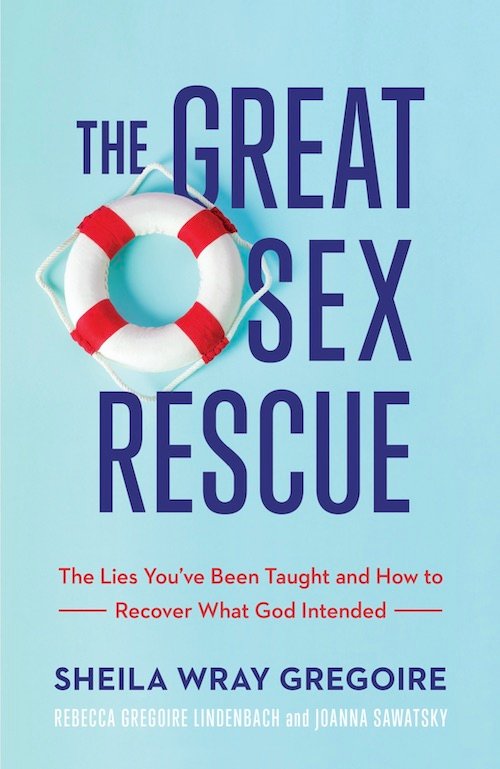 What if you're NOT the problem with your sex life?
What if the things that you've been taught have messed things up–and what if there's a way to escape these messages?
Welcome to the Great Sex Rescue.
Finally, on the number 1000 and 1,000,000
I've shared this before, but we've recently passed 1000 reviews on Amazon for The Great Sex Rescue! Thank you! And they're so encouraging!
And Katie tells me we could hit 1,000,000 downloads of the Bare Marriage podcast by the end of the year! So keep subscribing and downloading. We'll have a big party in January when we get there!
Thanks everyone, and have a great weekend!

Sheila Wray Gregoire
Founder of Bare Marriage
Sheila is determined to help Christians find biblical, healthy, evidence-based help for their marriages. And in doing so, she's turning the evangelical world on its head, challenging many of the toxic teachings, especially in her newest book The Great Sex Rescue. She's an award-winning author of 8 books and a sought-after speaker. With her humorous, no-nonsense approach, Sheila works with her husband Keith and daughter Rebecca to create podcasts and courses to help couples find true intimacy. Plus she knits. All the time. ENTJ, straight 8
If we had had these Great Sex Guides before we got married, there would be no Great Sex Rescue. No...
On almost every measure, church attendance is good for you. Researchers have consistently found...
Let's talk about the echoes of menstruation. Yesterday on the podcast, we were discussing how...