What if setting up marriage as a hierarchy, where men make the decisions, isn't good for men either?
We know that it can lead to problems for women (as we talked about yesterday), but what if it can hurt men too?
On Tuesdays I don't do huge posts, but several amazing comments along these lines were left yesterday across social media and the blog, and I wanted to highlight a few of them. (And there were many, many awesome comments! I just found these ones that matched this theme!).
1. Having to make all the decisions puts undue pressure on men!
Puts too much pressure on him. (My husband says.)
I was a wife who was happy to submit to my husband, who never abused the authority I perceived him to have. My life was pretty easy – I didn't have to think too much about big decisions, I trusted my husband completely, and if it turned out badly I was off the hook. Our relationship was great and easy. Then I started reexamining gender hierarchy because my husband didn't buy it. While it was the fabric of my upbringing, it was not part of his. I remember when I heard God gently challenging me that I needed to step up and be a full person and partner in my marriage. I was putting a burden on my husband that was not fair or right. I didn't need to seek God myself in more than a cursory way when we faced a crossroads. It was harder to be a fully-functioning partner, but I started to step up. Gender hierarchy can cause a women to be squashed but it also puts an unreasonable and possibly crippling burden of responsibility on men that I don't believe is part of Jesus' "easy and light yoke".
2. When submission means "he decides always", then you don't develop good relationship skills
This faulty perspective contributes to a lack of problem-solving skills as well as conflict resolution skills: the husband pulls out the "final say" card and the wife pulls out the "submit" card; neither is invited or obligated to have prayed, listened, valued, respected, negotiated, navigated, collaborated, prayed, waited, prayed, submitted to each other as unto the Lord, searched for options, etc.
I feel like the toxic teaching of "the man makes the decisions" was not only set up to allow men to have their way all the time, but to shield them the expectation of appropriate communication skills. If all man is expected to do is to not talk and get his way all the time, how can this NOT be abusive at some level? Even for a "good guy", a system that removes any iron sharpening iron, just feeds narcissism.
If someone had told me that the ability to calmly and kindly make decisions together was the first thing I should look for in a man, I would have avoided abuse.
Girls who were raised without a voice dovetail perfectly into marriages without a voice.
3. When he always decides, you both miss out on the blessings of teamwork
We don't believe we are being led by God if we can't come to a mutual and comfortable compromise or agreement, even if there's no abuse. We don't believe God would have one of us force the other into an uncomfortable or unfair position, that's not love. So if we can't agree on a decision together then we aren't seeking Jesus but instead ourselves.
We are a team and a team grows and is healthy when operating as a team not when one person calls the shots for the other like a parent, owner or dictator.
We both need to learn how to be considerate of each other's feelings and learn to work together and that only happens when we both stop to work together on the big and small stuff and my husband doesn't need that burden himself, talk about anxiety.
My husband and I used to adhere to the idea of men being the head of the house/submission thing. During that time we had a big financial decision to make and we were not in agreement. My husband is not good with finances and he struggles with "seeing the bigger picture". I was counseled by an older woman in my church to "just submit and if it doesn't turn out well, then that's on his head with God and not yours". I felt, and still do, this is just a means of getting out of any adult responsibilities and being able to blame shift if things don't work out as hoped for in some cases. I took her advise, things went south financially (we lost our home), I blamed my husband and then had to do the work of realizing that's not a healthy way to have a partnership nor to slough off my own responsibilities. We now have a more balanced, "strength based" marriage. But I don't think it's always a "personality difference" if someone doesn't want to make the big or little decisions.
4. If the husband makes decisions alone, you miss out on spiritual growth and blessings
One amazing thing often can happen if BOTH spouses are seeking Jesus for direction – lot of times they both get the SAME direction! Like those you're already on the same page before you even talk about it. It is very affirming when that happens. I feel same when I'm studying and then the pastor preaches what I was discovering in my studies. You miss out on those things if you don't take responsibility for your own spiritual walk and delegate it to others.
if a wife just sits around and waits for her husband to tell her what God says, she misses out on the opportunity to develop her own faith. Last year, we were considering a major decision that we both needed to 100% agree on. Praying over it, I had one question outstanding, so I asked the Lord to answer that question for me. My husband, who had also been praying over our decision shared something which he felt God was saying to him but which didn't make any sense to him – the message was the answer to MY question!
If I'd just sat around waiting for God to speak to my husband only, we would BOTH have missed out on something which encouraged us that we were making the right choice. As it was, each of us was given a 'piece' of the puzzle, and it was only by praying & working together that we got the right answer!
5. Having him decide alone weakens your family in the long run
Husband centered marriage raises sons who subconsciously believe they are the center as well and shows daughters men are the center. The result of this I have seen first hand and it is unhealthy and not Jesus.
As a pastor and counselor, I've found while this (submit to your husband only) *can* lead to happy marriages, when a woman is widowed or kids grow up, they find themselves struggling, without identity, and without the ability to make good decisions since they haven't had to flex that muscle ever. The same though is true of passive men who relied on women to take care of everything, as widows they flounder and get married quickly just to have another someone care for them. In both cases while it may work, it causes dysfunction later. It leaves them less a person. And the best marriage strategies should leave the whole person intact, because that's the mystery of it…..two become one without losing themselves.
Mutual submission is the way. Both partners learning to submit when needed, both learning to make decisions when needed. This is the way.
There simply aren't upsides to having a husband decide alone if you're looking for good relationship skills, spiritual growth, teamwork, and maturity.
But there are so many upsides if you do things together, valuing each other, and seeking God's will together.
Jesus wouldn't tell us to do something that hurts us. And in our research for The Great Sex Rescue, when we surveyed 20,000 women, we found that when a husband makes decisions alone, even if he consults with his wife, the chance of divorce increases 7.4 times. And there are so many other bad outcomes–when she feels her opinions don't matter as much, orgasm rates fall; marital satisfaction falls; it's all just one big mess.
Check out chapter 2 in The Great Sex Rescue for more on this. But also remember: Jesus seeks our good. He would not have asked us to do marriage in a way that hurts us. And His ultimate aim is that we all seek after Him.
The Great Sex Rescue
Changing the conversation about sex & marriage in the evangelical church.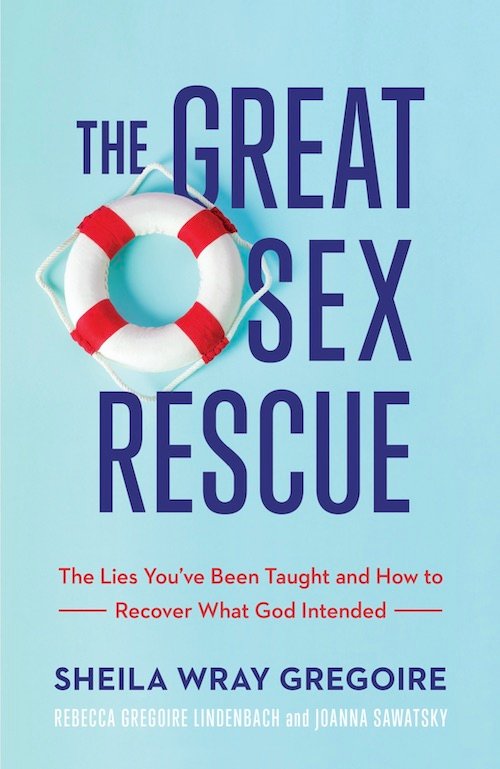 What if you're NOT the problem with your sex life?
What if the things that you've been taught have messed things up–and what if there's a way to escape these messages?
Welcome to the Great Sex Rescue.
A Jesus-centered marriage, not a husband-centered marriage. That's what He wants.
And that's a good place to end our putting Christ back in Christian marriage series. Tune in tomorrow as we start our "Number of the Day" series, where I share one piece of super interesting research a day, leading up to the release of The Good Guy's Guide to Great Sex and the totally revamped Good Girl's Guide to Great Sex!
What do you think? Is there a #6 I should add about how hierarchy hurts men too? Let's talk in the comments!
Putting Christ Back in Christian Marriage Series
Plus please see my submission series!

Sheila Wray Gregoire
Founder of To Love, Honor and Vacuum
Sheila is determined to help Christians find biblical, healthy, evidence-based help for their marriages. And in doing so, she's turning the evangelical world on its head, challenging many of the toxic teachings, especially in her newest book The Great Sex Rescue. She's an award-winning author of 8 books and a sought-after speaker. With her humorous, no-nonsense approach, Sheila works with her husband Keith and daughter Rebecca to create podcasts and courses to help couples find true intimacy. Plus she knits. All the time. ENTJ, straight 8
What if the evangelical church is diagnosing the problems with marriage WRONG--and so offering the...
What if a lot of entitlement comes from a desire to not have to grow up?  It's Rebecca on the blog...
What is it that actually kills a marriage? In the Christian world, "lack of commitment" is often...