What if too much marriage advice puts the cart before the horse, demanding reconciliation before trust has been rebuilt?
We've been looking this month at how so often evangelical marriage advice puts the emphasis in the wrong place, and thus misdiagnoses the problem and gives the wrong solution.
And the root of the reason is that much of the focus is on ensuring the marriage stays together. And since it's often the desperate, betrayed spouse who wants to keep the marriage together, the advice focuses on how to get that spouse to just paper over and accept the bad behaviour of their spouse. It puts the emphasis on changing the spouse who was wronged against, rather than putting the emphasis on the spouse who has done the wrong.
We see it vividly in quotes like this one taken from Steve Arterburn and Fred Stoeker in their book for women–Every Heart Restored.
And why shouldn't you expect to make sacrifices even in the marriage bed?…On the battlefield of broken sexual trust, your husband must become trustworthy and you must eventually choose to trust again, and that'll mean sexual sacrifice. It's self-defeating to worry about which should come first. (p. 211)
We talked about this in The Great Sex Rescue:
Emotional damage can be done if you constantly betrayed feel and used without any hope that it can be better. This makes passages like [the one we just quoted] from Every Heart Restored gut-wrenching…He has broken trust—but she is "self-defeating" if she requires him to be trustworthy before she actually trusts him again. She must have sex with him, even if he is making no move toward building a healthy sex life.
Just as you can't cure an alcoholic by giving him so many sedatives that he won't want to go to a bar, you can't cure a porn ad- dict by giving him so much sex that he won't want to log on to the computer. Even if it does lead to less porn use, the issue is not healed—it's only been numbed.
God doesn't want to numb us. God wants to free us.
They're telling people that you should trust him before he has rebuilt trust; that you should resume a sexual relationship before he has proven himself safe.
The onus is on the wronged partner to fix it.
We should be telling the wronged partner this isn't acceptable, you should expect more, and things can't continue like this.
"A groundbreaking look into what true, sacred biblical sexuality is intended to be. A must-read." - Rachael Denhollander
What if you're NOT the problem with your sex life?
What if the messages that you've been taught have messed things up--and what if there's a way to escape these toxic teachings?
It's time for a Great Sex Rescue.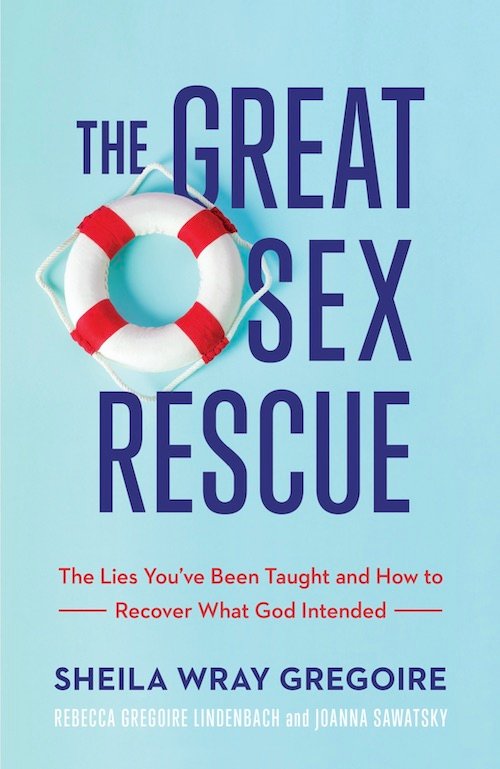 But we see this on a smaller scale, too, and that's what I want to talk about today.
Think about how often you read posts like "things your husband really needs to hear"–and the suggestions are "I respect you," or "I trust you."
Take this post from Fierce Marriage, for instance, where they were talking about how men really need to hear "I believe in you" or "I trust you."
Here's the problem: Telling a woman she must tell her husband that she trusts him and believes in him is essentially gaslighting women.
It's saying–no matter what your spidey senses are telling you, and no matter how you actually feel, your husband needs to know that you trust him and believe in him. And in fact, you're supposed to trust him and believe in him!
So now if you don't trust him or believe in him you're somehow at fault.
Instead of telling women that they should tell their husbands how much they trust them, respect them, believe in them, etc., we need to start telling people to act in trustworthy ways. We need to tell people to act in a way that is worthy of respect. We need to tell people to develop the kind of character that will make it easy to believe in them.
Let's contrast this with Gottman's advice to "scan for things to praise."
Yet it is possible for your fondness and admiration to recede to barely detectable levels and still be revivable. In such a case, the key to reinvigorating fondness and admiration is to get in the habit of scanning for qualities and actions that you can appreciate. And then, let your partner know what you've observed and are grateful for. These everyday thank-yous don't have to be about momentous acts on your spouse's part. Search for the small, everyday moments. Catch your partner doing some little thing right and then offer a genuine appreciation like "I love the way you handled the teacher conference yesterday" or "Thanks for making my sister feel welcome here" or even "You look so hot in that outfit, I'm having all kinds of bad thoughts."
Yes, it's important to notice the good that people do and call out those things. But Gottman does not say to praise even if there is nothing to praise. He does not say that it's vitally important that you prop up your partner's ego. He says to look for things that you genuinely can appreciate.
Why?
Because intimacy can only exist with honesty.
Without honesty and vulnerability, there can never be intimacy, and without intimacy, there can never be a good marriage.
Telling a person that the route to a good marriage is to feel that your spouse is a good person without an emphasis first on your spouse being a good person is a marriage misdiagnosis. It is not your job to prop up your spouse's ego or to paper over a spouse's bad behaviour.
When a spouse is trustworthy; when a spouse does have good character, then having that called out helps tremendously and builds intimacy. But sometimes we look at what good marriages do, and we think–the reason they're good is because they're doing X and Y! So if we do X and Y we'll have a good marriage too!
But the only reason they do X and Y is because they already did A and B–and it's A and B that really matters.
Let's stop putting the cart before the horse. Honesty matters in marriage, and you can't manufacture trust, respect, or admiration without a strong foundation. So, yes, scan for things to praise. That's great advice. But don't pretend your marriage is something it's not, because that will only ever lead away from intimacy, not towards it.
What do you think? Have you heard that advice to trust your husband and boost his ego even if he doesn't do anything to warrant that? Does the advice go the other way for wives too? Why or why not? Let's talk in the comments!
The Marriage Misdiagnosis Series
Why Holding Up Radical Stories of Marriage Restoration Can Harm More than Hurt (coming soon)
If I Pray Hard Enough, Will God Heal My Marriage? (coming soon)
Does Marriage Need Strict Gender Roles? (coming soon)
The Signs of an Emotionally Abusive Marriage (coming soon)
How to Keep Your Identity in Jesus, Not in Being a Wife (coming soon)