Some pastors are not simply unsafe; they are downright dangerous.
And some church elder's boards, church's women's ministries, and denominations in general are downright dangerous.
We had a horrible example of that earlier this month when John Piper posted a terrible article on what to do about your spouse's ongoing sin. 
Basically, the answer was: if your spouse doesn't want to change, you're out of luck.
Church, do we see how dangerous this is? How evil?
And I don't use the word "evil" lightly. To tell someone who is being mistreated and harmed that they must continue to be mistreated and harmed is to do evil to them. And yet that is what John Piper does, because of his theology that says both:
Men are the leaders of women, so women must submit to a husband's will, even when the husband is in the wrong; and
Marriage is lifelong, and you cannot end it even for abuse. 
This leaves women married to unrepentant porn users; abusers; men who won't get a job; men who are unrepentant gamblers, etc. in an impossible position where their lives will only become more wretched. This is the ultimate in marriage misdiagnosis, because it misses the very heart of God. 
Jesus told us that Some pastors and churches would be unsafe. 
Jesus talked frequently about how some leaders do not care for people–for the sheep. 
Look at what he says about those who are "in charge" of the sheep, but do not care for them, and contrast that with His instructions to Peter:
"I am the good shepherd. The good shepherd lays down his life for the sheep. The hired hand is not the shepherd and does not own the sheep. So when he sees the wolf coming, he abandons the sheep and runs away. Then the wolf attacks the flock and scatters it. The man runs away because he is a hired hand and cares nothing for the sheep.
"I am the good shepherd; I know my sheep and my sheep know me— just as the Father knows me and I know the Father—and I lay down my life for the sheep."
**********
"Again Jesus said, "Simon son of John, do you love me?"
He answered, "Yes, Lord, you know that I love you."
Jesus said, "Take care of my sheep."
Good leaders are shepherds who care for the sheep; they are not hired hands who continue the misery of the sheep.
I was sent this story last week of what a woman went through as she repeatedly sought help for her abusive marriage. Ironically, she's following exactly the advice of John Piper–if he is willing, see a biblical counselor. Look at the reaction of the "hired hands" in her story, compared with the genuine shepherds:
Me: "he is sexually abusive, coercing and throwing anger tantrums and insults when I'm sick and unable (not unwilling but unable)"
Pastor:"well men are needy like that and you need to speak to a doctor and get all your health issues sorted out"
Me six months later:"he still screams at me, calling me ungodly and unsubmissive."
Pastor:"you really need to pray more, submit more, give more sex."
Me two years later:"he still screams at me and now even treats me with contempt when I'm on my period. He was screaming through the bathroom door how I'm faking sickness and he has no sympathy, while I'm lying on the bathroom floor in my own vomit caused by severe migraine, to this day I get those kinds of migraines."
Pastor:" Well he is the head of the home and even if he's wrong you still need to submit, it will please the Lord."
Me six months later:"I am struggling, please help."
Pastor: "just be joyful, submissive and trust in God."
Me 14 years into this:"I've had enough. He will not touch my body again unless there is true repentance and treating me honorably and respectfully."
Biblical counselor:"I understand your frustration but this is not biblical on your part. You cannot withhold from him."
Me:"I am withholding anyway, I don't feel rebellious in this but protecting my faith, my sanity my self worth."
Biblical counselor to my husband:"she is in sin."
Abuse intensifies greatly. Then crocodile tears and a fake repentance (admitting he wasn't saved before but "now" he "is").
Me:"thank you for the apology, I forgive you, but I need time to rebuilt trust."
Husband:"that's not how forgiveness works. You have to have sex immediately otherwise your not forgiving."
Me:"I'm going to be true to myself, I need time, but in the meantime, I will be available to you intimately in other ways."
Husband:"not good enough, I want a divorce, I want to move on with my life, you're holding me back."
Me:"I will leave but I'm taking my children."
Husband:"you will not take my children."
Me to Biblical counselor:"he asked me to leave."
Biblical counselor:"well did he actually say the words "I want you to leave."
Me:"no not so directly but definitely what he implied."
Counselor asks husband:"did you say she should leave?"
Husband: "no I would never say such a thing. I love her. I want a godly marriage. She just can't seem to forgive me."
Counselor to me: "you need to repent."
Husband seeks legal counsel and is advised to let me be the one to leave to avoid certain financial obligations.
Husband: threatens in all manner of ways, screams at me multiple times a day, takes frustration out on children, orders takeouts for himself and kids but ignores me, lies about me to counselor, traumatizes kids etc etc etc…… (two years of this level of intensity)
Me to husband:"I'm willing to separate" makes mutually beneficial suggestion.
Husband:"I'll discuss it with the counselor and get back to you"
Me: "texting counselor my biblical convictions and sharing my deepest hurt."
Counselor: shows husband my texts and says:"look at what she believes. She is not interpreting scripture correctly, she's deceived."
Counselor to me: "there is only one biblical grounds for divorce and that's adultery."
Husband to me:"you're a heretic and now the counselor agrees with me."
Husband to me: "Re separation, counselor said if you leave, I don't have to support that financially as it's unbiblical."
Me: hopeless, in despair pleading with God to help.
God: sends two pastors and one other counselor who immediately supported me, helped me and my kids escape.
After the fact, found out my husband was still doing porn, had purchased the tinder app, and slept with various women.
This revelation, brought to the Christians who so badly counseled me, one responded with silence and treating me like nothing happened, albeit distant. The other got defensive in saying: "my counsel at the time with the information I had at the time was right and I stick by it. I was true to my convictions." Proceeds to ghost me.
I approached 5 different pastors and several fellow Christian's for help, most counsel and advice was devastatingly harmful. My husband is a wolf who got hold of the book "every man's battle". That was his abuse manual for 16years. He also abused the church and the harmful doctrines within the church to justify himself.
Currently, I'm in a battle to get my husband to pay enough to support the kids.
In an ongoing email conversation, this woman also let me know that when they married, they were both unbelievers. She was saved nine years into their marriage. There was NO abuse for those first nine years. At 14 years in, the husband read Every Man's Battle, and disclosed the porn addiction he had had since he was a teenager. The abuse began the next day and never stopped.
Seriously–our books are hired hands, too, as we were showing in The Great Sex Rescue. They enable abuse, and this needs to change. 
"A groundbreaking look into what true, sacred biblical sexuality is intended to be. A must-read." - Rachael Denhollander
What if you're NOT the problem with your sex life?
What if the messages that you've been taught have messed things up--and what if there's a way to escape these toxic teachings?
It's time for a Great Sex Rescue.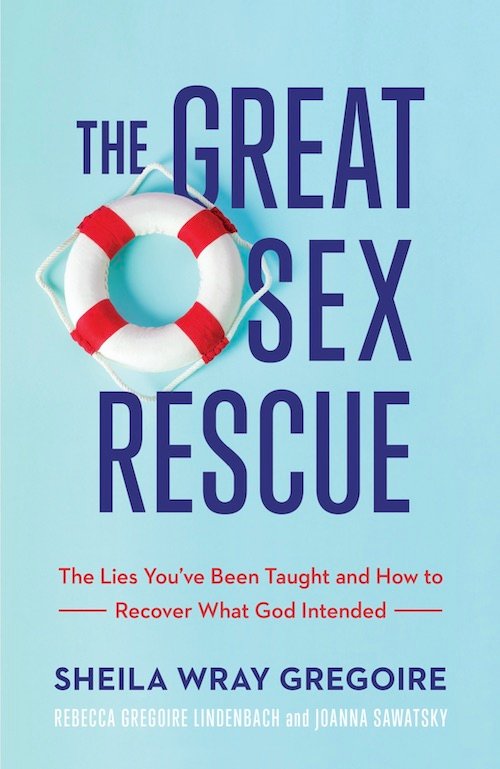 Your church may be safe for you. But is it a "hired hand" to those who are vulnerable?
Lots of us go to churches that we love, that we get a lot out of–and we are in good marriages. The church appears safe to us.
What about your sister? Or your friend? Or your neighbour? If an abused woman, or a woman married to a man compulsively using porn, or a woman married to a man who was spending all of their money and making them homeless–if she went to your pastor or your church leadership, what would she be told?
If your church believes like John Piper, your church may very well be acting as a hired hand to those most vulnerable. And if you support your church, then you may be doing that inadvertently, too. 
How to Tell if Your Church is Acting as a Hired Hand or a Shepherd
Ask for your denomination's statement on divorce, or search the internet for it. Does your denomination condone divorce for abuse? If so, is it just physical abuse, or all elements of coercive control?
Talk to your pastor. Does he condone divorce for abuse? How does he (or she) define abuse?
Ask the church for an example of a time they helped a woman leave a destructive marriage and supported her afterwards. (If they don't have an example, that's a red flag.)
Does your church have a policy that if a woman leaves an abusive husband or a husband having affairs/an unrepentant porn user, that the ex-husband will be asked to find another place to worship so the wife continues to feel safe, or does the church pressure the wife to leave by continuing to support the husband? 
Does your church have an abuse recovery support group, and actively teach people to recognize abuse? 
You may be able to think of more questions. But it's important that we start asking, and that we start making in clear to those in leadership that we will not follow hired hands. We will only support shepherds. 
Things will only change in the evangelical church when we speak up. 
What that women went through must NEVER, EVER happen again. And it's up to us. What will we do? 
Have you ever spoken to your church leadership about their stance on divorce? Do you think your church is safe? Or unsafe? Let's talk in the comments!
The Marriage Misdiagnosis Series
And please check out our book The Great Sex Rescue about all the ways that evangelicalism has given the wrong diagnosis about sex!