What do you practically do about entitlement in marriage?
We're at the end of our entitlement series, and all month we've been looking at how entitlement can impact a marriage. We've looked at the difference between realistic expectations and entitlement. We've looked at entitlement with sex. We've tackled weaponized incompetence.
But as we end this series, I want to answer a question I keep getting again and again:
But what do I actually do when my husband acts entitled (or when my wife acts entitled)? 
As we tackle that today, let's deal with a basic truth:
Entitled spouses usually only change because they have to.
Very rarely do people change simply because they have a change of heart, or because they realize it's the right thing to do. They change when it becomes worth it to change.
A lot of us have talked until we're blue in the face, trying to get our spouse to realize that the marriage is really unbalanced. And nothing has changed. 
That's because talking about something changes nothing. At some point people tune out your words.
If you want things to change, you may need to change up the balance in your relationship so that failing to share the load is no longer rewarded. 
1. Hold other members of your family accountable
After Rebecca's post on weaponized incompetence, one Facebook follower said this:
Currently I'm working to shed the job of Keeper of the Family Schedule. I have done the work to publish the necessary calendars for all to see, but somehow it's still easier to "just ask Mom". My boundary has become I won't answer a question about the schedule until they've checked the calendar first. I get a lot of eyerolls about it, but I think they're beginning to learn.
2. Do Less So They Can Do More
It's very hard for someone to pick up the slack if you don't leave them any slack to pick up!
If you are carrying the vast majority of the mental load, and you want them to start picking it up, then you will have to do less.
It may mean focusing on doing things for yourself and your kids, but not your husband (or your wife). It may mean not running his errands for him. It may mean not doing the laundry he leaves by the side of the bed, and simply kicking it in a pile for him. 
But sometimes that doesn't work. You can't exactly make food for yourself and the kids and not let him eat!
Another strategy is to remove yourself from the equation. If you want him to take care of bathtime with the kids and put the kids in bed, because he needs to spend more time with the kids and build relationship with them, then you could make a plan to be out of the house two nights a week so that he has to do it. If he has agreed theoretically to make dinner twice a week, but he never seems to do it, then you can start a gym class two nights a week that takes you out of the house.
Now, I'm not saying to do this in a passive-aggressive way. Actually have the conversations about this first. Let your spouse know what is going to change, and why. But then, when you've said what you are going to change, follwing through isn't petty, passive-aggressive, any of that–it's simply following through on a boundary.
3. Do what works for you–even if your spouse doesn't like it.
If these strategies don't work, then rearranging your life and how you do tasks so that it works for you may be the easiest and least frustrating course of action. 
Here's how another commenter explained what she does now:
I quit doing his laundry the day he piled a mountain of it in the kitchen. He insisted that he was "helping me" by bringing it to the kitchen so that I didn't have to go pull it all out of the hampers in his closet.
He had often fussed at me for not wiping the tops of the backs of the dining room chairs, which bothered him if he thought they felt sticky. I had never noticed that issue, so I let him take care of it (he didn't). I quit packaging leftovers in portions that were easy to take for work lunches and did what was quickest and most convenient for me when I was cleaning up after dinner alone.
I cooked what was simplest and quickest for me and the kids, instead of working around his ever-changing (manipulative) likes and dislikes. And I was perfectly frank with him, that if I was carrying the entire load, I had to do what worked for me and I wasn't going to burn myself out trying to keep up with his stuff when he refused to contribute.
If it was really that important to him, he could take care of it.
And that's how I survived for the last two years before I got out.
4. Don't hold yourself back
If a spouse isn't comfortable around people, we may stop getting together with friends because it's uncomfortable for him (or her). If your spouse doesn't like deep theological conversations, we may stop reading theological books. If your spouse finds church boring, we may feel like we should stop going, or stop trying to find a small group.
But you do not have to hold yourself back if your spouse doesn't want to grow in an area, or if your spouse has different interests. As one commenter said:
My husband last night admitted "I have so much emotional growing to do…" He was wanting me to reassure him that it was okay for him to be immature. I didn't. I haven't been joining in. And it's really getting to him.
I have shifted the nightly task of dinner over to my husband, as I was picking up the emotional slack of several teenagers, each with high intensity needs (including some with autism). Ever since I started working again, I realized I was working and still doing everything else too and I've been overwhelmed for the last year.
Working on some of the realizations that we have had recently:
My husband's immaturity…
His refusal to ever be corrected about anything…
His sense of entitlement…
And my anxiety due to stress and overload…
I've decided whether or not my husband joins me, I'm going to give myself permission to grow, to learn, to change.
I am the spouse with chronic illness, so it makes it difficult to just "pick up and do" physically. But I'm no longer going to hold myself back mentally and emotionally because I'm concerned I'm leaving my husband behind.
I just signed up for school… Starts in a week…
I'm planning my freedom. Whether he decides to mature and join me in that, well, that's on him.
5. Allow how you function within your relationship to reflect the quality of that relationship
This is a hard one–and a controversial one.
But here, I think, is the root of many marriage problems. 
We don't think that we are allowed to change how we act even if we're unhappy. 
We think that loving someone unconditionally means that we must always act towards them exactly the same way, even if they are treating us badly.
Your husband may expect sex and pout when he doesn't get sex, and even coerce you into sex, but you feel like you must still smile and fulfil his love language of words of affirmation and make him good food and host dinner parties and show up at church as the loving wife. 
Your wife may be refusing to get a job but also refusing to curb her spending habits while you live on just your income, but you feel like you still need to figure out lovey-dovey date nights and make the checkbook balance because that's what you have been taught a Christian husband does.
You may be feeling exhausted. Taken for granted. Used. Objectified. And you may have spoken up about this for years to no avail.
But you feel like you have no other options, because as Christians we're supposed to serve one another no matter what.
"A groundbreaking look into what true, sacred biblical sexuality is intended to be. A must-read." - Rachael Denhollander
What if you're NOT the problem with your sex life?
What if the messages that you've been taught have messed things up--and what if there's a way to escape these toxic teachings?
It's time for a Great Sex Rescue.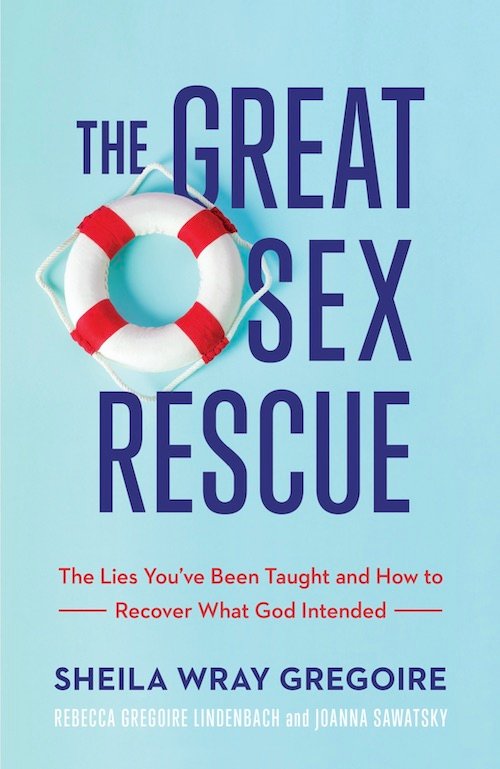 So let me ask a question: Is it serving your spouse well to pretend that there's nothing wrong and that the relationship is fine, when you feel distant and you're starting to feel like you really dislike the person you married?
Is it serving your spouse to encourage them to act more and more selfishly and to be lazier and lazier, because you will always be there to pick up the pieces?
Or would it better serve your spouse to have the outside of the relationship–the way that you relate to one another–better reflect what is going on in your heart?
There is a time to serve one another and not to sweat the small stuff.
But there's also a time to say, "This is the truth about our relationship, and it needs to be acknowledged."
If your spouse is not acting as your partner, then they do not have to get the benefits of having a partner. You don't have to pretend to get along at church. You don't have to keep hosting small group or extended family get-togethers. You don't have to have date nights. You don't have to go to work parties together. You may even need to take a break from sex until this is taken seriously and dealt with. (Much research has shown that men especially don't believe that any problems in the marriage are that serious if they are still having regular sex.)
Become a part of the movement
Join 40,00 others and let's change the evangelical conversation about sex
Obviously this have caveats, and in Rebecca's post on weaponized incompetence she showed how saying something like "I don't appreciate you correcting my parenting in front of the kids" means one thing if the parent is just nitpicking how the other is playing with a child and another thing if the parent is encouraging a baby to play with a choking hazard. We need to be realistic and ask if this is a huge issue, or if we do have unrealistic standards.
But if something is killing your spirit and your love for your spouse, it is far better to bring it out in the open and make an issue out of it now then to let it continue for years until it's killed your libido, killed your relationship, and ruined your joy for life. 
What are your thoughts? Any other suggestions for dealing with an entitled spouse? Let's discuss in the comments!