Without safety and security, a sex life can never blossom.
In fact, a marriage can never blossom! Safety and security are necessary for intimacy.
This month we're talking about our 4-step plan for recovery from sexual problems in your marriage. These steps are difficult. They can take a very long time. But you will never be whole without going through them, in that order.
First came redefining sex and seeing it as an integrated part of your relationship, not as something that you "give" and someone else "takes." It isn't something external to you; it is an expression of how you feel about each other.
If sex is going to be mutual, intimate, and pleasurable for both, then it means that both people have to matter. It can't be a male entitlement and a female obligation, because as soon as sex is an obligation, it erases the needs and feelings of the one who is obligated.
If sex is to be an expression of who you both are and who you are together, then you have to be able to come to the bedroom with everything you are. You have be able to be vulnerable. But you cannot do that if you fundamentally don't matter. If someone else has the right to your body no matter how you feel, you can't be vulnerable because you're not emotionally safe. 
And that leads us to the next point in our 4-step plan: Safety.
Safety is the bedrock of intimacy.
Without safety there is no vulnerability, and without vulnerability there is no true sharing of who you are. If sex does happen, it is merely physical, and for so many women sex that is devoid of intimacy is so much worse than no sex at all.
(Incidentally, this is one of the reasons that I get upset at pastors and counselors who say the answer is to have more sex, or that if a marriage is having sex 2-3 times a week, it's automatically healthy. For many women, NOT having sex is more emotionally safe than having sex, and having sex when you are not safe actually results in more distance and more negative feelings, as we describe in chapters 9 & 10 of The Great Sex Rescue). 
"A groundbreaking look into what true, sacred biblical sexuality is intended to be. A must-read." - Rachael Denhollander
What if you're NOT the problem with your sex life?
What if the messages that you've been taught have messed things up--and what if there's a way to escape these toxic teachings?
It's time for a Great Sex Rescue.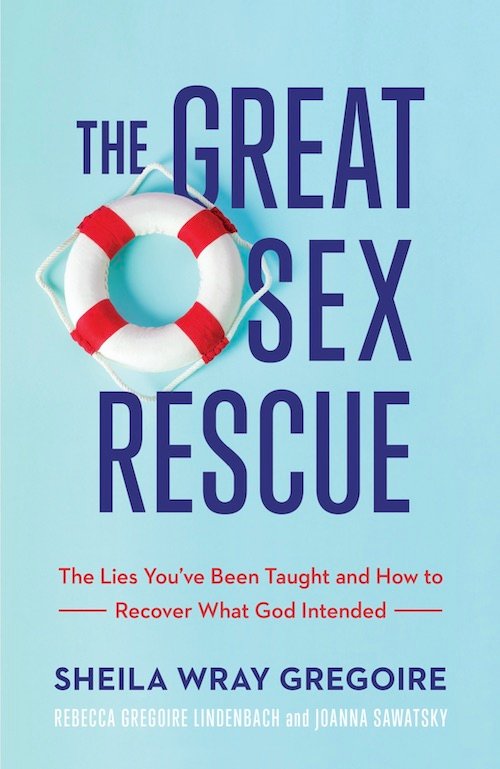 This week, then, I want to look at how safety can be taken away from women in marriage. 
Next week we'll look at how to build safety into your relationship, but I'd like to look at different ways in which women have had safety stripped from us.
To start today, I'd like to share an article that my daughter Rebecca (and co-host of the Bare Marriage podcast and co-author of The Great Sex Rescue) wrote for our weekly email two weeks ago. Almost 50,000 people get our weekly email, and about half read it (which is an extraordinary number, which shows how much Rebecca writes resonates with people!). If you're not signed up, head on over because you don't want to miss these!
Here's Rebecca:
Why do so many Christian authors imply that the reason men love women is simply because of how they are in bed?
My mom (Sheila) did a "fixed it for you" this week about a quote from Married Sex by Gary Thomas and Deb Fileta that was truly cringe-worthy. You can see her fixed version here, but here's the original quote:
"Growing in your understanding of how his penis responds to your touch is a key to his heart and will often create a husband who is so happy he married you it will be difficult for him not to brag to his friends about why."
You can go read her commentary and her correction here, but I wanted to talk about that a bit deeper in the email this week.
My question is this:
At what point do we women get to simply bask in our husbands' love without having to earn it with our bodies?
Think about the messages we hear directed to wives (I'm paraphrasing these from evangelical books since I can't remember the exact quotes right now):
He needs you to fill up his mind with mental images of your body so that he isn't bombarded with the ones from his mental rolladex that he's collected over his life
If you want your husband to show you love, give him sex first
If you don't want your husband to have an affair, stop dressing like a bag lady
The way you have power and influence over your husband is through your body and your sexuality–just flash your breasts and see the power balance shift in your favour!
And all of these things say one thing to us, as women:
Your worth is in your body. Your sexuality is your power. Your inherent value, what you have to offer your partner, is how good you are in bed.
And of course, no one MEANS to tell women this. But we're already bombarded by it everywhere, aren't we? The body standards, the pressure to perform sexually in order to keep a man, even how women are portrayed in movies and pornography as sexually serving men and it being "hot"–our culture sees women's value in terms of what we can offer sexually, it's just that now we call it empowerment.
And we are doing the same thing in the church.
Theologies that do not allow women to have a full say simply because of their humanness, their value, their intelligence, their gifts, their calling–they encourage women to "win him without words," and too often that translates to "be nice in bed."
Why is it that we are normalizing Christian women acting as personal porn stars instead of partners?
Why are we accepting of theologies that encourage women to sexually manipulate their husbands, rather than just talking about what they want like grown ups?
When are women going to be able to be told, "Your husband loves you. And you deserve to be loved for YOU. No ifs, ands, or buts about it"?
When do women just get to be safe?
Because you know what happens when women are told that learning how to give a great hand job will create a husband who's happy he married you? It tells us the same thing the world has told us since we were small enough to look at the magazine covers in grocery stores and feel self-conscious about our girlish frames. It tells us we aren't good enough unless we're sexy. We're not good enough unless we're hot, horny, with a good-girls-gone-bad attitude.
We're told that we exist to be used.
And the best we can hope for is that we're only used by the man we love.
There is another way.
There is a way that teaches that you deserve to be loved for you, not for what you have to offer. There is a way that sees sex not as a performance to secure a man's affections, but as a spontaneous, natural proclamation of mutual love.
There is a way where women are valued as people, not as playthings.
There is a way where husbands don't need to be convinced to love their wives by getting a mind-blowing hand-job, but who truly love their wives for the person Christ created them to be.
But it all starts with getting rid of sexual entitlement, and choosing instead to honor and respect women's voices, not just enjoy their bodies.
It starts with creating homes where female voices are just as important as male voices, rather than encouraging manipulation and sexual mind-games.
It starts with looking at your spouse and seeing the image of God in them. Not the image of your personal sexual fantasies, your ideal wife, or anything else–just looking at your spouse, seeing their humanness, and saying, "It is good."
There is so much goodness to be had. So much love, so much life.
Let's stop allowing worldy teaching masquerading as biblical truth to steal it from us.
When do women get to be able to rest in their husbands' love without having to earn that love with their bodies? 
That's really the question, isn't it?
Whether it's Gary Thomas telling you that learning how to give a good hand job will make your husband happy he married you, or telling us to text nude pictures so that he'll be neurologically drawn to your naked body instead of other women's naked bodies; whether it's Every Heart Restored acknowledging that a woman feels like a "human toilet for semen" because he is using her to get over porn, but saying that she just needs to understand how men are; whether it's His Needs, Her Needs telling us that being married to a woman who has gained weight is a prison sentence–well, it all is a LOT.
It's heavy.
Some women will feel distinctly unsafe from their husbands, and we'll talk about that later this week.
But many women feel unsafe because we've internalized these messages.
We can't feel safe until we know that what these authors have said is not true for my particular husband.
And only the husband can reassure his wife of this.
Yes, women have some work to do in analyzing what we've believed, and in deciding that we will not assume that our husband feels the same way as we've been taught. That part is on us.
But the problem is that if husbands have also internalized these messages, women will not be able to just let the messages go, because for their marriages, these messages are true.
If you can, get this out in the open.
Some of you may not be there yet. Your relationship may be too fragile, or you may still be working on redefining sex.
But as we're re-establishing safety, women need to feel that they do not have to earn a man's acceptance and love with their bodies. This is even more true in marriages where porn has played a role.
How can men establish sexual safety in marriage?
Do lots of non-sexual touch, without expecting it to go anywhere.
Share your heart with your wife, and pursue intimacy outside of the bedroom.
Tell her explicitly WHY you reject certain teachings.
Keep talking to her even if it's been a while since you've had sex.
If you're having trouble with these things, work with counselors to find out if you have channelled your needs for intimacy into sex. Learn how to see intimacy as also being separate from sex.
Do not ask for "sexual favors" when she is not in the mood for sex, or when intercourse may be off the table because of her period, postpartum, etc. Commit to mutual sex or none at all. (When she feels secure, then you may each enjoy "giving gifts" to each other again. But do not ask for one, expect one, or resent not getting one when she is not feeling safe.)
And then the last big one: wait.
If your relationship has not been safe, you cannot "prove" your safety to her in five days of being different. This is a complete mindset shift that is for life. 
The length of time that it takes to establish safety will be highly correlated to how unsafe she has felt. If she's felt unsafe mostly because of messages she's internalized, rather than because of what you have done, this may not take very long at all.
If she has felt unsafe because you have made her feel unsafe, then it's going to take a lot longer. 
That's not easy, and I understand that. But this is the only way through. You cannot experience real intimacy and passion without safety, and if safety has been broken, it needs to be rebuilt. 
The good news, though, is that if both of you commit yourself to the process, over and over again we've heard of couples coming out on the other side!
How can a couple re-establish safety if it's been missing? Have any outside influences made you feel unsafe in your marriage? Let's talk in the comments!