What is it that actually kills a marriage?
In the Christian world, "lack of commitment" is often named as the culprit that brings a marriage to an end. I don't agree. Even if you didn't have commitment, if the marriage was great, why would anyone leave?
Sure, every relationship goes through down times, but most people don't just walk out because there's a down time. Quite frankly, it's an awful lot of work to split up.
You walk out because marriage has become a slog, and the pain of staying together is worse than the pain of leaving.
So if we want to help marriage, we've got to stop the slog!
A good question to ask, then, is what causes the slog? What makes people feel distant from one another, resentful, or angry?
I think I've got the answer, and I'd like to explore it this month in our series (all our Monday posts!).
I think the problem is entitlement: Entitled husbands and entitled wives.
When someone thinks they are owed something by their spouse, and especially that they are owed special treatment, then it's easy for resentment to build on both sides.
The person who feels entitled feels resentful because they're not getting whatever it is they think they're owed.
But the other person feels resentful too, because they feel like their spouse doesn't love them for who they are, but only for what they can give them. They think their spouse is using them.
Entitlement and Expectations are Two Different Things
When Keith and I started speaking at marriage conferences, we used a curriculum that often talked about how the main problem in marriage was unrealistic expectations. People were upset because their spouse wasn't meeting their expectations, and so if we got rid of expectations, people would be happier.
That can be the case–but it isn't always. That's why I like to differentiate between entitlement and expectations.
We should expect some things when we marry. We should expect that our spouse will care about us; will stay faithful; will put in work into the marriage.
In other words, we should expect that our spouse will act as a partner. When we marry, we are joining forces with someone else, and you will both be contributing to the life that you are building together. You will both be working.
Those are the expectations that you should have in marriage, and when those expectations are not met, then that is a marriage issue that needs to be addressed.
So we should expect that our spouse will be our partner and that we will work as a team.
But we are not entitled to anything more than that.
When you marry, you both are deciding to work to build a life together. You do not marry so that you do not have to work. You do not marry so that you get to do significantly less work than you did before you were married. You do not marry so that you get to use someone.
We marry, and then together we decide who will do what so that you can function best as a team. You may decide that one does most of the paid work while the other does most of the care for the home, or you may decide that you both do paid work and you split the tasks at home. But the key thing is this: You both are working and putting in the same effort, and both of your time is valued.
Entitlement isn't Scriptural
Quite simply, feeling entitled should never be a part of the Christian life. No Christian husband should ever be an entitled husband. No Christian wife should ever be an entitled wife.
Jesus told us to love our neighbors as ourselves–we should not expect them to do more for us than we do for them. (Matthew 22:39)
We should each carry our own load–look after ourselves the best we can without expecting others to do it for us. (Galatians 6:5)
If we don't work, we shouldn't eat, meaning that we're not entitled to someone else's labor (2 Thessalonians 3:10)
What does Entitlement Look Like in Marriage
If you marry thinking, "Now I won't have to cook anymore!", that is entitlement, because you used to have to cook. You are not entitled to someone else automatically taking on all of the work of cooking.
If you marry thinking, "Now I'll never have to work another day in my life!", that is entitlement. You are not entitled to a paycheque. And you are definitely not entitled to your spouse providing you with a certain standard of living. You should both be working as a team; that doesn't mean you're entitled to a certain income.
You are not entitled to a spouse who will get up with the children in the middle of the night, and who will lose a tremendous amount of sleep, while you sleep well.
You are not entitled to a spouse who will change all the dirty diapers.
You are not entitled to stay at home with kids while your spouse works, if the finances just can't support it.
You are not entitled to a spouse who will do all of the holiday planning forever, buying all the gifts for your kids, for your own extended family, for your co-workers, and figuring out all the decorations.
You are not entitled to a spouse who will cook all the huge family dinners for your extended family, and maybe for hers, while you sit on the couch and watch the football game.
Basically, you are not entitled to someone working harder for you than you do for them. You are not entitled to live out your dreams at the expense of your spouse's. You are not entitled to an easier life than your spouse.
You are a team that works together!
Are you TIRED of always being too tired for sex?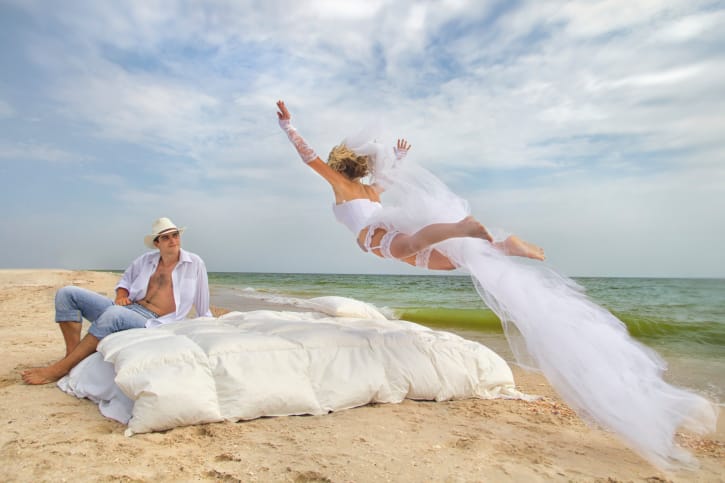 Do you yearn to actually WANT to make love--and figure out what all the fuss is about?
There is a way! In this 10-module recently revamped Boost Your Libido course I take you through what libido is (it may surprise you!), what affects libido, and how we can reclaim the excitement that God made us for.
Course totally revamped in summer 2022!
So let's redefine expectations and entitlement.
Expectations are how we expect the family to function as a team. Expectations apply just as much to ourselves as they do to our spouse.
But entitlement is different. Entitlement says, "My spouse owes me something that I don't owe to them. I deserve my spouse's work/time/body in a way that I don't have to reciprocate." That's not okay.
Questions to Ask To See Whether You're Entitled
Here's a test to see if you're an entitled husband–or an entitled wife!
Ask yourself these questions (or talk through them with your spouse):
Am I expecting my spouse to provide a result rather than provide their effort and time? Examples might be: Expecting my spouse to cook just like mom does; expecting my spouse to bring home a certain income.
Do I have more chances to sit down and do nothing than my spouse does?
Am I significantly less tired than my spouse is? Do I get more sleep than my spouse?
Do I have more time to exercise, pursue self-care, see friends, or pursue hobbies than my spouse does?
If there's an unforeseen emergency (kids get sick; furnace breaks down; car needs to go in for repairs), do I expect my spouse to figure it out? Or do we work out who is in the best position to deal with it?
If a child is fussing, are we equally likely to tend to that child? Or do I assume my spouse will take care of the child?
Do I make plans that involve being out of the house when I would normally be home without checking with my spouse first (especially if we have kids at home)?
When we have company, does my spouse get up and serve me and the guests, or do we do it equally?
Am I expecting my spouse to give me an orgasm without attending to my spouse's needs for emotional safety, rest, or down time?
Am I expecting an orgasm even if my spouse doesn't get one? If my spouse says no to sex, do I treat my spouse worse or punish them in some way?
NOTE: Entitled dynamics can also become abusive. If entitlement flows into power and control, this isn't safe. Please call a domestic abuse hotline or see a licensed therapist. 
Over the next few weeks we'll look more at how entitlement plays out in marriage, and what you can do if you're the one who is the entitled husband (or wife), or if you're married to someone who's entitled–or both!
But for today, here's your assignment: work through those questions and see if you are acting entitled. Maybe even talk through these questions with your spouse, and see if it sparks some interesting conversation!
What do you think? Are there other questions that you would ask that could diagnose entitlement in marriage? What do you do if you're married to an entitled husband (or entitled wife)? Let's talk in the comments!