Sheila here!
Keith came on the blog today  discuss biases and how they relate to evangelicals interpretations of the Bible, especially when it comes to women. 
No one reads Scripture in an unbiased way – especially the people that say they do.
Does a person have the right to tell you that you have a biased reading of Scripture and they don't? I have had that happen so many times when I discuss my belief that God never intended men to rule over women. Even when I admit I might be biased, very rarely have I ever got the other person to admit that they might be biased as well.
What does science actually say about bias and how does it apply to this issue? I want to talk about two types of bias, how psychological studies proved bias exists and how we can approach people who claim that bias doesn't affect them.
1. Confirmation Bias: The Rule Discovery Task
The first study was done by Peter Wason in 1960 called the "2-4-6 task" or the "Rule Discovery Task".
He asked people to guess the rule behind a series of three numbers by starting with 2-4-6 and asking them to try other combinations. After each selection, the participants were told whether the three numbers they chose fit the rule or not.
When people were satisfied that they had figured out the rule, they stopped. 
The surprise was that the rule was actually just "a series of increasing numbers". The fascinating discovery in this study was that participants tended to come up with a rule and then only give suggestions that followed the rule they had already come up with. Very few participants specifically set out to test their rule by disproving it with combinations that didn't fit.
2. Anchoring Bias: The Stanford Study
The second study was done in Stanford in 1975.
They recruited undergraduate students ostensibly for a study about suicide. The participants were given pairs of suicide notes, and were told one was written by a random individual and the other by a person who had eventually gone on to take their own life. The students were asked to guess which was which and then they were told whether they were right or not.  Some of the students did remarkably well, having close to perfect accuracy while others did terribly, getting almost all of them wrong.
Like so many psychological studies, it was designed to mislead. In the second half, the students were told that the study was in fact about their reactions to being right or wrong. The testers revealed that the scores they had given were totally contrived and not based on the participant's actual performance at all. The participants were then asked to rank how well they thought they actually did compared to their peers.
I suspect you have already guessed the punchline: the students who had previously been told they were good at the task estimated they were better than average and the ones who had previously been told they had done badly estimated they were worse than average.
What do we learn from these studies? Well, the first study shows that once people develop a hypothesis their tendency is to attempt to confirm it rather than challenging it.
This is called confirmation bias. Subsequent studies have shown that we humans are very good at finding data that supports what we currently believe and ignoring data that challenges it. And this is not based on intelligence; highly intelligent people can make this mistake as easily as less intelligent.
The second study shows that once we have conceived an opinion about something, it is extremely difficult to get us to change our minds even when presented with contradictory new information or even with proof that previous information was false. This tendency we humans have to give undue weight to the first information we receive, regardless of its accuracy is called anchoring bias and it has been shown in other studies as well.
 What's my point? Well, I actually have three:
#1 Nobody is free of bias
I continue to be amazed by how often believers in gender hierarchy when challenged continue to assert that they read the Bible without bias. If you are one of those people, then I have news for you – it has been scientifically proven that the human mind is prone to bias and you are no exception. So please try to keep an open mind and show a little humility.
Now this is not to say that since we all have biases, nothing any of us believes can be validated or disproved. Quite the opposite! Just because our brains tend to take short cuts, doesn't mean we can't make them function logically.  Biases certainly can be overcome, but not if you are in denial that you even have them in the first place! So to those of you who remain certain that you are free of all bias, I say this: please know that your staggering level of confidence doesn't impress the rest of us. Whether you realize it or not, you are several steps behind the rest of the class.
And what about the rest of you? How do you talk to someone who refuses to acknowledge that they might have bias even after you share this information about the latest in cognitive research? Well, I would suggest that you give yourself permission to spend your time in better ways than continuing discussions with a person who blatantly refuses to listen to logic.
#2: The entire movement that calls itself Biblical Manhood and Womanhood seems like a classic example of confirmation bias to me.
They assert that they are going back to the Bible to discover God's design for men and women. But to anyone who does not share their particular view of masculinity and femininity it is clear they already had a preconceived notion of what God's design was and went to the Bible to specifically find it. They then ignore all the examples of women and men who do not fit the mold.
For instance, a huge part of Biblical manhood and womanhood is that women are meant to be submissive to men and not challenge them. For instance, John Piper believes that women must not give direction in a way that is both direct and personal. (How's that going to work?) Emmerson Eggerichs in Love & Respect talks about how a woman should approach her husband when he is in sin. The sugary-sweet way he instructs her to fawn over him without actually confronting him is frankly pathetic to me.
But this is what proponents of Biblical womanhood say a woman must be like to be Biblical.
This is frankly laughable if we consider Old Testament women like Zipporah, Miriam, Rahab, Deborah, Jael and Abigail and how they related to the men around them. It seems to me very few of the women in the actual Bible would actually be considered a "biblical woman" by modern evangelicals. To me, the fact that this does not give them pause is proof positive that they are in the throes of confirmation bias. Seriously, should we be surprised to find themes that support that idea that men are meant to rule women in a book that was written thousands of years before women were given the most basic of human rights? 
As Beth Alison Barr put it: "It's no surprise we find patriarchy in the Bible, because that's the world the people of the Bible lived in …. What is surprising is how much resistance to patriarchy we find in the Bible."
One of the best ways to overcome confirmation bias is to set out specifically to see if you can prove your hypothesis false. This is a key component of a scientific theory: falsifiability. If the hypothesis is "God's intent is that women are never to have authority over men", then we can prove that false by finding even one example in the Bible where they did and were praised for it.
Now consider that in the New Testament we find at least three: Phoebe (Rom 16:1-2), Junia (Rom 16:7) and Nympha (Col 4:15). If we want to avoid confirmation bias we all must train ourselves not to ignore the data that goes against what we already want to believe. I have no problem with seeing parts of the Bible that seem to go against my belief in the intrinsic dignity and worth of women.
I don't need to ignore those sections because I have an easy explanation for them: they were written in a time when that's how people saw women.  What I don't understand is how people who hold the other position explain away all their exceptions.
"A groundbreaking look into what true, sacred biblical sexuality is intended to be. A must-read." - Rachael Denhollander
What if you're NOT the problem with your sex life?
What if the messages that you've been taught have messed things up--and what if there's a way to escape these toxic teachings?
It's time for a Great Sex Rescue.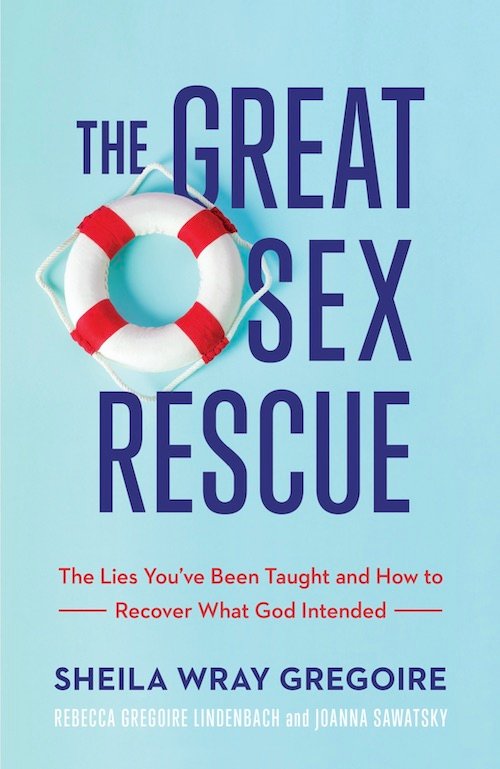 #3 Realize that if you grew up in the evangelical church, you have a huge anchor bias toward the idea that men should be in charge.
You need to train yourself to look at actual data rather than being swayed by rhetoric. Even if you no longer believe it, you have been taught things like "the man needs to be the tie breaker" from very early on and your first tendency is going to be to give that mentality the benefit of the doubt. Remember the study participants who falsely evaluated themselves based on how they had been lied to even after the lie was revealed!
So, for instance, when Emmerson Eggerichs asserts that "to set up a marriage with two equals at the head is to set it up for failure" and "that is one of the big reasons that people are divorcing right and left today" (p. 221), your first response may well be to second guess yourself rather than realize he is talking absolute nonsense. Remind yourself that all the data shows the opposite of what he is saying. 
I have seen no scientific data confirming that a man being in charge and having authority over his wife is a healthy way to run a family. There are, however, studies that warn of the inherent dangers in this idea. In fact, the data is swinging so overwhelmingly in favor of equality in marriage that I have seen a disturbing trend of people starting to use the argument that we ought not to be "swayed away from the word of God by secular studies".
Wow! What happened to believing that Jesus is the Truth? God is not a trickster so we should not be afraid to look at His creation to find truth. Jesus Himself encouraged us to do so when he said, "You will know a tree by its fruit." 
If what we see in creation doesn't line up with how we interpret the Bible, the answer is not to disbelieve our own eyes; it is to humbly consider that our interpretation of the Bible may be wrong. When a person intentionally sets out to ignore contradictory data (i.e. "secular" studies) because it doesn't line up with their preconceived notions, they betray their bias and their unwillingness to see past it.
They have shown they are not trustworthy, so don't trust them. Neither should you fear them.
Instead see their insistence to argue "only from the Bible" for what it actually is: a retreat from the battlefield of logic and reason, because they have no ammunition that works there.
What are some of your biases you've come to realize you held about women and scripture and how did you work through them? Let's discuss in the comments!