Today I want to talk about another aspect of purity culture: Its affect on overweight girls.
I received an Instagram message recently from a woman telling her story, and it was so interesting I thought it deserved its own post so we could think about it and talk about it.
Here's what it comes down to: In purity culture, we were told, over and over again, that boys are visual in a way that girls will never understand. That girls have a responsibility not to be a stumbling block. That God made women's bodies to "intoxicate" their husbands, and that men were attracted to women's figures.
Our worth so much became in that body that was designed to intoxicate, as we talk about in chapter 9 of She Deserves Better.
So what happens if your body doesn't match the "ideal"? What happens if boys aren't stumbling over you? I've had so many women write in to me saying that they felt so worthless when boys weren't finding them a temptation, because somehow it meant they weren't good enough (even though it may just have been that the guys knew how to respect women).
When we teach girls that their worth is in getting married and being a mom, and simultaneously teach girls that boys are sex crazed fiends, then what does that say to girls who don't have that "ideal" body type?
I thought this woman's story was a really interesting one, and I'd like to think about it on those lines today. So here she is!
My experience is as a plus size woman.
I am labeled as morbidly obese. I'm fat. I'm 31 years old now and not ashamed of admitting that I'm fat.
I'm also very healthy, as proven by multiple lab tests and blood draws, and the fact that I can easily keep up with my 6 little kids and part time job.
I grew up deep in purity culture. I went to a private Christian school where we had to read "I kissed dating goodbye" and write a report on it. They also used books from the Pearls and Ludys as curriculum. I also got taught this junk at youth group and at home by my parents as well. As a child, I never felt right about any of it, and it was very unsettling to me, but I couldn't put my finger on why. Kids are taught to believe their authorities, so I kept my thoughts to myself as much as my bold personality could handle, and I got in trouble if I did speak up. (As an adult, I now realize that feeling was the Holy Spirit shouting to me that these were false teachings.)
But as a fat girl who grew up in purity culture, wow was it was rough.
In purity culture, the ideal female is a slender, beautiful virgin who stays slender and beautiful even after childbirth.
(She HAS to stay slender and beautiful, or else her husband will be forced to watch porn or go after another woman who can actually pleasure him, right?) As a plus size girl, growing up in that light, I was trash. I was a fat, ugly virgin. I was like a second rate citizen.
The message was clear that I would never hold a husband, if I could even get married in the first place. My parents tried very hard to help me lose weight, because of their fear that no man would marry me. And the things teachers/counselors said to me! I remember as a teen, being pulled aside during a meal at a church summer camp once and being told that women need to think about their figures, for their future husbands' sake. (Not for my own healths sake!? And not to mention I was eating no more, probably less than others at t table were.)
Stuff like this happened all the time. Being plus size in modesty cults! Ah!
They do not make plus size clothes for teens that cover up.
When you are "curvy" there is no way to hide your curves, no matter what clothes you wear. I was made to feel ashamed of my big hips and big breasts. I went to church events wearing boy clothes just so that I could stay in their dress code. That's so humiliating as a teen girl!
Sometimes I think my parents had me in college because they truly believed their fat daughter would never get married. Most of my friends didn't go to college. But in college, I met a wonderful man when I was 19, and we got married when I was 21. We were each other's first kiss, as they say in the purity cult.
I was the youngest of most of my friends to get married. People would actually say to my face, "We never thought you'd be the first to get married!" I had a youth group lady counselor that I trusted from church offer to take me shopping for lingerie and specifically corset style bustiers, because in her words, "Us big girls need that extra help to catch our husband's eye." (I took the lingerie, because that stuff is expensive and I was broke. But I wore it on my own terms a few years later, and not because I thought my husband wouldn't love every inch of my naked body.)
When we started having babies, I had gained a normal amount of pregnancy weight with each pregnancy.
My body would hold onto the weight for a year while breastfeeding and then let go of it. The weight comments! And then the weight loss comments! There's no winning!
I remember at one point my pastor's wife noticing my normal weight loss between a pregnancy and saying, "Good for you, still trying to honor your husband with your body! We Christian women know we can't let ourselves go." I genuinely felt sorry for her because I realized she lived with this fear of not being good enough to hold down her husband. Her husband, the pastor, would sometimes make objectifying comments about her from the pulpit that made me want to vomit. After another one of my pregnancies, I was heavier than ever and having complications healing, so I couldn't physically take penetrative sex for almost 2 years.
(My husband never asked for penetration, he knew I was struggling to heal. We got creative and still had a great time with sex.) But I confided in a small Bible study group about this (4 trusted people) and they gave me the horrible advice to give my husband a freebie. They agreed I had gained too much weight to be attractive to him, and it had been so long without "actual sex" (their words), so he probably should be allowed to do something about it. Again, I feel sorry for women who live like this, thinking that their husbands are like children and can't use self control.
In the evangelical church, where we should be living with the principle that God looks at our heart, not our fat rolls, I was left to feel like plus sized trash. I've talked to other plus sized friends who got the same idea from their purity culture upbringing. Slender virgins are a prize, fat virgins are worthless. One of my plus sized friends even told me there were times growing up when she didn't see the point of staying pure, because of this idea they had been taught, intentionally or not, that no godly man would marry a fat girl.
My husband and I will be celebrating 10 years this summer, and our marriage is great.
He's always been amazing and somehow he also came out of purity culture knowing it was all crap. Our sex life is great! There is no orgasm gap in our relationship. He loves me, he is gentle and kind and considerate, and all the good things a man of God should be. I have moved past the horrible way I have been treated for being plus sized, and I embrace my body that my husband loves and that grew babies and gave birth and keeps going strong.
I wanted to share my experience with you, in honor of all the plus sized girls still growing up in that mess. It's hard enough being plus sized in a sinful, photoshopped society, but add to that purity culture! Yikes!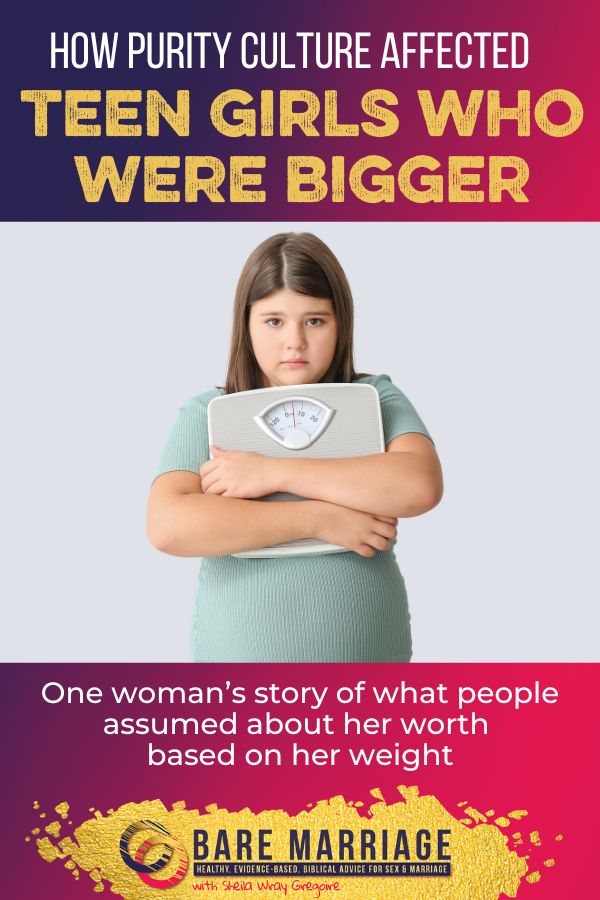 How do you think purity culture affected the self-esteem of those who weren't deemed to have the "ideal body"? I'd love to talk about this in the comments!
PLEASE NOTE: What I absolutely DO NOT want to talk about here is health and losing weight, etc. Let's merely talk about the impact of purity culture ideals on people's self-esteem who have different body types!