What do you do when your husband is in the ministry and you catch him using porn?
I wrote about this years ago, and wasn't planning on writing about it again, but last night I had this overwhelming urge to post this on Facebook:
If you are married to someone in ministry, and they are addicted to porn…you do not have to keep their secret.
Someone needs to hear that tonight.
Yes, it may endanger your livelihood. It's scary. But it will not heal unless it's brought out into the open. And this secrecy, double life, and betrayal is slowly killing you.
That had a lot of traction, so I thought it was time to revisit what to do when ministry and porn collide.
A few years ago a woman wrote in with this scenario:
I am mulling over how to reconfront my husband this time. I've done the tears. I've done the cold clinical confrontation. I've done the angry confrontation. Nothing changes because he won't get accountable and he always says its the last time and I always believe him.
My problem is that we are both in ministry, and although I know this only compounds the urgency with which this problem deserves to be handled, I can't get past all the what ifs of what could happen if this comes out.Job termination, needing to change housing or possibly even return to our home country. We are missionaries. We are practically alone on the field. There are children who would have no caregivers.
Sadly, in some ways I care more about the children in our care then the state of our marriage, or so it would seem since my mind dwells there more than on what is going on or not going on between us.
Porn makes this wonderful, fun, talented, extroverted, anointed man into a gloomy, unkind, withdrawn person. I believe his exposure to it at a young age via his uncle plus the loss of his father and two brothers make him vulnerable to a cycle of shame secrecy and grief. But he never tells me, he waits to be caught.
We are in a high stress and strong spiritual warfare environment, and I am sometimes harsh and overmanage things. I also do not feel as sexually motivated since discovering the porn issue less than a year into out marriage while pregnant and already feeling vulnerable about the changes in my body and in our marriage. Add exhaustion from the environment we live and work in. Nevertheless I don't think that those are justifications for what is biblically equated with adultery.
First, I want to reassure this woman, and other women reading, that you are not alone. Porn is a huge struggle, even for men in ministry (and perhaps ESPECIALLY for men in ministry). We know that about 50% of married evangelical men currently have a relationship with porn.
This can't be tolerated. I've written before about how to handle porn use in marriage, and how you need to draw boundaries and take a firm stand. I've talked about a porn triage, or how you can tell if he's serious about recovery or not. But today I want to concentrate on the ministry aspect of it. I know a lot of women don't speak up because they don't want to ruin the work the work that they've been doing for God, and their entire livelihood (even home and country) are at stake. If they speak up, they may have to move. They'd lose income. It would be a disaster.
This isn't fair. It isn't right. You've worked hard too, and this shouldn't be happening to you.
But tragically–it very well may be. So let's just think through the spiritual aspects of this.
Our main goal in this life is to glorify God.
We are to grow closer to Him. To look more and more like Him (Romans 8:29). Our goal is not to bear fruit; our goal is to abide in Him (John 15). It's God that bears the fruit, and not us. Our goal is to stay close to God.
So don't think that if you are involved in ministry that this somehow outweighs a responsibility to do the right thing. I can totally hear this woman's struggle–"but what about this ministry? What about the kids? If I do something about this, I'll end up hurting them! Isn't the ministry more important?"
No, I don't believe it is. If he continues to use porn, he is endangering his own spiritual condition. And that needs to matter. That needs to be our #1 responsibility.
Our ministry will not be effective when there is sin present in the leaders.
Over and over again in the Bible we see where the people were punished for the sins of the leaders. I'm not saying that God will punish the ministry because of what your husband is doing, but there is no doubt that the Holy Spirit cannot use your husband as he should when your husband is engaged in a huge, secret sin. So not saying anything in order to save the ministry is likely to backfire. The ministry itself will grow better when there is truth and when there is light.
Jesus tells us not to take lightly our responsibility to make sure that the little ones around us do not stumble. That may sound like He's saying, "don't rock the ministry boat if the kids will be hurt". But I think that ultimately truth is still truth; and God wants light shone on things. He doesn't like things being covered up. And when we confess, and uncover sin, God does an amazing work. That work can spill over onto the ministry.
I think deep inside you know all this. You're close to God, and you sense that He will protect you and protect the ministry. But it's still a scary thing. Listen to that still, small voice calling you to the Truth.
It is ultimately God's ministry, not yours.
Right now you likely feel as if you are indispensable, and if you tell people of your husband's addiction, the whole ministry will fall. If that's the case, then there's more going on here than just your husband's sin. It's God's ministry, not yours. Remember that Paul set up churches all over the Roman world, but then he moved on. He didn't stay where he was, thinking "these people will fall away if I'm not here." He believed that God would raise up leaders when they were necessary.
This is God's ministry. He cares about these people. He will fight for them. And He will fight for you, too! If you both want to be used by God, God will honour that. It just may not be in the way that you've always planned. But trust that with God at the head of whatever you are doing, He will ultimately bring about the best for all when we step out and do the right thing.
Your Marriage and Your Ministry will Wither in the Dark
That being said, staying in the dark, keeping a secret, will only hurt your marriage and your ministry in the long run. Our God is a God of light, not of darkness. He likes confession, and truth, and transparency. That's where His grace can fall. That's where we can see radical transformation. If we try to keep everything inside, and hide it from others, then we're being proud. And "pride goes before a fall". God can't work in us when we're keeping secrets.
Many Ministries Have Confidential Programs to Help Porn Addicts
Quite frankly, this is such a huge issue that if everyone who uses porn was automatically fired from the ministry, there would be very few left. So what many ministries have started to do is to establish confidential programs where people can go for help and accountability, to see whether healing is possible or likely.
It is so difficult to find anyone to talk to about your problems when you are in ministry, because the very presence of problems seems to jeopardize your job. But many denominations and missions organizations are employing these "care teams" to help deal with exactly things like this. Get on the phone or the internet and investigate whether you have such a team to report to. These teams are used to dealing with these things, and will help map out a plan which may–or may not–involve leaving the ministry.
If your husband has been involved with things that are illegal, like watching child pornography, or even talking to young girls online, you simply must report it. I know it's hard to go against your husband, but those children need to be protected. Yes, you're endangering the life that you envisioned for your children. Yes, your extended family may be angry at you. But you will never, ever be at peace when this is happening, and your husband could continue down a road where he may do something truly horrific. Don't stand by and watch. Stand up for those children now.
The Merry-Go-Round of Promising Change and Failing Again Has to Stop
Porn rarely gets better on its own, without your husband having help. He can't just white-knuckle-it through. He has to understand what the roots to his porn addiction are; he has to deal with the shame that it has brought; he has to be able to be transparent and vulnerable to others. That transparency is pretty much essential to healing, and I don't know of anyone who has really healed of porn who wasn't transparent.
So if he's saying, "I'll stop, but you can't tell anyone, and I won't tell anyone," well, it's very unlikely he'll stop. He may not even intend to stop! He may just be giving you empty promises.
At some point, you need to decide that empty promises aren't enough. You need to realize that you are worth more than that–that you do not have to be chained to a man who uses porn just so you can be in a ministry you've dreamed of. God can use you in any situation, whether the marriage is saved or whether it is not.
Now, a few warnings about disclosing your husband's porn use.
Because porn use is so rampant, those in leadership may not take it seriously.
At this point, porn use is so widespread that many denominations and missions organizations have come to accept it, and if you make a big deal out of it, you may be told that you are endangering the ministry.
If that is the case, that is good for you to know. It is essential that you know that where you are is not emotionally or spiritually safe. If your husband is using porn, you're likely already walking through a cloud of confusion and blame and shame. Now you know that you're also being spiritually abused by the leadership, since they are not protecting you or prioritizing your well-being. That helps you make decisions more clearly–though it's also tragic.
Those in leadership may try to blame you.
Like we found in The Great Sex Rescue, the idea that porn use is caused by wives refusing to have sex is EVERYWHERE in our evangelical culture. We  heard Jim Daly on Focus on the Family blame porn use on a wife not having enough sex (more on that in The Great Sex Rescue). Steve Arterburn in Every Man's Battle called women methadone for their husbands' sex addictions. Gary Thomas and Debra Fileta in Married Sex (which was published just in 2021!) encouraged women to send nude photos to their husbands so that neurologically they'd be drawn to your naked body instead of other naked bodies.
It's awful.
"A groundbreaking look into what true, sacred biblical sexuality is intended to be. A must-read." - Rachael Denhollander
What if you're NOT the problem with your sex life?
What if the messages that you've been taught have messed things up--and what if there's a way to escape these toxic teachings?
It's time for a Great Sex Rescue.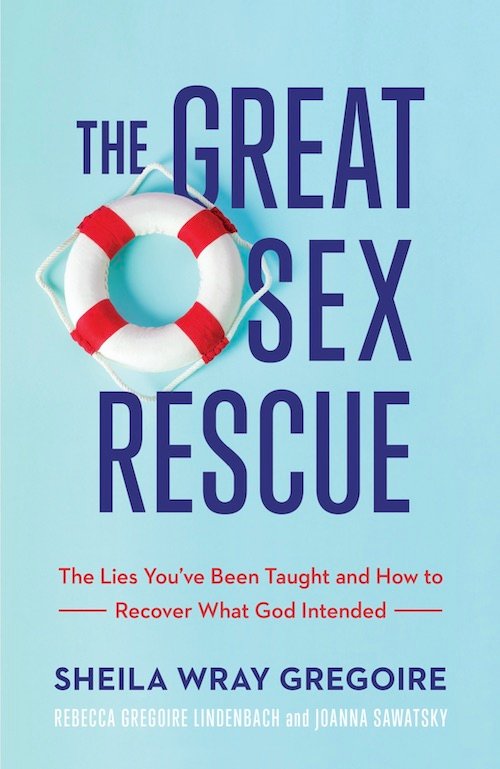 Disclosing may bring another pile of guilt on you. That doesn't mean you have to accept it. As we definitively showed in our study, a wife is not responsible for a husband's porn use.
Again, if you are being blamed, this shows that where you are working is not safe and there's time for a change.
They will likely try to take your work away from you.
In many ministry marriages, the husband is the face of it while the wife does just as much, and often more, work than he does. Often the ministry is just as much yours as it is his, and even more yours than it is his.
But given the nature of how evangelical institutions work, it's very unlikely they will see it this way. It's very likely that instead of saying that you can continue on your own while he is removed, they will require both of you to leave. So what you built up will be taken from you.
This isn't fair. But remember–your giftings and passion remain, and God will be able to use those in a different way that is safe for you. What is happening now is not safe for you.
Get your ducks in a row first.
As one woman warned on Facebook last night:
Reminder to be careful tho that sometimes actions taken that expose or set boundaries can also push an abusive spouse further, so consider safety plans, and realize not everyone is trustworthy with the info, meaning prepare yourself with some documentation and consider who to tell. Whether about porn, infidelity, abuse. Possibly talk to an abuse or trauma advocate first, a trusted friend, then consider how to let a church or ministry organization know what you're dealing with. And realize you may not be believed or get the support you would hope for.
Get Ready to Fight
To fight for what's right. To fight for your own safety and security. To fight for your husband's soul.
The latter isn't in your control. But by doing nothing, you know the porn use will get worse. Doing something is the only way through.
At least it will clarify things. That's scary, though. There's so much at risk. So get some trusted friends around you who won't blame the porn use on you and who care about you. Get involved in online communities like Sarah McDugal and Leslie Vernick on Facebook. See a licensed counselor, even if you have to do so online, to get you ready.
And again–I'm so sorry. This is so wrong. You should not have to go through this.
Just please know–you're not alone. So many women have experienced this. And you are worth more than this.
What do you think? Let's talk in the comments!