What do husbands who care about their wife's pleasure and their wife's orgasm actually do?
We're in the middle of our orgasm series, culminating in the release of our Orgasm Course next Monday (Yay!). Katie's frantically editing the last of the videos, and Rebecca's getting the workbook all finished (my part is already done!).
And last week we were talking about how some men don't always understand what it takes for women to orgasm.
Today I wanted to do something different.
I wanted to share with you what the Bare Marriage readers say to gush over husbands who ARE great lovers.
I asked on Facebook and Instagram: What do husbands who are great lovers actually do?
And we had such awesome responses! The vast majority of the things that women said didn't actually relate to what happened in the bedroom. So I'll share those ones first, and then share the bedroom ones!
(And incidentally–PLEASE follow me on Instagram! I'm trying to get to 10,000 followers so it will be easier to get the word out about our book when it releases. I'm 64% of the way there!)
Outside the bedroom, what do men who are great lovers do?
He talks to me
Intimacy begins before sex! So many women talked about the quality of their relationships outside the bedroom:
We have intellectual intimacy. Our favorite date to do is to go for a walk together with some coffee and talk about everything, then come back home and while our girls are gone, we hit the sheets.
2. He makes me feel loved in everything he does
The attitude of these husbands towards these wives was always one of love and care.
He loves me unconditionally.. and wants me happier than he wants himself. He is the best.
I think the biggest thing he does is treat me with respect at all times. I know I'm first in his life and he makes me feel cared for, loved, desired and appreciated.
3. He touches me in non-sexual ways–snuggles me, etc.
This was likely the second most mentioned thing–that guys TOUCHED their wives a lot.
We are a very affectionate couple, kissing often, holding hands, we cuddle and fall asleep wrapped in his arms every night.
He spends a lot of time holding me and kissing me. He's affectionate outside the bedroom and this helps a lot because I don't feel used when we finally do make love.
He loves snuggling with me. It takes the pressure off but can also be a nice lead in to something more. He also always asked what I want
4. He is my partner, and he's there beside me for the kids and for the house
Nothing's sexier than a guy who doesn't take his wife for granted, but who feels like a genuine partner! It helps women transition from "mom" mode to "wife" mode if he's in the trenches with her.
Help or take over "rush hour" (dinner bath bed routine with children), regular date nights that range from a cuppa together to going out never with the aim of a chandelier swingin rumpy pumpy, just aiming for intimacy. He compliments me, prays for me and is unfailingly kind. NONE of these things, you'll notice, are to do with what goes on in bed but his behaviour sure makes it easy for me to respond to him – I'm working on initiating more, we have seven children and number eight is on the way, plus I've got a bit of baggage from DV + emotional neglect in childhood. It's not always smooth sailing! I can't overstate the affect his kindness and gentleness have had on our marriage (I've also endeavoured to respect and encourage him, too). My heart breaks for wives who have harsh, immature or indifferent husbands.
He takes care of me and our children outside the bedroom, which makes my heart swell with love and caring for when we get into our bedroom.
The Orgasm Course is Here to Help You Experience Real Passion!
Figure out what's holding you back. Open the floodgates to orgasm.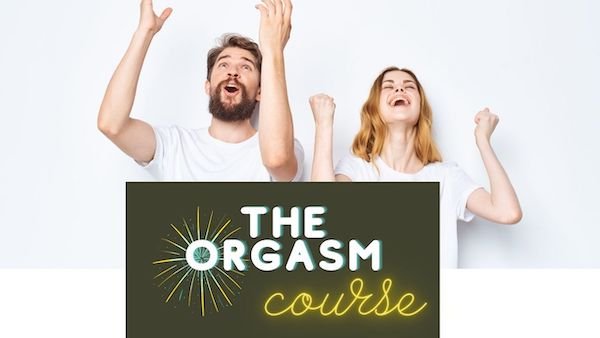 5. He makes me feel beautiful
Many women have body image issues which stop them from being able to truly let go during sex. But when men build up their wife's self-esteem, passion can flow!
When I'm critical of myself (aging, changing body), he always says I'm too hard on myself. So I genuinely believe he sees beauty in me, even when I don't. So then, I have to choose to BELIEVE him.
He's an alpha male, and constantly telling me how much he loves my big booty! 😂 Like he's OBSESSED with what otherwise would be my biggest area of insecurity, and because of his constant positivity towards my body, I have a high self esteem, despite being up 35 pounds in the past two years!
And inside the bedroom, what do men who are great lovers do?
6. He does NOT watch porn
My "oldest" friend chimed in with this one! (She's the woman I've known the longest whom I'm still in weekly contact with!) And others echoed her.
One thing he does is what he doesn't do. He doesn't look at porn. Period. I can't measure up to air brushed figments of his imagination so he has fixed that by not even going there. He is also just fun! We laugh and talk and interact on many levels so it's just good!!
7. He cares about my pleasure and listens to me if I speak up and say something isn't working
I had a ton of variation on this one–men who are attentive in bed tend to have wives who orgasm more!
He takes time with and enjoys foreplay… pays attention to my cues… asks what I want… and makes my pleasure a priority.
We've been married for 15+ years now and we definitely know what works and I'm not afraid to tell him what doesn't. That goes a long way!!
A number of women stressed this last part–that their husbands truly listened. One woman phrased it as "the ability to hear." When men are open to wives telling them what works and what doesn't, things do, indeed, work better!
He asks, listens, observes, never gets offended by what I say, always wants to see me happy
He has learned to listen to my suggestions, understanding that I am giving him a tutorial on how to make it really great for both of us.
Do you want MORE for your sex life?
8. He never, ever rushes me
Gold stars to men who take their time!
He is extremely patient and does not want to rush either of us. He has never once made me feel bad for taking longer than I feel like I should be taking.
he takes his time in the bedroom. He's never in a hurry so I feel at ease in the time it takes me.
9. He never makes me feel used
So many women said a variation on this–they always felt cherished in the bedroom, like their husbands wanted them to receive pleasure first and foremost. Sex never felt like he was "taking" from them. Some of them are already quoted above, but this was a huge breakthrough for women–when husbands saw sex as naturally an intimate experience for both of them.
10. He makes me sure I "go" first!
And this is an important one, too. Men who are great lovers tend to make sure that their wives are satisfied first.
He always rocks my world before he rocks his!
This makes biological sense! After all, after orgasm, your body is flooded with hormones with the job of making you feel SLEEPY and RELAXED. If you're sleepy and relaxed, how easy is it going to be for you to concentrate on your spouse and bring her to orgasm? Plus, women have no refractory period (meaning they can feel good and reach orgasm again right after orgasm), so if he continues intercourse AFTER her orgasm, it's still likely to feel good for her. It just doesn't work the other way around.
So there you go! That's what our readers say make their husbands great lovers. 
So many other things were mentioned, too. Kissing during sex. Being patient. Understanding that tonight may not be a good night, and being okay with that. Really truly wanting her to feel good.
I think, if I had to find similarities between the answers, the latter would be it: really, truly caring about her experience. 
That's what's interesting about sex–when both fo you prioritize her experience, then sex will tend to be better for both.
I do think that sex was created biologically by God so that women would have to be a little bit selfish in bed if they wanted to orgasm, and men would have to be a little bit selfless. When we all work this way, things tend to work better (though obviously there are exceptions). 
So don't be afraid to speak up! And men, know that the more giving you are and the more you care for your wife, inside and outside the bedroom, the more likely it is that she'll experience true pleasure with you!
Is there a #11 that you would add? Or which of those 10 do you think is most important? Let's talk in the comments!
The Orgasm Series:
All About Orgasms Podcast
And don't forget to check out:
31 Days to Great Sex
The Good Girl's Guide to Great Sex
Sheila Wray Gregoire
Founder of Bare Marriage
Sheila is determined to help Christians find biblical, healthy, evidence-based help for their marriages. And in doing so, she's turning the evangelical world on its head, challenging many of the toxic teachings, especially in her newest book The Great Sex Rescue. She's an award-winning author of 8 books and a sought-after speaker. With her humorous, no-nonsense approach, Sheila works with her husband Keith and daughter Rebecca to create podcasts and courses to help couples find true intimacy. Plus she knits. All the time. ENTJ, straight 8
Dads shouldn't need their adult daughters to give them adulation and affection. That's called...
Let's talk about the echoes of menstruation. Yesterday on the podcast, we were discussing how...
This has been a week of great thrills and great disappointments. Thankfully, the thrills were...