What do you do if your wife tells you that she feels as if she has been raped?
Or, if she doesn't use those exact words, if she tells you that she feels as if she's been coerced into sex?
We've been talking this month about digging out of the pit that you may have created for yourselves in your sex life. When sex has become fraught and full of tension, how do you recover and build a relationship that's focused on mutuality and passion?
During that conversation we turned to the topic of marital rape, because it affects almost 1/5 evangelical couples, and it absolutely is devastating.
Before we get started, let's go over what constitutes marital rape.
Sexual assault is any sexual contact that occurs without consent. Marital rape is sexual assault that involves penetration.  It could mean physically forcing your wife or overpowering her, but that is not the only way rape can happen.
If she feels as if she has to have sex with you to prevent something bad from happening–to lessen verbal, emotional, or physical abuse; to get access to money; to be able to sleep; to stop you from having an affair or watching porn; to keep the kids safe–then she cannot consent. If you constantly berate her and throw Bible verses at her about how her body belongs to you, then that is spiritual coercion.
If she feels as if she can't say no, then she can't really say yes.
Not all forms of coercion would be prosecutable, but that does not mean they are okay. Marital rape is illegal, and it is wrong.
Because of evangelical teachings and culture, many men may be raping their wives without realizing it.
You may have been taught that your wife exists to satisfy your needs, and that she is your sexual outlet so that you do not sin. You may feel that it is "righteous" to use your wife, because then you aren't doing something really bad, like watching porn or lusting after a co-worker. I looked in a previous post about how our culture can actually make men think that marital rape is a righteous and good option.
But raping someone is never righteous and good. Using someone as a sexual object dehumanizes and objectifies her and makes her feel like nothing. That isn't of Christ. That isn't of God. That isn't biblical, whatever you've been taught.
If you think it is, then you don't have a clear picture of who Jesus is. Can you picture God telling you that it is good to use your wife, even if she is crying (either inside or visibly?) Can you picture God being pleased with that? If so, then please know: You are not following the God of the Bible.
2. Let's look at 5 steps to take now if your wife says she's been coerced into sex.
Sometimes this will be a chronic dynamic in your marriage; other times it may have been once or twice in the past and she's had trauma from it. How should you address this?
1. Own your sin.
When she says that she feels as if she's been coerced into sex, or that she feels as if she's been raped, it's natural to become defensive. Rape is awful. No one wants to see themselves as a rapist!
But remember: for many women it takes years of feeling used to get up the courage to actually voice out loud what they've been feeling. Even if you're just hearing about this now, she's been suffering with this for a long time. How you react right now will largely determine the trajectory of the rest of your marriage.
Will you show her that she matters? Or will you concentrate only on what you're feeling?
Please understand this: if you want to have an intimate marriage, and a lifelong one with this woman that you love, her safety matters. You can try to prove yourself right and try to say that she is wrong and that she is crazy and that she is mean. You can cry and say, "How could you ever accuse me of something like this?" You can become angry and say that she is bitter.
But you will never, ever heal your marriage unless you own up to the fact that you have done something which has made her feel unsafe.
You have done something which has made her feel objectified and used.
You have not loved her as Christ loved the church. You have not loved her as your own body. You have used her body to satisfy yourself at the expense of herself. You have considered your momentary pleasure more important than her emotional and physical safety.
She was in distress, and you should have realized that–or, if you did realize it, her distress should have mattered to you.
2. Don't fight over definitions of marital rape.
You may think, "okay, maybe I wasn't as nice as I could have been, but that doesn't mean that I raped her!"
What's the point of this conversation, though? What are you trying to prove?
Are you trying to wear her down so that she gives in and says, "okay, I guess it wasn't rape"? What will this get you? Will she feel safe? Will passion return? Will she feel loved by you?
Here's what it comes down to:
Whether you think what you did constitutes actual marital rape or not, your wife feels that you used her without her consent and without regards to what she was feeling. That has left scars. The goal now is to heal those scars, not prove to her that she shouldn't have them in the first place.
3. Learn what real sex is.
Sexual dynamics where she feels used and victimized often happen because there's a profound misunderstanding of what sex really is. Sex is not just intercourse, and sex is not something that your wife owes you. Sex is something which is supposed to be mutual, intimate, and pleasurable for both.
You may be focusing on how much she was denying you by saying no, but if you used her, you were denying her doubly. You made sexual activity the absolute opposite of intimate, and chances are it was not pleasurable for her either (although even if it was, that does not mean that it wasn't rape).
Please read our posts on what real sex actually is, or, better still, read The Great Sex Rescue to understand how you could have come to the wrong assumptions about sex, and see how you can get out of it.
"A groundbreaking look into what true, sacred biblical sexuality is intended to be. A must-read." - Rachael Denhollander
What if you're NOT the problem with your sex life?
What if the messages that you've been taught have messed things up--and what if there's a way to escape these toxic teachings?
It's time for a Great Sex Rescue.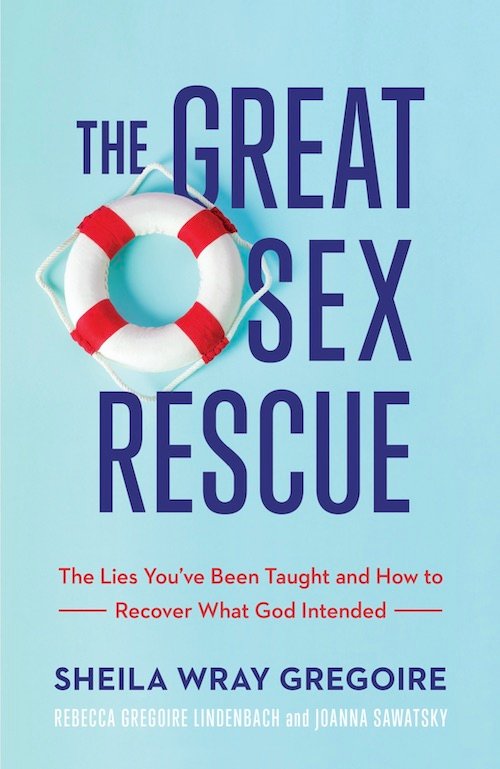 4. Understand who is the actual victim–and understand what you have stolen from her.
It's easy to get into a tit-for-tat when you're accused of something big. But doesn't she understand how much her accusations are hurting you? Does she really want to hurt you like that?
Or, "but she wasn't caring about my sexual needs! She was depriving me!"
You may think that you are actually the victim, because she is not being a good wife. She is not giving you what she is supposed to be giving you.
If you go to your church to talk about your wife's accusations, it is very likely that your church may take your side. You may be able to bully her into believing that you are actually the victim. But it will not work out well for you in the end. Listen to this woman's story:
My ex-husband was wanting sex 2wks post-partum and the day I had to have surgery because of a miscarriage that left pieces of the lining. It didn't matter if I had a UTI, yeast infection, no sleep from multiple babies in just as many years with miscarriages mixed in. He would refuse to let me sleep if I laid down. Of ALL the different forms of abuse I endured this one here is the one that still haunts me more then the rest. Feeling like I was only a piece of meat and that I had no rights to my own body because according to him it was his now that I was married. He went from respecting my body or so I thought before marriage not so much as kissing me to unwanted touching groping and so much more. I was told I was wrong for ever saying no and that it was unbiblical to deny him and worse that church backed him up. I don't think I will ever be the same as a result.
He went to the church; the church supported him. But was the marriage saved? No, because it didn't change the fact that he had been raping his wife.
Your church may care more about whether your wife is giving sex regularly than it does about whether or not you have been assaulting her. Unfortunately, many evangelical churches do not understand about marital coercion, but they do understand about the necessity (as they see it) of having sex every few days.
If you want to be the victim, it is very likely you will find churches, counselors, friends and family members to back you up.
But you need to ask yourself: Do I want to be seen as the one in the right, or do I want to save my marriage? Because at the point that a woman is sure that she has been raped, it is very, very unlikely you can save that marriage unless you own your stuff and remember that you are the one that has hurt her.
If you paint yourself as the victim, she may become even more desperate. Most women in these situations have other health issues pop up, like mental health issues, inflammatory conditions, chronic pain, and more, because the body keeps the score. When trauma is denied, it will come out in some other way. That will make her even more helpless, and even less able to support herself independently, which may mean she stays in the marriage. But she will be a shell of herself.
Instead of focusing on what you think you deserve, can you please think about what she deserved? You may be focusing on how you have been robbed of getting your sexual needs met. But do you understand what has been stolen from her?
Women are actually very capable of enjoying and wanting sex. God gave women a body part where the only purpose is pleasure. God made women capable of multiple orgasms. God made women very sexual, and most women get married excited about the sex they are going to have.
If you have raped her, you have stolen sex from her. You have made what should have been an intimate, amazing experience into something which is threatening to her.
Many women never recover from that.
So understand: you have taken her sexuality from her.
With the right work, women can reclaim their sexuality, though not always.
But let's remember that the frequency of your own ejaculations are not more important than her sexuality.
She is the one who was harmed the most because of the way you treated her. That needs to matter, and if it doesn't matter to you, then your marriage will never recover. She may not leave you–but you will never have a real wife who wants to be there.
5. Rebuild trust–And Accept if That Cannot Happen
Give her space. Take all sexual expectations off the table. Tell her that you are willing to live without sex until she feels safe–even if that takes a long time. And understand that she may never be able to recover from this, even if you do all the right things. 
Some women are just not able to stay in an intimate relationship with someone who hurt them that badly, even if the person totally repents. This is part of reaping the consequences of your actions, and it can be very, very hard. 
That does not mean things won't recover, though. But recovery needs to be focused on what is best for her, not what is best for you or best for the marriage. 
Make sure that she has safe counseling, because most women will need to process the trauma that they feel. It is very likely that she will be safer with licensed counselors outside the church than with counseling inside the church (unless your church is an exception).
If she is getting counseling where she is being blamed for the dynamic, or where she is being asked, "but what did you also do wrong?", please know that this is not safe counseling, even if it makes you look good. Encourage her to seek a different counselor who will treat her trauma seriously.
You need to show her that her safety matters more to you than gratifying your sexual desires. You need to show her that she matters more to you as a person than as an object to use.
That means opening up emotionally to her. It means starting to share the parts of yourself that you kept walled off, because you preferred to connect sexually to her than you did to connect emotionally. Tell her everyday what made you feel exhilirated and what made you feel defeated. Let her know what's going on emotionally in your heart, and ask her about her own heart. Spend time with her. Get to know her as a person, not just as a body, or as someone who cooks your meals, looks after your kids, and washes your clothes.
And one final thought about rebuilding trust: Making her feel safe means making her feel like she is not responsible for your emotions or for placating you. Often the dynamics that lead to marital coercion are the same dynamics where women feel as if they are responsible for keeping husbands on an even emotional keel.
She is not. You are responsible for your own emotions.
That means that you need to work on your own feelings of insecurity and shame that arise from this, rather than putting these back on your wife. Yes, you did something wrong and treated her badly, but there is redemption in Christ, and there is forgiveness. 
I have seen couples where there has been marital coercion, and where she is trying to heal, but he then feels like he is such a bad person that he can barely function because of the shame. So instead of her emotional energy going into healing herself, she has to reassure him that he's not that bad; that God still loves him; that he still has a future.
This is a form of making yourself a victim and once again making yourself the center of the story. If you are feeling great shame and remorse, then part of rebuilding trust is working that through in a recovery group or with a counselor. But it is not your wife's job to do that, and the more you put that on her, the more you show her that she can never actually be safe in this relationship.
If you've sexually coerced your wife, here's what it boils down to:
You face a choice. You can dispute her interpretation of things. You can tell her she is in sin for denying you. You can paint yourself as the victim.
Or you can own what you did and take the only route to actually rebuild. If you know God, you will admit what you did was wrong, and you will walk the route of repentance, focusing not on your own rights, but on what is best for your wife. It is not that you are a hopeless sinner, irredeemable. Jesus redeems! But the path of redemption always goes through repentance, not proving yourself right. 
And sometimes, even if you do repent, she has experienced too much trauma to rebuild. That is also part of true repentance–being willing to let her go if that is what she chooses. 
You can focus on her pain, or you can make yourself the center of the story.
If you focus on yourself, you may temporarily "win". You may get her to be quiet about this. You may make her feel defeated, like she has no options, and she may stay in the marriage.
But it is very, very likely that this is only temporary, and she will eventually leave. Once a woman has enough courage to announce that she feels raped, it is very, very unlikely that she can stay in that relationship long-term unless there are major changes. She will likely develop health conditions. She will feel deflated and hopeless. And eventually, as the only way to save herself, she will likely leave.
You may prefer that to having to admit you did anything wrong. Then you can triumphantly paint her as the bad person who denied her marriage vows. But that will only show your true character.
So you need to decide: will you care about her and potentially save the marriage, or will you focus on yourself and destroy it? Only you can decide. And your choice reveals your heart.
What do you think? Is there something I've left out? What would you want to say to men in this situation? How can we point people towards healing? Let's talk in the comments!