If your  husband has been coercing you into sex, how do you get him to understand what he's done?
That's the million dollar question, isn't it?
We're in the middle of a series on what to do if one, or both, of you have dug your sex life into a pit. And fundamental to digging out of that pit is a feeling of safety.
That led us to a discussion of marital rape, and while I thought that was originally going to only be two posts, I've received so many emails and messages about what many women are going through that there has been more to say.
Last week I wrote about what she can do if she realizes that sexual coercion is present in her marriage, and then I wrote about the five steps husbands need to take when their wives come to them and say, "you've been coercing me and it needs to stop."
After that last post, I had many women asking me, "but how do I get my husband to understand and go through these steps?" That's what I'd like to address today.
You cannot make someone understand that they have hurt you.
This is really hard to hear, I know, but there are no magic words, no magic formula, no perfect conditions where, if everything lines up and you do it properly, he will finally get it.
Yes, you can say it more clearly, and explain it well (and I hope last week's post on husbands and marital rape can help). But ultimately whether or not he hears is dependent not on your words but on his heart.
I wish it were not that way. I wish it were easier. But that's the truth.
The only thing that you can actually influence is what you are willing to live with.
The only thing you can control are your own boundaries. You can decide what you need to do to keep yourself feeling safe and not be retraumatized.
For some women, that may mean seeking emergency shelter. For some it may mean saying, "no more sex" until this is fixed. For some it may mean a temporary sex fast of a particular time duration while you seek counseling. For some it may mean asking him to leave the bedroom. For some it may mean a temporary separation. I don't know what you should do, because every marriage is different.
Earlier in the series, when we were talking about redefining sex, here's what one woman said about her boundaries:
Sex has been off the table now for many months and will continue to be until he can learn to love me (which means learning emotional intelligence and awareness first, which has and will be a slooow process, maybe years, for him.) Then he has to prove himself trustworthy to me after porn use and not loving me/using me for several decades. I refuse to be used (whored) anymore. If that means no sex ever again because he cannot achieve loving me, then that is the literal and figurative bed he has made for himself. (As devoid of love as it was, I still miss sex, too, so it isn't that I don't want it- but it isn't worth losing/crushing any more of my soul than I already have.) He needs to learn to retrain/reassociate his ideas about sex and love, but so do I if we are ever to stand a chance at actually making love.
She's hoping he will wake up, but unfortunately, he may not.
When you do set boundaries, it is very likely that you will now be painted as the "unsafe" one.
Tragically, what many women have found when they do set boundaries is that husbands decide to leave (because a marriage without sex on demand is devastating for them), or family members or clergy tell the wife that she is in sin for depriving him, rather than seeing the marital rape that led to the boundaries as the real sin.
(I don't understand why people can't grasp that boundaries like this don't come out of nowhere!).
That's what this commenter experienced:
I'm divorced because my ex couldn't understand these simple concepts and broke down sobbing like a baby when I asked if our marriage would be ok if I couldn't give him sex, as if I was the one stabbing him in the heart to even ask that question! I have health issues that were deteriorating so it was a legitimate question. Then when I said I wanted a separation, so I could heal and he could have time to work on himself, he said if I moved out he wanted a divorce. My almost adult kids have no idea why we really divorced and hate me.
He is a caring man in many other areas, but that one was where he could not see that the misogyny from our upbringing had taken root and was not budging. And it wasn't just that he "needed release" because I gave him permission to relive the "tension" himself. And he would whine and complain that it wasn't the same and honestly it just made him worse. He wanted unlimited access to my body no matter how I felt.
Her story also brings out another common theme: When there are major health problems, the biggest predictor of divorce is whether or not the patient is female. The reason that serious illness often results in divorce is because men are six times more likely to leave because of an illness than women are. 
So here this woman is, trying to draw boundaries for her own safety and emotional and physical well-being, and she is painted as the bad one for refusing to be treated like a sex doll. And her husband and kids are blaming this on her.
I want to say to women in this position: You do not owe your husband your silence. I know sex is difficult to talk about, but if your children are adults, you do not owe your husband your silence about what happened. You also don't owe him your silence to your siblings, or his siblings, or parents, or any family member. This is your story, too, and you are allowed to tell it as you see fit. (You may not always think it wise to tell it; that's up to you. But you do not owe him silence).
In the church, we often see withholding sex as more serious than marital rape.
I think it's because at heart we're not sure we believe marital rape can occur, because we have a flawed understanding of consent in the church.
A real Christian community is more concerned with a wife's safety than it is with a husband's ejaculations.
If the Christian community you are in, whether with pastors or counselors or friends, is more concerned with withholding than marital rape, then that is a sign that you don't just need boundaries with your husband. You need it with your church community, too, and you need to find a different community that truly operates as the body of Christ and does understand these issues (and those communities are out there–they just may not be in your denomination.)
For more on how evangelical resources have addressed, or rather failed to address, marital rape, please see chapters 9 & 10 of The Great Sex Rescue. 
"A groundbreaking look into what true, sacred biblical sexuality is intended to be. A must-read." - Rachael Denhollander
What if you're NOT the problem with your sex life?
What if the messages that you've been taught have messed things up--and what if there's a way to escape these toxic teachings?
It's time for a Great Sex Rescue.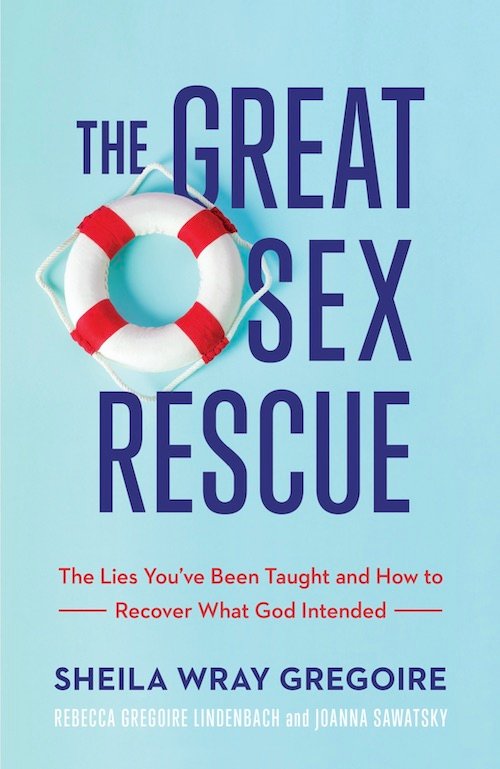 Your husband's failure to understand is actually a sign of whether healing is possible or not.
Of course you desperately want your husband to understand what he did to you and how he traumatized you. The only way you can ever be safe in this marriage is if he does understand. If he doesn't, then there is no room for you to heal, and there is no assurance that it won't happen again. You will never be able to enjoy real intimacy or let your guard down if he doesn't  understand.
And so many women are frantic to get their husbands to see because these women want to save their marriages. That's what I wish churches could see: the women setting boundaries, the women speaking up–they're not doing so because they're vindictive and don't care about marriage. They're doing so in desperation to save their marriages! Because the marriage can only be saved if they can be safe, and this is the only way forward.
As you are trying to figure out what to do with your marriage, please find healthy help. See a licensed counselor who understands the dynamics of marital rape (not all of them do). As you're interviewing counselors, send them last week's post on what men need to do if they've coerced their wives, and see if the counselor agrees. If the counselor does not, that's likely a sign that it's not a safe counselor.
(And please know that licensed counselors are far more likely to understand this than "biblical counselors" or counselors your church may hire. Biblical counseling is a school of counseling that tends to reinforce male hierarchy and entitlement, though some biblical counselors are still excellent).
A counselor can help you set boundaries, and can help you see through the fog whether your husband is understanding or not.
I have heard of so many men who have gotten it. Some right away, and some after a time. I wish I could tell you that if you wait long enough he'll get it, but many men never do. But even in the comments on the blog lately there have been men who got it.
No matter what happens, please know that you are strong.
I wish I could offer you more than this, but what I can tell you is that even if he never gets it, that doesn't mean that you can't live a big life. It may not be the life you envisioned, but you are strong. You have come this far. And God can open up a life for you that can still be beautiful.
As we're talking about digging out of the pit, I'm reminded of Psalm 103:
Praise the Lord, my soul;
all my inmost being, praise his holy name.
Praise the Lord, my soul,
and forget not all his benefits—
who forgives all your sins
and heals all your diseases,
who redeems your life from the pit
and crowns you with love and compassion,
who satisfies your desires with good things
so that your youth is renewed like the eagle's.
The Lord works righteousness
and justice for all the oppressed.
He works justice for the oppressed. He redeems your life from the pit. He renews your youth.
That is what I pray for all of you today who are walking through this hard road.
And please know: It was never meant to be this way. This isn't okay. And God sees that, too.
What advice would you give a woman whose husband doesn't understand coercion? Why do you think churches tend to deal with this so badly? What can we do? Let's talk in the comments!
The Sexual Recovery Series--Digging Yourself out of the Pit
Marital Rape Posts:
Podcasts:
And please check out The Great Sex Rescue, and our Orgasm Course if that's been an issue for you!