When you've built a pit for yourself and your sex life, it can seem impossible to climb out. 
This month, our series is on how to dig yourself out of that pit.
Last month we looked at how those pits can be built in the first place, and in our book The Great Sex Rescue we showed how so many beliefs that we've internalized can create these huge pits that make sex so difficult. 
Dynamics in our relationship can also kill libido.
I'm presenting a four-point plan to rebuild intimacy, which includes:
Redefining sex so it's an integrated part of your relationship
Establishing safety for everyone
Building affection
Revisiting Sex
And as you can see, rebuilding sex comes last if you actually want to have a healthy sex life!
Today, I want to give you a picture of what sexual recovery in your marriage can look like.
This week, a man left this comment on the blog:
This series is fantastic — would have come in handy about 2 years ago, but we have been rebuilding based on all of your other great resources and blog posts.
We were this couple. In a very bad place where sex from her perspective felt like being used, getting nothing out of it, not truly being seen, mixed in with a healthy dose of obligation message. Even though she had the capability to feel physical pleasure & orgasm, it was devoid of meaning and the experience wasn't bonding.
Some of those challenges went way back to childhood and experience with parents (non sexual trauma, that was intermingled with sexual trauma after we got married due to people pleasing characteristics, etc.). Sexual relationship didn't take off as it should have upon marriage due to some of these issues, and also past porn use for me with left me with PSR (a pornographic style of relating) (although I didn't know it at the time).
These factors created a poor sexual dynamic from the start, and combined with intermittent porn use again on my side, while her still believing that that was partially her fault. Just a mess of a situation. Felt grown apart, felt hopeless at times.
Sex came to a grinding halt.
Many other aspects of the relationship were still good (liked each other, valued family, were respectful to each other), but true connection was lacking.
Both had therapy, many in-depth chats, took all pressure off of sex (full break) with no defined time lines. Weeks turned into months. There would be an occasional coming together, and then nothing for months. Very difficult at times, but kept on showing up, showing love, showing respect. Line in the sand re porn (no more) — read up and did a ton of work re. reframing the mind, learning how to view women as a whole being. Learned that sexuality can be controlled, put on hold. Worked hard at creating safety and trust.
Fast forward 1.5 years, relationship and true intimacy (read connection) continues to be rebuilt. Times of sexual connections began to increase, but often triggers/traumas would come up for her, and even when arousal phase was well underway for me, would purposely stop and indicate we would not continue because of what was coming up for her. This continued to build trust and connection.
Very Very difficult at times and very frustrating, but this is what is required when digging up from the pit at -100.
Have to take a hard look in the mirror, and if there are factors at play that Bare Marriage talks about (obligation message, lack of orgasm for her, porn use, etc.) — need to take full responsibility for you brought into the relationship to cause that.
Fast forward another 6 months, and things are beginning to look like marriage/sex how God intended.
Relationship/connection first, check in, conversations, best friends, care for and cherish one another. Sex and the compulsion for it is totally different now as well. Comes much more naturally, and flows out of the closeness we have and create. Not out of duty. Since still in re-building/re-discovering phase, I actually purposefully don't really initiate yet so it doesn't feel like any sort of pressure. It's more her setting the pace, and frequency is actually taking care of itself! Also feel like less frequent that what I would have previously desired is also fine because the quality is so much different and vastly more satisfying because of the true connection we have.
All this to say — if you are in a rut — have deep conversations about the relationship, take the pressure off, focus on the friendship and emotional connection, and get rid of/deal with the intimacy killers. See it as a project/goal to do the hard work.
Many men can take on huge challenges when it comes to building, career, etc… see the rebuilding as that kind of challenge, and remove any thoughts of what you will get out of if, what you are owed, etc.
The challenge is to get yourself to a healthy place where you own and can control your sexuality and no one (your wife) needs to "do something" for you to help with that.
Put your thoughts and efforts into productive things that give you purpose and joy, and rely on God for strength. At the beginning of the journey (when things initially fell apart and sex was broken), I remember feeling despair, and not knowing how this could be handled (old paradigm of thinking it would be hard to go a couple of weeks without sex, never mind months) — and I felt God say, I'm going to be with you, and help you, and walk through this with you. Takes a humble heart to just submit, make a commitment to get healthy, own your stuff, and seek healing.
He is faithful, and has done all of those things.
We are in such a great place now, and it was totally worth the effort and time we both put into it. If this is your situation, I hope this is encouraging to you. Do the hard work, you won't regret it.
This is a perfect example of what we were talking about: You need to fully own your stuff first. 
For the vast majority of people, it is the dynamics of sex and the way we see sex that dug that pit in the first place. You simply won't get out of the pit until you see sex in a whole new way. Until you let go of the entitlement, and the feeling like you are owed something and she is stealing something from you (or he is stealing something from you), you can't recover.
And notice how once this reframing takes place (even though it takes a while), and once she feels that things are different, sex is given the space to blossom again.
I think of it very much like this:
Very truly, I tell you, unless a grain of wheat falls into the earth and dies, it remains just a single grain; but if it dies, it bears much fruit.
I know this seems like a lot of work, and that it may seem insurmountable. 
But over and over again in our focus groups for The Great Sex Rescue, we heard stories just like this one. Stories where sex had been in the pit for whatever reason, and when they both reframed how they saw sex and gave her room to feel safe again, sex was able to blossom.
This was always the order. 
Far too often when people seek counseling for marriage problems or sex problems they're told to just have sex more. They're told to spice things up. They're told you cannot deprive each other.
But if you want real healing and real intimacy, you need to go back to the root. 
This is what that looks like, and I hope this month I can help you get there!
"A groundbreaking look into what true, sacred biblical sexuality is intended to be. A must-read." - Rachael Denhollander
What if you're NOT the problem with your sex life?
What if the messages that you've been taught have messed things up--and what if there's a way to escape these toxic teachings?
It's time for a Great Sex Rescue.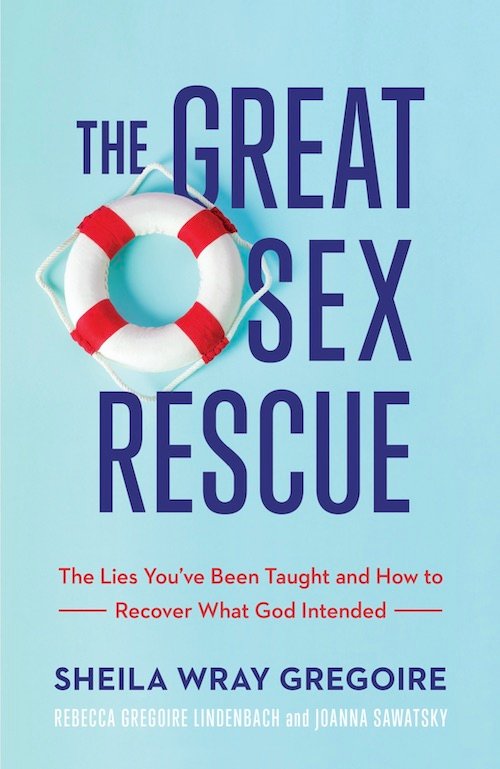 What do you think? Does that give you hope? Can you see people doing this kind of work? Let's talk in the comments!