If we don't put sex in its proper place, sex will become a drain on the relationship, rather than something that makes you feel closer.
We're working this month on how to dig out of the pit you're in with your sex life, because many people have such deep and serious issues in their sex life, and sex is pulling them apart rather than bringing them together.
Yesterday I talked about a 4-point plan to rebuild, that has to be done in a certain order:
Redefine sex
Make sure everyone feels safe
Build affection
Rebuild sex
I want to focus on #1 today–redefining sex.
Sex is meant to be mutual, intimate, and pleasurable for both.
As I have said repeatedly, one-sided intercourse is not biblical sex, and sex that leaves someone feeling distant or used is not biblical sex.
Biblically, sex is a deep "knowing", which means that both people matter. If we say that one person has sexual needs the other has to meet no matter what, then sex is not a knowing. It is an owing.
But worse than that, it is an erasure of you as a person. If your needs don't matter, then you aren't a person. You are a body to be used.
THIS is one of the main reasons for the pit that so many of our sex lives are in. If we are going to rescue sex, we need to redefine it.
Think of sex as a way to physically express your relationship.
That's what it's supposed to be. It's also supposed to be a form of play, where you delight in one another. But if sex is the physical expression of your relationship–then it is okay, natural, and even good if what is happening in your relationship is reflected in your sex life. 
And what is happening in your relationship is also affected by what is happening in your individual lives.
We have this idea that sex must look the same, always, no matter what is happening. Think of the 72 hour rule that we talked about in The Great Sex Rescue, or that Kevin Leman sums up so well in Sheet Music: 
When you agreed to marry this man or this woman, you put yourself in a position to meet a need in his or her life that no other person can legitimately meet–sexual fulfillment. I'm blunt with premarital couples: If you're not willing to commit yourself to having sex with this person two to three times a week for the rest of your life, don't get married. Certainly, rpegnancy and sickness and a few other unforeseen problems will alter this–but in general, to get married is to commit to a regular time of sexual intimacy….
This means that there may be times when you have sex out of mercy, obligation, or commitment and without any real desire. Yes, it may feel forced. It might feel planned, and you may fight to stop yourself from just shoving your partner away and saying, "Enough already!" But the root issue is this: You're acting out of love. You're honoring your commitment. And that's a wonderful thing to do.
What he's saying is that no matter what is happening in your relationship, no matter how you are feeling, you should have intercourse, even if you want to scream, push him off of you, and even if it feels forced.
How is this intimate, mutual, and pleasurable for both?
The way that Leman may answer this (I'm guessing, obviously), is that she should understand it's intimate, even if she doesn't feel it, and she should make herself feel it.
But that doesn't work.
Earlier in the book he describes a couple where she is busy with the kids because he doesn't help (Leman doesn't add that last bit, but from the story it's clear), so the husband turns to porn. And the solution? The wife needs to learn to have more sex.
It is not that the husband needs to realize how overwhelmed the wife is feeling and help; it is not that the husband needs to understand that his selfishness is turning her off and making her feel like she doesn't have a partner; it is not that he needs to realize that he is training himself to see her as an object rather than a person and he is betraying her; no, it is just that she needs to have more intercourse.
Sex, in this mindset, is divorced from whatever else is happening in the relationship.
It is like the story I shared yesterday of the big name pastor saying that it would be wrong for a woman to want a fast from sex after finding out about her husband's porn addiction while they get help, because that would mean she is withholding and depriving him.
When we see sex like this, we don't see sex as part of the relationship. We see it as a commodity, something separate from both of us, that one gives and one takes. 
Sex isn't an expression of our relationship; sex is a thing that is owed. Sex is separate from feelings.
This causes the pit to be dug deeper.
Sex and desire thrive in relationships where sex is intimate.
One of the best predictors of sexual satisfaction and marital satisfaction that we found in our surveys of both men and women is that the couple feels emotionally close during sex.
When sex is an expression of how we feel, then sex thrives–but so does desire. We get to choose: we can keep stressing frequency and the 72 hour rule and tell people they must have sex even if it feels forced; or we can give up expectations around sex and just love each other and allow sex to naturally blossom.
The latter sounds scary. What if sex doesn't blossom? What if her libido is gone for good?
Then, yes, pressuring her and guilting her may get you more intercourse. But it will drive her further apart, wreck her libido, wreck her sexual response, and wreck her love for you. We explained this progression in The Great Sex Rescue. 
"A groundbreaking look into what true, sacred biblical sexuality is intended to be. A must-read." - Rachael Denhollander
What if you're NOT the problem with your sex life?
What if the messages that you've been taught have messed things up--and what if there's a way to escape these toxic teachings?
It's time for a Great Sex Rescue.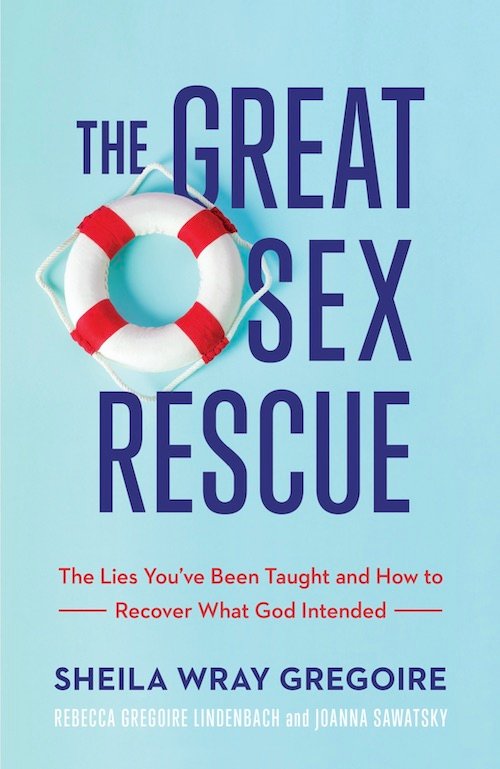 In an integrated view of sex, what is happening in the relationship and to each of you individually will affect your sex life, and that's okay. 
If she suffered from postpartum depression and a traumatic birth, then naturally she may not want sex for a while, because it's too vulnerable and she's not in the head space to "play."
If his mom just died, then he may not want sex for a few months because he's grieving, and that's okay (conversely, one or both of you may want comfort, and that's okay too).
If you're overwhelmed with small kids, you may not have sex as often as you wish you would, but that's okay, because you're parenting together. And as you embrace this role together, then you give desire a chance to return because you're building it by parenting as a team.
An integrated view of sex understands sex as an expression of intimacy, but not a substitute for intimacy.
A woman I interact with a lot on social media published an amazing Twitter thread yesterday about this, and I'd like to just quote her.
Sex is not a biological individual need. Psychologists and sex therapists alike generally agree on this. While mutual sexual satisfaction is a vital part of committed relationships, no individual, male or female will die or fail to thrive without it.

It is not an inherent need.

— Amie Aitken (@AmieAitken) November 1, 2022
Sex is not a biological individual need. Psychologists and sex therapists alike generally agree on this. While mutual sexual satisfaction is a vital part of committed relationships, no individual, male or female will die or fail to thrive without it.
It is not an inherent need.
What we all do have is a need for intimacy, which can be found in many ways in different kinds of relationships. Intimacy comes from being seen, known, heard and held.
Male and female alike, we need intimate relationships to thrive and feel whole.
Women tend to cultivate more intimacy in their friendships, offering each other a deeper connection that meets these needs platonically in many ways.
Men do not. Our culture makes it difficult for men to access their own emotional needs and form more intimate friendships.
Sex becomes a more accessible and acceptable, less vulnerable way for men to meet their need for intimacy. It becomes a way to express and meet multiple needs that should be met in other ways with different relational skills, and puts unnecessary pressure on their partner.
When misogynistic, male Christian writers talk about sex as being an insatiable need that only men have, they are essentially owning up to the fact that they have failed to develop their own emotional maturity and they are not willing to develop other necessary relational skills.
This does a disservice to men. It ignores the fact that the relational skills required to develop true intimacy are not inherently gender-specific, they are LEARNED. It has little to do with the body parts we possess and more to do with the willingness to be self-aware and learn.
This kind of teaching infantilizes men, allowing them to remain emotionally immature and lacking in relational skills at the expense of their own maturity – a maturity that would cultivate better intimacy.
Men, do not settle for such a lowly, ungodly view of your own humanity.
To be clear, women also use sex as a way to meet our needs for intimacy, desire and validation. We are no more immune to this. The difference is that we are offered judgement rather than justification because apparently sexual desire shouldn't autonomously exist within us.
I think this explains how things can cycle downwards.
Yes, mutually satisfying sex is a vital part of marriage.
It should be emphasized. We shouldn't shortchange ourselves of this amazing way to connect. (And that's why I've got a boost your libido course and an orgasm course!).
But when we treat sex like an individual need rather than a couple need, and when we treat sex like an entitlement, we change the nature of sex and we make it depersonalizing and shallow. That creates a cycle where one partner's desire for sex is felt as a rejection of them as a person. "You don't care about me; you only want to use me."
I know some may pushback and say, "well, they're rejecting me by not having sex!"
I said that plenty myself several years ago, until I looked at the data. Marriages don't become sexless for no reason. Women don't naturally decide to never want sex again, because they trapped the guy in marriage, and now they're happy.
No, marriages become sexless because she feels used; there's porn use; there's low marital satisfaction; there's sexual dysfunction; or sex doesn't feel any good to her.
Think about it this way: we know sex is amazing. Why would someone just cut themselves off from something amazing for no reason?
They wouldn't. They would only do so if that thing wasn't amazing anymore.
And why isn't it amazing? Because instead of sex being used to love her and cherish her and make her feel connected, it's become something that erases her and leaves her feeling used, among other things. And nobody wants to feel used.
If we want to dig out of the pit, we need to redefine sex.
Don't see it as an individual need, but rather a way to express what is already happening in your relationship.
And if your relationship is distant, then sex is likely not going to be desired. Put sex in its proper place, and then it may start to flourish.
One last thought about kids stealing a mom's sex drive
Let me talk about kids and their effect on parents' sex lives for a second, because I think we're missing the boat with how we talk about this.
When men say, "she just pays attention to the kids and never wants sex anymore, and they're her whole life," I know that can be true for many women. But I also know so many women who are just overwhelmed. Kids are work. Kids take time. They take an incredible amount of emotional energy.
What about jumping in the deep end, and taking on that wholeheartedly with her? Many women are carrying most of the emotional load of parenting themselves–figuring out how to discipline, how to handle learning difficulties at school,  how to navigate bullying, how to figure out how to stop the siblings from fighting. Jump in with her, rather than feeling as if she's letting the kids steal your sex life.
Yes, some women put far too much emphasis on kids, but it's not the crisis that marriage authors make it out to be (like Gary Thomas, painting women who stop sex if the baby cries in a negative light). What if the problem isn't that women emphasize kids too much, but rather that men aren't sharing that emotional load? Kids are a LOT. If she shoulders most of it herself, then there naturally won't be much room for sex. And if she is shouldering it alone, then desire will definitely be squeezed out, and all you will get is duty sex.
The couples that I have seen with two equally involved parents, who are equally likely to google, "how to get a three-year-old to eat vegetables" or "how to deal with a 5-year-old who wets the bed", tend to be much happier with their sex lives. Sex likely doesn't happen as often as it did before they had kids, but they both are okay with it, because they BOTH are mentally and emotionally focused on parenting too.
And because they are partners, desire builds because they are grateful for one another.
Rather than wondering why your spouse is so busy with the kids, why don't you wonder why you don't share the same concern?
I know this post seems harsh. And I am not denying that it is difficult to be the spouse who is refused. But from the focus groups we have had, and from the thousands of letters I've received, I do feel like this is the main issue: so many women feel like sex is depersonalized, like they don't matter.
How can we work this through? Let's talk in the comments!