If we want sex to be awesome, then we need to be able to feel like sex is for us too.
We need to feel like we matter.
Sex is supposed to be mutual, intimate, and pleasurable for both, and mutuality and intimacy means that you are both coming to the bedroom willingly, with all of who you are, and joining together. If only one person's needs matter, then you're not actually coming with all of who you are. You're covering up your needs. And then sex can't really be an intimate expression of the two of you.
We've been talking in our series about how to rebuild your sex life when your sex life is in a pit. I talked about the four step recovery plan:
Redefining Sex
Establishing Safety
Rebuilding Affection
Rebuilding Sex
And, as I said at the beginning, safety is really the biggest step. When people feel safe, the rest can naturally flow.
What happens too often when there are sex problems is that people start with sex. They move right to step 4–how do we spice things up? Figure out how to help her orgasm? Make sex more frequent? But you can't get to step 4 without going through the other steps first.
Sexual autonomy is the key ingredient in sexual safety.
What is Sexual Autonomy?
Sexual autonomy is the ability to decide freely when, with whom, and under what circumstances they will engage in sex; to put boundaries around what sex they're willing to engage in; and to do so without coercion, pressure, or force of any kind. It's to feel as if you have the right to decide what your body will do.
When there's no safety, that actually means there's no sexual autonomy. Someone feels like if I don't do X, bad things will happen to me. Or maybe they're being pressured into doing X more often than they want.
Sex is not the culmination of how they feel about each other; sex becomes about feeling used and treated like a body rather than a person. That's an inherently unsafe feeling.
How is Sexual Autonomy Lost?
You can lose sexual autonomy in several ways:
Your spouse may exert the pressure, the force, or the guilt trips
You may exert pressure on yourself, applying guilt trips on yourself, because of the things you have internalized about sex, or the messages that you've heard.
Others can exert pressure on both of you for sex to look a certain way, with a set frequency, and with certain acts.
And, of course, these can also all overlap!
What's especially insidious is that sometimes you feel as if it is God that is coercing you. It's God telling you that you don't have a choice; your body belongs to your spouse; and you can't deprive your spouse.
If that's what you think God is telling you, please read The Great Sex Rescue, if you haven't already! And focus especially on chapters 1, 2, 9 & 10!
"A groundbreaking look into what true, sacred biblical sexuality is intended to be. A must-read." - Rachael Denhollander
What if you're NOT the problem with your sex life?
What if the messages that you've been taught have messed things up--and what if there's a way to escape these toxic teachings?
It's time for a Great Sex Rescue.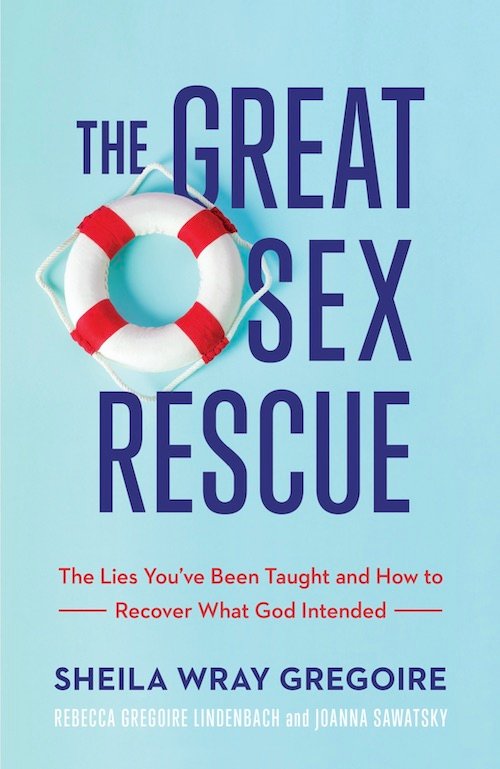 How to Rebuild Sexual Autonomy
In order to feel like you have sexual autonomy, you have to feel as if you can say no without consequences, and you have to stop reinforcing any negative associations between sex and things you don't want to do.
Your body draws connections between things. If you want sex to be something where you feel safe and free, then you must break the connection between sex and something you don't want to do.
If you can't freely do that because your husband (and in this case it is usually a husband, though not always) is coercing you, then please call a domestic violence hotline, or get some other form of help. If your spouse would react badly to these steps, that's also a sign that healing may be unlikely to happen, and you should start planning accordingly.
If you believe you may be a victim of abuse, please contact your local Domestic Violence Hotline
Canada: 800.799.SAFE (7233)
United States: 1-800-621-HOPE (4673).
United Kingdom: 08 08 16 89 111
Australia: 1 800 737 732
New Zealand: 0800 456 450
Kenya: 0-800-720-072
Nigeria: 0800 033 3333
South Africa: 0800 428 428
1. Take a sex fast
Not everyone will need to do this one! But if you've felt very coerced, or so stressed about sex because you think it's something you have to do, then taking a fast for a few weeks or 60 days or something can help you realize: Okay, even if I don't have sex my husband won't leave me. He won't become ugly to me. We can have intimacy in other ways.
When you realize that you won't be punished for not having sex, then you can start to rebuild.
Note: If you try a sex fast and you are punished in some way, that's a sign that there's something fundamentally wrong. Please seek licensed counseling, call a domestic violence hotline, or get some other help. That coercion does need to be addressed. A good man may be frustrated, but he will also realize that this is something you need, and he will be willing to sacrifice temporarily so that you can reclaim and rediscover the amazing sexuality that God gave you!
Once that allotted time is over (if you felt you needed a reset), then move on to the rest:
2. Commit to only having sex when you want to have sex.
This may mean that you decide that for the next month, he won't initiate, and only you will initiate. Or you may decide that he can initiate, but you commit to saying no if you don't feel like it tonight.
Many women with responsive libidos don't often feel a felt need for sex spontaneously, and often don't get aroused until the kissing, etc., has started. So the idea of only having sex when she wants to may feel confusing.
What many women have found is that they thought they had a responsive libido, but it was really that they had many negative associations with sex. When they work through sexual autonomy exercises, then suddenly their libido that God gave them blossoms for the first time!
For now, until that happens, ask yourself, "Do I think sex may help relax me, help me feel good, help me have a positive experience with my husband tonight?" And if the answer is a genuine yes, then feel free to initiate, even if you don't feel excited yet.
3. Decide that sex will be about your pleasure
Sex is not about giving gifts to your husband; sex is not just about being selfless. Sex is supposed to be a mutual experience where you both feel pleasure. If you've been having trouble reaching orgasm, then focus on that (and our orgasm course may help).
But regaining your libido, feeling positively towards sex, getting excited about sex–none of that is going to happen unless sex is about your orgasm too. It can't be just about feeling a few good feelings. It can't be only about making him feel good. It can't be only about the closeness. It's supposed to be about your pleasure as well.
4. Stop giving "sexual favors"
Many Christian male writers (like Gary Thomas, for instance) portray women getting physically excited giving hand jobs or oral sex. A large minority of women do indeed get excited by this–and that's a great thing! But that excitement only comes when play is the main focus of your sex life, when sex is totally mutual and pleasurable.
But when sex has felt coerced, there is nothing fun or sexy about giving sexual favors. It often makes one feel used. When you are trying to gain sexual autonomy and feel like sex is for you, it's important not to reinforce the idea that sex is a duty that you give to someone else.
Now, if you're exploring your own sexuality and want to see if you can drive him crazy–of course go ahead! But for a time, it needs to be about you.
5. Think of yourself during sex, not your husband
So many of us almost dissociate during sex, feeling separate from our bodies and thinking primarily about how he is feeling. You start judging yourself–am I making him feel good? Do I look good doing what I'm doing? Am I moaning the right way?
One woman told us that she moaned one night, and her husband got so excited. So she started moaning every night–but she wasn't necessarily feeling aroused. Then he thought she was aroused when she wasn't, but she thought she was doing a good thing because the focus was on making him feel good.
You likely won't be able to feel aroused and feel pleasure unless you focus on what your body is experiencing rather than what he is experiencing.
During sex, let go of the idea widely taught in Christian books that your job is to make him feel like he is a good lover. Believe instead that his job is to be a good lover, and your job is to experience pleasure, because God actually physically made women to need to be pleasured by their husbands. He needs to slow down and care for you. That's how God made your bodies!
6. Speak up when you don't like something
As soon as he does something which doesn't feel good, speak up. Sometimes simply moving position or moving his hand or tilting differently is enough. But sometimes you will have to speak up!
If you don't speak up, you will likely lose arousal. Again, remember: You are supposed to feel pleasure. Your primary goal is not to make him feel good or make him feel like he is a good lover; your goal is to fully make sex something you enjoy too. That can't happen unless you speak up!
This includes speaking up about positions, actions, or anything else you don't like. If he finds it super sexy for you to wear a particular something, and it makes you feel icky–you don't. If he finds a certain position the sexiest, but you don't like it–you do the position you feel comfortable with. If he likes you to do something that you don't like–you say no. This is about you drawing those connections in your body and brain that sex is something that makes you feel invigorated and loved, not something that makes you feel used or degraded.
7. Speak up when you want something
As you're having sex, if there is a body part that wants to be touched, or if you want to be touched or stimulated in a different way than what he is doing, speak up. This may be difficult at first, because it can feel awkward to tell him what you like.
Do you find it hard to speak up during sex about what you want?
Here's a way to make it easier!
Make a goal: "I will give directions at least three times every time I have sex." (harder; slower; a little to the left; can you touch here?).
Of course you can ask for more than three things! But if you have a goal to speak up three times every time, chances are it will be easier for you to do
8. Stop if you change your mind
THIS is the biggest thing that changed everything for so many women in our focus groups for The Great Sex Rescue. Their husbands told them, "If we are ever in the middle of something and you change your mind, tell me and we'll stop. I never want to do anything you don't want to do." And then the husbands proved to their wives they could stop.
When women had permission to say, "nope, I don't actually want this tonight," it was like something in their bodies clicked. Finally they realized that sex was actually something just for them! They found their libidos finally growing.
do you know your favourite book's
healthy sexuality score

?
sign up for our newsletter and SEE HOW EVANGELICAL BEST-SELLERS SCORED AGAINST OUR RUBRIC FOR HEALTHY, BIBLICAL, EVIDENCE-BASED TEACHINGS.
Can sex ever become more mutual?
That would hopefully be the goal! It's great to have give-and-take in your sex life, where sometimes sex is something special you serve up for him when he's stressed and you want to have a gift and have some fun; and sometimes it's something that's served up for you, but usually it's totally mutual.
It certainly is the goal that you'll both be giving in your sex life, where sometimes you may think, "I'm not that in to sex tonight, but he totally is, so I'm going to throw myself into it because then I can get there too and we'll both feel amazing!"
It certainly is the goal that you may be willing to try other positions one day.
But here's the thing: If you want to get to that mutual, intimate sex life where you both feel free to suggest things, where you both feel excited about sex, where you both feel close during sex, you can't get there until you've told your body and mind a new story about sex. Your body and mind need to know that sex is for you too. It's not just for him.
This is not a selfish ask. For years, likely he has been the main focus. If he acts like it is, then that is also a sign that you may never feel safe sexually, and it's worth talking that through with a licensed counselor.
Many guys would honestly love to try this. I hear from so many men who want to make sex amazing for their wives, but their wives are constantly rushing their husbands through, acting almost panicky about sex, because they feel as if they have to satisfy their husbands or else something bad will happen. And when husbands have said, "hey, let's slow down and make it about you," their wives may have balked.
I hope you won't balk today. I hope that both of you can take whatever time you need to make sex feel like it is something for you too.
Yes, this could take some time. It could take months, even a year or so. It's different for everybody. That may feel like a really, really long time.
But what's the alternative? If you're going to be married for decades, and you don't take the time now, then sex may never feel like it's about you. I'm sure you don't want that.
Women, you were designed with a body part whose only purpose is pleasure.
You were designed with the ability to have multiple orgasms. You are very, very sexual, yet for many of us, our sexuality was stolen. Sometimes it was by bad teaching; sometimes it was from selfishness and/or immaturity in our husbands; sometimes it was by negative events that happened to us earlier in our lives.
You didn't deserve that. You were meant to be passionate! So take the time to prioritize yourself. It isn't selfish. It's reclaiming your birthright.
You were meant for this, and I hope that you can experience it fully!
What do you think? Is there another step you would add? Have you ever tried something like this? Let's talk in the comments!
The Sexual Recovery Series--Digging Yourself out of the Pit
Marital Rape Posts:
Podcasts:
And please check out The Great Sex Rescue, and our Orgasm Course if that's been an issue for you!