2019 is almost gone!
I hope you all had a wonderful Christmas. It was so nice to have both my girls and their husbands home, and especially to have our new grandson join us. Christmas was definitely special this year! And we broke out the new board games I talked about in my family board game post and had a great time.
Here we all are on Christmas morning (with my mom who lives with us, too!) in our matching pajamas that we opened Christmas Eve night:
And here's a picture that was taken about a minute later:
Pretty funny! But we did have a wonderful time together. 
At the end of the year, I like to run a post featuring the biggest posts of the year, and today I'd like to run the biggest posts that were written in 2019–the ones that got the most traffic and the most eyeballs.
Often that's because they're picked up by search engines, though. While I like all of these posts, they're not necessarily the ones that I would have picked for my top posts. So I'm going to throw in a couple at the bottom that I'm the most proud of. So if you've joined the blog recently, or you haven't read every single day, make sure you didn't miss these ones, because these encapsulate the year perfectly.
Here we go!
What happens when a bestselling Christian marriage book, like Love and Respect, treats sex as if it's just for the husband? How has that shaped the way we look and talk about sex? The answer as the title suggests: it goes horribly wrong.
This post really shaped me this year, as I'll talk about on Friday. I was shocked when I read the book. I never realized what it actually said. It made me sad, and it spurred me to action. It was a big part of why we're doing the survey we're conducting right now. And I'll be sharing with you how this newfound passion to talk about sex in a healthy way is going to shape what we'll be doing from here on in!
Yes, this post was more graphic than my average post but I tried to keep it in good taste and use medical information. I hope that I can help women learn more about their bodies! After the Love & Respect fiasco, I started the year determined to help women figure out how to feel good during sex, so a lot of my posts last spring focused on just that. I'm glad they caught on!
I often get asked if soul ties exist, and, if so, how do you break soul ties? In this post I looked at what the Christian community defines as a soul tie, how you develop them and do you need to break them, and that there maybe a different way to look at the whole concept. 
Okay, I'm seriously proud of this post. What does our anatomy teach us about God? About how He sees women? About what He wants for marriage and sex? A lot more than you may think! Click through to read away. (And don't miss the corresponding theology of the penis, either). 
The biggest gift, though, that you can give your kids is a great marriage with their dad. And especially as kids grow, it isn't healthy for them to become your emotional support. It's easy to feel as if your kids need you, and that can be very intoxicating. But when you sleep with them, you train them to associate you with sleep, and then it becomes very intimidating and fearful to try to sleep on their own. It's just not a good dynamic to start. 
​
Sometimes we all need a little spice in our marriage! Has sex gotten kind of, well, stale? Do you want to try new things, but you're just embarrassed and feel awkward asking for them? 
In this post I talk about the psychological effects, including anger and selfishness, of porn on husbands. Those effects are often still present, even when the porn use ends, because porn use changes personality.
Kissing in marriage should be fun! But too often kissing stops once we're married. We see it as foreplay, and many women don't want to put a down-payment down on something they may not want to buy later, if you know what I mean. And many men don't see the point in kissing if it's not going to go somewhere, right now.
For many of us it's a big mystery! And if we're going to aim to have mutually satisfying sex–where sex is not just about a man's physical release, but is about a woman's pleasure, too–then we need to understand how women feel pleasure.
If your husband wants you to do a striptease or send him sexy photos, doesn't that mean he's perverted? Do you have to indulge him?
There you go – that the top 10 post I wrote in 2019!
And now, want to know which are some of my favourites that didn't make it into the top 10 for traffic, but which I find myself referring to again and again? I don't think we can forget these two posts:
We think that Sex = Man Puts his Penis Into Woman's Vagina, we continue to believe that our own experience is more of an afterthought or an extra.
And that's why we need a new definition of sex.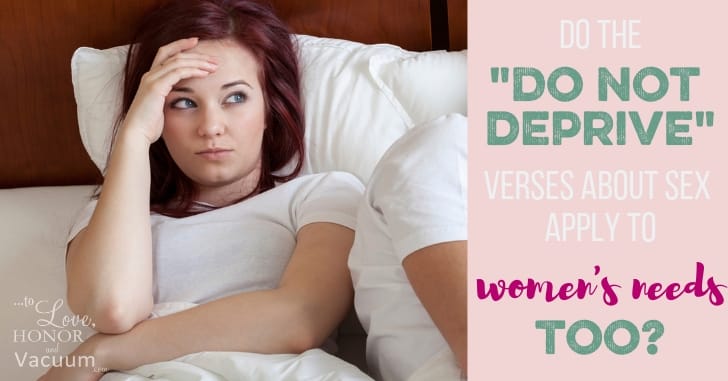 How often have you heard the "Do Not Deprive" verses, from 1 Corinthians 7, used to tell women they're not doing enough as a wife to keep their husbands sexually satisfied?
This is not a healthy way to look at sex – and it's so damaging! 
Don't miss the big posts of 2020! Sign up for the emails to get special discounts, behind-the-scenes looks, and, as always, the best of the blog.
So there you go–the top posts of 2019!
Let me know–which one was your favourite? Or was there something that I wrote that you thought should have made the list? Let's talk in the comments!
[adrotate banner="302″]