People land on Bare Marriage in all kinds of ways!
It may be links they saw on Twitter or Facebook. It may be posts that people emailed to them.
But the two most common ways are Pinterest and Google–with Google being the biggest one.
And because so much of my traffic comes from Google, I can learn a lot about the kinds of people who read the blog from the kinds of searches that land them  here! After all, I write a whole lot of different kinds of posts. Some are happy ones about how to make your marriage great. Some are technical ones about how to make sex great. Some are slice of life posts or things about the Christian walk. But a lot are posts about troubles that people are having in marriage, and often those drive the most traffic.
Here's what's cool about Google. If someone's in a crisis in their marriage, and they type that crisis into the search bar ("I caught my husband texting another woman"), and I pop up, then when they're looking for help for marriage, they'll wind up here, where hopefully they'll find some practical advice from a Christian perspective.
It's funny, when I was younger I always wanted to be a missionary (and Keith and I still plan on going back to Kenya sometime soon!). But what's neat is that I have thousands of people from Africa, or India, or even from the Middle East showing up here everyday for help with their marriages. It's outreach, all on its own! (and if you ever want to be part of a prayer team for that aspect of this ministry and this blog, you can join here!).
So here's a look at the 10 most common searches that send people here:
The Happy Searches that land people on Bare Marriage:
Maybe happy isn't the right word, but these searches don't mean that people are in crisis. They just may want to get a better marriage! So here they are, in descending order:
1. How to satisfy my husband
I'm hoping people aren't searching this because their husbands have told them that they're bad in bed or something, but I do have a post on how to make sex feel great for him!
I have a lot of posts on this blog on how to make sex feel great for HER (or for you, really!). And it makes sense, because let's face it: usually, when you're making love, no matter what you do he ends up satisfied in bed, while often you're left unsatisfied. So it seems like we women need more help in that department.
But just because he's often satisfied doesn't mean that we can't turn up the notch and make sex feel even better! Here's how:
2. Hobbies/Conversation Starters for Couples
Definitely a happy one! People want to know about hobbies to do as a couple, or about my conversation starters for couples. What I'm hoping they'll also do is sign up for my emotional connection email course, which can help bring them even closer.
<div id="om-jek4bq4rio45vpwswky9-holder"></div>
With 4 things NOT to do (don't overthink it, don't be embarrassed, and more!), and 6 things to do to help you feel less awkward, here are 10 tips that will make initiating sex a lot more natural for you–and more fun!
4. "Adventurous sex"
Now, people could be searching for this wanting some seriously X-rated stuff. But I'm hoping that it's simply tips to help us relax and try new things! Really to adopt more sexual confidence and relax more. They get sent here:
Want to get more adventurous in bed? Are you shy to suggest anything new? Here are 10 ways to be more adventurous!
(And try this if you feel like your husband WON'T get adventurous.)
5. "How to Flirt with Husband"
This was a HUGE post on Pinterest a few years back, and it was my top traffic generator for a few years. 16 ways to flirt with your husband (and if you sign up for the newsletter, I've got a downloadable freebie with 25 ways!).
<div id="om-a5q2is87gsyrqdfybvhy-holder"></div>
The Sad Searches that land people on Bare Marriage:
Not all of the searches, though, are happy ones. Here are some with sad overtones:
6. Wife Doesn't Want me/Wife rejects me all the time
A LOT of the people who end up on this site from Google are actually men. And here's the most common search term: something about how a wife hates sex. In this case, they're usually being sent here: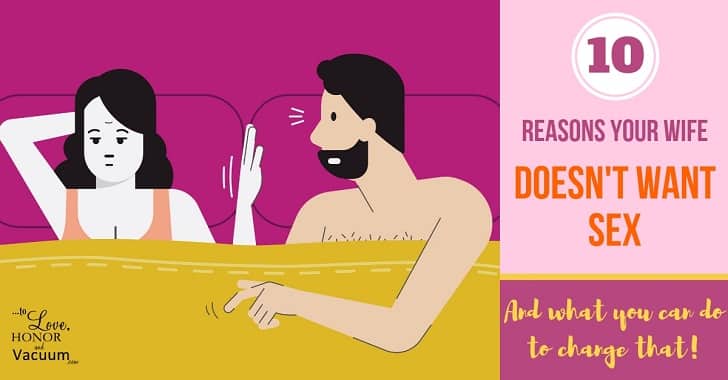 Here are all the reasons that women tell me they may say no–from feeling exhausted to not feeling emotionally connected to sex just plain not feeling very good.
Guys can read this and see if any of them resonate–and then go to other posts that help them talk to their wives about how they're feeling.
7. Porn Addiction Side Effects
This is actually the one I'm MOST excited about having rank in the top 10. The only problem is that it used to be a lot higher, but because the post is older now Google isn't giving it as much juice. But my prayer is that more people land on this post when they're looking for the effects of porn, because maybe they'll learn that it is worth quitting! There's so much toxic information about porn on the internet, and I'd so much rather they end up here.
Porn is not harmless!
And in this post I list 10 of the most common effects, including a loss of libido, an increase in erectile dysfunction (and other sexual dysfunction), a loss of intimacy, and more.
If you're talking to teenagers about why they shouldn't use porn, it's more effective to show them a post like this than to just say, "God doesn't want you to do it!"
8. "I cheated on my husband"
I'm surprised this ranks so high! Google has recently found me for this search term. We tend to think that it's husbands who have the affairs, but I get a lot of emails from women who have cheated, too.
How do you recover from an affair if you're the one who strayed?
I actually get that question a lot on the blog–and so I've got 8 things to remember in this post. Here's just one:
Allow Room for Anger
You may think that several months have gone by, and things are progressing, so he shouldn't be angry anymore. But it's often just as you are starting to talk that his anger starts really surfacing. Now he may have a lot of questions–what did you do with that guy? Tell me in detail! What were you thinking when you spent all that money? etc. etc.
When he starts demanding answers, don't say, "I've said I'm sorry! What else can I say? You seem to want to punish me indefinitely!" That may be natural, but he does need time to get his questions out. I'd advise answering them as honestly and succinctly (you don't need to go into a lot of detail) as you can.
Also, avoid the impulse to defend yourself. "I wouldn't have had the affair if you had shown some interest in me!" Or "If you hadn't spent so much time on video games maybe I wouldn't have felt so lonely!" Those are real issues, and do need to be dealt with. But leave them for another time, or bring them up with a counselor. For now, let him express his anger. Once you have talked about his issues, you can say, "I don't ever want to be tempted in this way again. Can we talk about how to build our relationship so that neither of us ever strays?" Then you can mention some of your issues–video games, for instance. But leave this until after he has had a chance to deal with his anger.
9. "Sex boring"
Sex shouldn't be boring! And if it is, here's a pep talk I gave about that:
You know, it really shouldn't be.
And so if it is–it's up to you to figure it out! That may take some work. But life shouldn't be something that happens to you. It should be something that you intentionally live out!
I lay out the reasons that sex gets boring in this post, and then show the mindsets that need to change to figure out how to make sex an exciting part of your relationship again.
10. "Husband prefers hand over me"
When I asked Connor to find the top 10 searches on this blog for me, I was not expecting to see this one! But apparently a lot of people end up here with that problem! Wow. I'm going to have to write more about that (and boy is that sad). But when they type that in, they get sent to this post on red flags in marriage:
Sometimes I get sent horrible emails from women who are in awful marriage situations–but they don't seem to know how bad it is.
We simply don't talk about sex very much with our friends, and least not in detail, and so we don't always realize when our experience actually is strange.
So I thought it was worth being very clear about 10 things that AREN'T normal, and that should cause you concern. (and, yes, your husband preferring masturbation over sex is one of them!)
So now you'll have a feel of how people find me. And you'll see why I consider Google a mission field! From Pinterest I tend to get people looking for more generic, happy posts on marriage, so that's good. But a lot of people who land on the site really are in crisis, which is likely why I get so many sad reader emails.
I'd love to know in the comments: How did you find me? What were you looking for? Let me know!
And I'll be giving away a copy of my 24 Sexy Dares to someone who comments before Saturday! So leave a comment! 🙂
[adrotate banner="302″][adrotate group="1″]